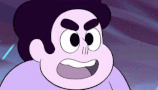 Hear me out for this one. What if Rose Quartz was actually Pink Diamond but then was banished by White, Yellow, and Blue Diamond for betraying the authority? I believe that after she saw the error of her and the diamonds' ways she decided to protect Earth and all its living creatures from the ways that the other diamonds were using the Earth. During some time in the war, it could have been possible for her to take the form of a Rose Quartz gem in order to hide her identity.
So could have Rose Quartz been Pink Diamond?
Some evidence that might back this theory up is that Rose's Shield is practically undestructable so far in the series, and in our world diamond is considered to be the toughest substance on Earth. Now notice the mural on the wall, Rose seems to be fighting who appears to be Blue Diamond with the blast of a gem...in the shape of a diamond. This would explain how Rose put up a fight against the diamonds, only a diamond has the toughness can damage another diamond after all. This could also explain her immensly powerful magical abilities, from being able to produce healing tears to phytokinesis. Her affinity for Roses could be a representation for her love for the Earth, and she wanted to express it through every single way.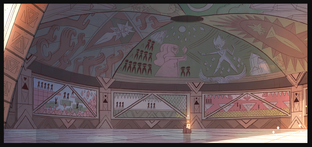 Another thing to notice is that Rose's gem design appears more like a diamond shape rather than a regular Rose Quartz gem. 
Finally, in the episode, "Sworn To The Sword", the sky arena, which has been around for possibly thousands of years, in a time where Rose Quartz, or Pink Diamond, was still part of this Great Diamond Authority. With Rose Quartz being known as Pink Diamond and as a strong leader figure for some gems, this explains how she was able to recieve the support from so many gems before the war against Homeworld. After all, Rose did hide a lot of secrets from the Crystal gems, and being Pink Diamond might just have been the biggest secret.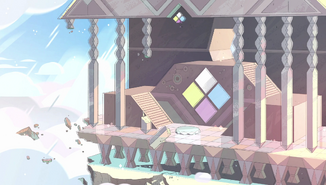 Thank you for reading my theory and let me know what you think.
Have a Wonderful Day.