As we know... The Diamonds are like a "family" ("family" as in a "mother" and "three daughters", one who "died" (but I'll get into who's the "mother" and who are the "three daughters" in the thread))....

Yellow Diamond, Blue Diamond, and Pink Diamond are like "sisters". Yep, judging by what we've seen so far (as in by the way they behave), Yellow Diamond is the "oldest daughter" and "oldest sister", Blue Diamond's the "middle daughter" and "middle sister", and Pink Diamond was the "youngest daughter" and "youngest sister" and was the "baby of the family". Yes, we can Yellow's the "oldest daughter" because her dynamic with Blue Diamond, it's just like an older sister interacting with her younger sister. She's one who acts the most mature of them all and does her best to keep her "little sister", Blue Diamond in check. Blue Diamond is the "middle daughter" because obviously she's older than Pink Diamond but younger than Yellow Diamond and the way she said "Why can't you just let me grieve?" is kind of like how a child wants to keep up with what they're doing even though others say otherwise and now that Pink Diamond is "dead", Blue Diamond is basically the "little sister" again. And Pink Diamond's obvious, before the Rebellion, she was acting like a spoiled child and then a little before the Rebellion, she started acting like a teenager who doesn't want to do the things her "family" wanted her to do, so, she's obviously the youngest.

Like sisters, they fight and argue with each other sometimes.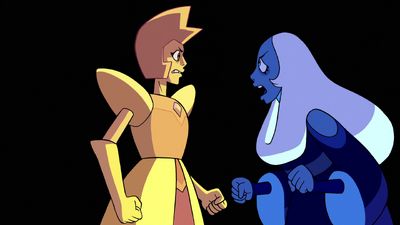 But, obviously, like all other siblings after their fights and arguements, they make up and are cool with each other again.

And now that Yellow Diamond and Blue Diamond learned the truth, they learned that they actually have a "nephew", Steven and are "aunts".
And they seem to love their "little nephew"!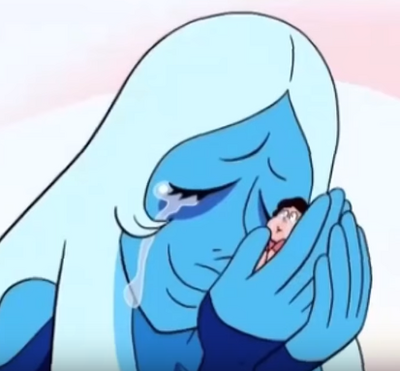 And last but not least, I'm going to say that White Diamond will be the "mother" and Yellow, Blue, and Pink are her "daughters". Yep, I think once we see her she'll act like the "Diamond mother" but obviously she'll be the "mother" of two adults (the Diamonds are obviously fully matured and are adults by gem standards, well, really old adults, assuming that Yellow and Blue are millions or billions of years old. I really think they're the oldest gems on the show). So, they'll act like how adults act around their parents when they show WD if I'm right.
Then, that means WD will be Steven's "grandmother" and I can see her being a not very affectionate "grandma" but will still manage to give her "grandson", Steven a kiss. And since it's possible that WD might be blind, she may not be able to see her "grandson".
Anyway, I just wanted to talk about how the Diamonds are like a "family". And they're an adorable family, a "mother" and "three daughters" (one who is "dead), who are also a "grandmother" and "two aunts" to Steven, who is WD's "grandson" and BD and YD's "nephew".