I am making this post due to the continued disregard for the discussion guidelines by many users.
There has been a high volume of off-topic comments and double-posting. Replies to threads should, in some way, relate to the parent post. If there is a post with the content "What are your thoughts on Sapphire" no comment should ever reach the point of where it becomes a discussion of what you had for breakfast the other day.
Also in regards to "double posting," a lot of users have been posting two or more different comments within a short period as opposed to simply editing their post and adding to it. It's preferable to edit your existing post as it reduces the overall length of the thread and makes it easier to read.
A lot of users have been replying to old posts from several years ago and I've noticed that some user are directly acknowledging this in their post but still making it. Please do not do this :)
The reason old posts are currently unlocked is because the automatic forum archiving system is obsolete and it would require someone to go back and manually lock all 12 thousand old posts by hand.
This rule is in place in order to 1) Encourage new discussions among the newer actually active users 2) Keep the active posts nearer to the top of the categories 3) Try to keep the amount of active discussion posts about similar topics to a minimum.
There has also been a lot of disrespect towards creative works. Within just a few months I have seen several posts of users posting art and either not providing credit to the artist or CLAIMING THAT THEY HAD CREATED IT. I think it should go without saying that YOU SHOULD NOT STEAL SOMEONE ELSE'S WORK.
You can find out who created the artwork by using Google's search by image function. Pinterest links often have the artist source when you click on them. If you are unable to find the official creator of the work, consider not posting it. Do not post artwork by any creator that has NSFW content on their profile.
Some users are still not properly utilizing the categorization system. If you have any questions about the categories, you can message an administrator, discussion moderator, or patroller OR read the Guidelines where there is a summary of what each category is for.
You could also read this thread that goes into a little more depth or ask your questions here.
TL;DR the discussion guidelines are going to be more strict from today onward, at least until things calm down.
Remember that the guidelines are visible directly under every single post you make, Including comments and creating a new thread.
Polls and video game screenshots (including gemsona makers) go in the "Fun" category.
If you are unsure of where a post should go you can reply to this post or my message wall. This thread will be exempt from the 60 day rule.
Also please do not steal artwork. I should not have to say this. It is very easy to find out if it is stolen.
If for whatever reason you are unable to see or access the guidelines, here they are in full.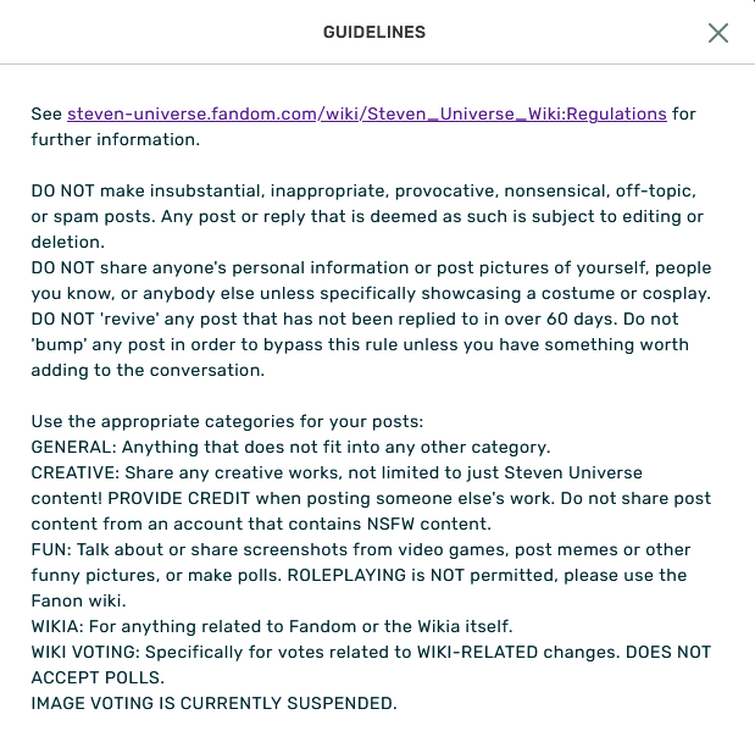 Note that everything found in Our Regulations also applies to discussions