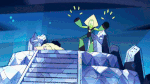 "You have to fix this!"
"

I wanted to tell you for so long.

"
—Pearl
"A Single Pale Rose"[2] is the 18th episode of the fifth season of Steven Universe and the 146th episode overall.
Synopsis
Steven helps Pearl find her cell phone.
Plot
The episode starts with Steven anxiously waiting to ask Pearl about Pink Diamond while she and Amethyst have shenanigans with the cell phone. Amethyst leaves to get Pearl a phone case and Steven uses the time to ask about what he's seen. Pearl immediately covers her mouth and doesn't answer, seemingly shocked. Amethyst returns and she swiftly changes the subject, leaving Steven hurt.
The scene changes to Steven eating outside a food truck when he suddenly gets a text from Pearl. In it, she apologizes and says she can't tell him. Steven returns home and confronts her about it, to which Pearl responds she hasn't used her phone since that morning. Trying to retrieve her phone from inside her gemstone fails, and eventually Pearl tells Steven to go inside and get it himself, saying to "let me know when you find what you're looking for." With that, Steven is sent inside of Pearl's gemstone.
He ends up in a cleanly compartmentalized area featuring another Pearl who sorts everything to maintain order. Steven asks the whereabouts of the phone and she responds that it may be with the "other Pearls," and that he shouldn't go to where they are because it's a "mess." Nevertheless, Steven insists, and Pearl takes him inside her gemstone yet again. The cycle continues several times as Steven is taken further into Pearl's gemstone, passing through her memories of Rose's pregnancy, the aftermath of the Gem War... Finally, he reaches the scene from his dreams, except this time, it's Rose Quartz having shattered Pink Diamond. He steps closer, and when she raises her head and opens her eyes, Steven realizes it's Pearl in Rose's form. He questions this, and Pearl holds her hand out, revealing Pink Diamond's gemstone, before taking him into her gemstone once more. He's inside of Pink's palanquin hearing a conversation between Rose and Pearl behind the throne. While Pearl is hesitant to do what Rose's asking, Rose insists, and tells her that their life will be better and they'll be free afterwards. Pearl finally agrees to Rose's plan and, to Steven's shock, "Rose" reverts into Pink Diamond. They step out into the open and Pink holds out her hand, which has a handful of dirt and the head of a single, pale rose, which she hands to Pearl. She then changes the dirt into the lookalike of diamond shards and swallows them, then before she reverts to her Rose Quartz form, she gives one last order, a Diamond to her Pearl: she orders Pearl never to speak of those events again. Pearl then turns to Steven, who has been watching speechlessly the whole time, and holds out her cellphone with apologetic words. Steven wordlessly takes the phone, and Pearl pulls him out of her gemstone.
Outside, Pearl says she wanted to tell Steven for a very long time. Somberly, he realizes that his mother wasn't a Quartz, but Pink Diamond. Behind him, Amethyst and Garnet, who just walked in, stare and gasp in shock.
Features
Characters
Locations
Objects
Music
Instrumental Songs
TBA
Trivia
This episode reveals that Rose and Pink Diamond are the same Gem, and thus Pink Diamond is Steven's mother and Pearl's role in Homeworld as Pink Diamond's Pearl is confirmed.
After this episode, Steven is now a Diamond. Therefore, in Homeworld's term, he literally owns the Earth and the Moon Base.
The reason Pearl never speak about the Diamonds and tries her best to shut her mouth about Pink Diamond is revealed to be the final command of Pink to her to make the fake shattering of Pink is always a secret.
Garnet once stated that Rose shattered Pink so Pearl can be free. However, since the shattering of Pink Diamond is a ruse a whole time, it can be indicated that Pearl was never free from her servitude role as she had been executing Pink's final order for centuries as well as fighting along side her for a whole rebellion.
Clips of "Back to the Barn," "The Trial" and "Jungle Moon" are shown in Steven's flashback.
Cultural References
Continuity
Errors
Pink Diamond's gem turning to look like that of a Rose Quartz gem doesn't make sense. If Pink Diamond's gem were to turn because of it's angular design, it would be hexagonal, not circular.

The circular shape of Rose's gem could be explained by the separation ring we can see in some pictures of this episode, for example in the cameo of Rose-Pearl's hand after poofed her Diamond when Steven came back to the real world (the same kind of separation ring we can see through Amethyst's gem, which is featured in "Reformed" when Amethyst is poofed and both sides of her gem is reaveled). However, this ring mysteriously disapear from Pink's gem when she turn back to her real self.
Transcript
View the episode's transcript here.
Gallery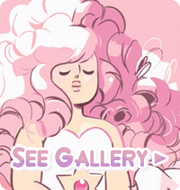 References