Jurassic World: Dominion Dominates Fandom Wikis - The Loop
Play Sound
"

Hey, kids, don't let this happen to you. Always try to manage your time wisely. You can't be everywhere at once. Don't pull a Steven, am I right?

"
—Sunstone
"A Very Special Episode" is the 6th episode of Steven Universe Future.
Official Synopsis
Rainbow Quartz 2.0 promised to hang out with Onion the same day Sunstone scheduled a home safety Geminar! How can Steven be in two places, and two fusions, at once?[2]
Plot
The episode starts with Rainbow Quartz 2.0. and Onion playing with some toys. Later, Rainbow 2.0 decides to help Onion clean his bedroom while singing a song for entertainment: "The Tidying Song". But they are interrupted by Garnet, who reminds Steven about the home safety geminar they had planned. Pearl informs Steven that she will watch Onion until he stops by later when he has the time to do so.
Steven soon arrives at the beach house, where he sees the uncorrupted Gems scared after hearing Garnet explain different ways how they could get hurt or shattered using her future vision. The two of them fuse into Sunstone, who gives the Gems advice on home safety, such as turning off sinks when not in use. But they unfuse once they are interrupted by Pearl, who tells Steven that Onion was destroying the house due to him missing Rainbow.
Steven drops by Onion's house again and he and Pearl fuse back into Rainbow Quartz 2.0 again and try to put Onion to sleep, but it doesn't work. After unfusing and leaving Pearl with Onion again, Steven goes to check on Garnet and the uncorrupted gems once more, they fuse again, and Sunstone takes the Gems to a skateboard park, where she teaches the Gems to always wear a helmet when necessary. She also teaches them how to be patient when crossing the street safely. They unfuse and Steven is exhausted. Once again, they are interrupted by Pearl, who is freaking out over Onion and his snake.
Upon arriving at Onion's house again, it is revealed that Onion was making drawings of him and Rainbow. He also breaks a cookie jar. Once Steven and Pearl fuse again, a half dragged down Rainbow tells him not to do that and takes him to the geminar after cleaning up the house.
Onion starts making flute sounds with some grass and the Gems follow him. The grass flies off a cliff and the uncorrupted gems fall off the cliff following it. The CG's dispute over what fusion of Steven should rescue them, but then Amethyst comes telling Steven that she misses him and she hasn't seen him in 11 minutes, the length of the whole episode. Then, Steven collapses, stating that he shouldn't have overbooked his schedule, and Garnet lets out a "Noo...." into the air.
At the end of the episode, it's revealed that the events in it were just a safety video made by Sunstone, who then breaks the 4th wall by telling the viewers to manage their time properly. She also tells the viewers to not jump off a cliff unless they're a professional, which she does so herself as the episode ends.
Features
Characters
Objects
Locations
Music
Songs
Instrumental Songs
Trivia
Amethyst leans on the fourth wall by mentioning she has not seen Steven in 11 minutes, about the average length of an episode.
While Steven states that they are "hanging out" with Onion, it is implied that Rainbow (and by extension Steven and Pearl) are babysitting Onion for Vidalia.
Sunstone can be seen on a set similar looking to the one used in the Dove Self-Esteem Project shorts.

A photo of Peridot with the director from the shorts can be seen in the background of the set.

The promotional artwork for this episode drawn by Amish Kumar features Sunstone and Rainbow 2.0 in their "Change Your Mind" designs instead of their current ones, possibly to keep them a surprise.
During the montage of Steven, Garnet, and Pearl running around Beach City to catch Onion, they come across a place shown in "On The Run".
Cultural References
Continuity
Steven's commercial for Little Homeworld filmed during "Bluebird" is seen briefly on the TV.
Garnet terrifying the Gems with all the ways they die is similar to how she scared Steven in the episode "Future Vision".
Pearl tells Onion that he has a beautiful bag of hair, which could be Greg's hair; Greg put it in the ocean in "Bluebird".
Pearl seems to be scared of snakes, possibly due to being bitten by one in "Gemcation".
Errors
Pearl slips onto the trail of mayonnaise on the floor but none of it stains her outfit.
The remains of the cookie jar Onion broke disappear on the next scene.
When Rainbow Quartz 2.0 said, "Hey Garnet, how's it about taking another student?", their tongue isn't colored pink in one frame.
Ruby and Sapphire's gemstones are missing on Sunstone's hands when they are throwing the water bottle.
Transcript
View the episode's transcript here.
Gallery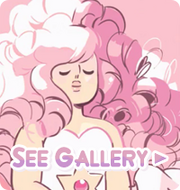 References