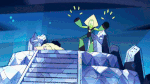 "You have to fix this!"
"A Very Special Episode" is the 6th episode of Steven Universe Future and the 6th episode overall.
Official Synopsis
Rainbow Quartz 2.0 promised to hang out with Onion the same day Sunstone scheduled a home safety Geminar! How can Steven be in two places, and two fusions, at once?[1]
Plot
The episode starts with Rainbow Quartz 2.0. and Onion playing with some toys.
Features
Characters
Objects
Locations
Music
Songs
Instrumental
Trivia
Amethyst breaks the fourth wall by mentioning she has not seen Steven in 11 minutes, the average length of an episode.
While Steven states that they are "hanging out" with Onion, it is implied that Rainbow (and by extension Steven and Pearl) are babysitting Onion for Vidalia.
Pearl admits to Steven that he was a "good kid" and was never like Onion when raising him.
Sunstone can be seen on a set similar looking to the one used in the Dove Self-Esteem Project videos.
Cultural References
Rainbow Quartz 2.0's song, The Tidying Song, is a reference to Mary Poppin's song, A Spoonful of Sugar, as well as the way they send Onion up the stairs.
Sunstone's "safety lesson" shown at the end is a reference to the Sonic Says segments in which the titular character teaches viewers about various topics.
The scene where Onion plays a marching tune while accidentally luring the gems onto the cliff is a homage to a 13th century German legend called The Pied Piper of Hamelin, in which the titular character of the legend plays a pipe to lure the infesting rats out of the village and into a nearby river. However, it also pays homage to another part of the plot where the Pied Piper, in an act of revenge for the town's mayor not agreeing with his salary, lured the children out of the village into various sceneries before disappearing along with the Piper himself. (In some versions, the children were lured by the Pied Piper to their deaths by leading them into the river or cliff, depending on the narrative.)
Continuity
Steven's commercial for Little Homeworld filmed during "Bluebird" is seen briefly on the TV.
Garnet terrifying the gems with all the ways they die is similar to how she scared Steven in the episode Future Vision
Transcript
View the episode's transcript here.
Gallery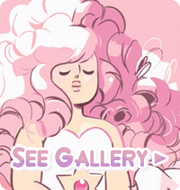 Video
TBA
References
Community content is available under
CC-BY-SA
unless otherwise noted.