Template:Alexandrite "Alexandrite" is the fusion of Pearl, Amethyst and Garnet (and by extension, Ruby and Sapphire). She made her debut in "Fusion Cuisine".
Appearance
Alexandrite is a massive fusion. She has light-magenta colored skin and six arms. Her eyes are covered by a dark visor. Instead of a third eye, like Garnet, she has an alexandrite gem, representing the location of Pearl's gem, with three dark, oval-shaped lenses surrounding it. Alexandrite's primary face also functions as a mask, covering a second, monstrous-looking mouth beneath it.
Alexandrite's turquoise/bright teal star-shaped hair is an amalgamation of all the Crystal Gems' hairstyles. The length and wildness of her hair resembles Amethyst's hair, the top of her hair is styled to a point to resemble Pearl's hair, and the fullness of her hair resembles Garnet's.
Alexandrite's attire is a combination of the Crystal Gems' clothing: The greenish-gray leggings with a four-pointed star cut-out in each legging resemble Amethyst's clothing, the flat shoes and black shoulder sleeves resemble Garnet's clothing, and the tunic resembles Pearl's clothing. The gloves on each pair of arms are also the skin tone of each Gem. When the Gems started to fight, it can be seen that Garnet can control the upper arms, Amethyst the middle ones, and Pearl the lower ones.
History
"

Steven, are you kidding me?! What is this thing that you have brought to dinner?!
It—It's my family. It's all the Gems fused together into a six-armed... giant woman.

"
—Connie/Steven
After an inappropriate phone conversation between Dr. Maheswaran and Garnet (who pretends to be Steven's mom), Connie's parents wish to meet Steven's parents for dinner. This causes a problem since while Steven has a dad, he has three "moms" and he doesn't wish to leave any of them out.
Steven comes up with the idea of fusing the other three Crystal Gems into one Fusion Gem that can represent his mom in his nuclear family. After some initial hesitation, they agree to go through with it. Fused together as the enormous Alexandrite, the Gems stomp to their dinner, where the Maheswarans are impatiently waiting. Greg and Steven have trouble fabricating answers to all of the Maheswarans' questions. Once the food is served, Alexandrite has an internal struggle between the Gems to eat/not eat. They fall out of sync and defuse, surprising Connie's parents.
Alexandrite then shows up for a final time when the Gems fuse off-screen in order to track down the runaway Steven and Connie. She is last seen chasing down and picking up the bus the two were riding out of Beach City.
Personality
Alexandrite starts off cold, somewhat distant, intense, and sloppy. As the fusion slowly starts to fail, the Crystal Gems' individual personalities become more prominent, showing Pearl's fear of food, Amethyst's hunger and argumentative personality, and Garnet's social awkwardness, leadership and control of situations.
When Steven and Connie run away, Pearl, Garnet, and Amethyst formed Alexandrite, and she is united by stern, protective anger, chasing down and picking up the bus, and demanding that Steven and Connie get out of the bus. Alexandrite lifted the bus and was furious with Steven and Connie.
Abilities
Alexandrite is presumed to possess standard Gem abilities, including weapon-summoning, shape-shifting, bubbling, regeneration, fusion, agelessness and superhuman resilience/durability.
Being a fusion, she is significantly powerful. Alexandrite can travel at extreme speeds. She has enough strength to lift weighted objects, like a bus, with ease.
Trivia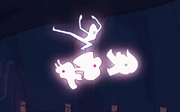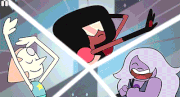 She is the most complex fusion seen thus far; involving the fusion of a total of four Gems (including Ruby and Sapphire).

Ben Levin stated that, in theory, Alexandrite is taller than Sugilite, due to being composed of four Gems.[1]
The first most visible face on Alexandrite resembles Opal, while her second mouth underneath resembles Sugilite, and her shades resemble those worn by Sardonyx.

The lower/second mouth seems to be mostly controlled by Amethyst, as her voice seems to come from it exclusively.

The "face mask" concept resembles the Crystal Temple, as the Crystal Temple is shown having 2 faces (the first being the mask on its forehead).
When Alexandrite de-fused, a still frame of animation shows silhouettes of Ruby and Sapphire where Garnet would have been.

The same frame also seems to show the two quickly grabbing each other, likely to re-fuse quickly and keep their existence secret until Steven's birthday.

Alexandrite is seen in "Attack the Light," as a special attack dealing around 7 heavy-damage strikes to all opponents on the field, as well as inflicting the ''attack down'' and ''defense down'' status conditions. She is the hardest attack to use in the game, as she requires nine Star Points and for Garnet, Amethyst, and Pearl to all be at full harmony.

A glimpse of her fusion dance is shown during this process.

Alexandrite will likely have a different outfit the next time she is formed, due to Garnet's regeneration in "Jail Break" and Amethyst's regeneration in "Reformed".
It is assumed that Alexandrite has future vision.

A hint toward her having future vision is that she was able to find the bus quickly and track Steven down.

Alexandrite is the only fusion to have their full fusion dance unknown.
Alexandrite was the first fusion not to laugh, the second being Rainbow Quartz.

Although Rainbow Quartz was shown smiling.

Alexandrite, Rainbow Quartz, and the Cluster are the only fusions to only appear in one episode.
Alexandrite's weapon is still yet to be known.
It is confirmed that Alexandrite will appear in future episodes, along with Sardonyx. When she does, she will have a different outfit due to the Crystal Gems' regenerations.
Gemology
Gemstone Information
Alexandrite is a rare color-changing, chromium-bearing variety of chrysoberyl.
Alexandrite, along with pearl and moonstone, is the birthstone for June.

It is also a gem for the 55th wedding anniversary.

Alexandrite is a stone associated with discipline and self-control, which adequately explains Alexandrite's stoic personality.
Alexandrite's chemical formula is BeAl2O4.
The color change phenomenon seen in alexandrite is referred to as the 'alexandrite effect'. The change in color can be observed under certain lighting conditions, typically under daylight and incandescent lighting.

The alexandrite gemstone is green when in the presence of light composed mainly of greens and blues (e.g. natural light) and red in the presence of light composed mostly of reds and yellows (e.g. incandescent light), and purple when shown under both sources of light. This also explains her vibrant hue.
| | |
| --- | --- |
| Image | Description |
| | Pearl's gemstone on Alexandrite, appearing to be completely smooth. |
| | Amethyst's gemstone on Alexandrite, featuring a hexagonal facet. It is a tetradecahedron. |
| | Ruby's gemstone on Alexandrite, featuring a square facet. It is a decahedron. |
| | Sapphire's gemstone on Alexandrite, featuring a triangular facet. It is an octahedron. |
Gallery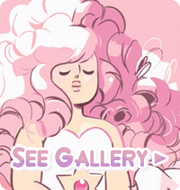 References
v • e
Fusion Gems
---
Hybrid Fusions
Crystal Gem/Homeworld Gem Fusions