This article is about the episode. You may be looking for the soundtrack.
"

You... are an experience! Make sure it's a good experience. Now go... have... fun!

"
—Garnet
"Alone Together" is the 37th episode of season 1 in Steven Universe, and the 37th episode overall.
Synopsis
The Crystal Gems try to teach Steven to use his fusion powers.
Plot
The episode starts with all of the Gems teaching Steven the process of fusion dancing. After they finish their last move, a jump, he comments that it's a lot harder than he thought it would be. Amethyst reassures him, mentioning that all of the Gems have trouble with fusion. Garnet chimes in that she doesn't. Pearl then begins questioning whether or not Steven is even able to fuse, expressing concern over Steven's organic half-human form. Amethyst comments that it's Steven and "who knows what's gonna happen?" Garnet then tries to encourage Steven, saying that she believes he can do it.
Later, on the beach, Steven begins talking to Connie. He tells her that fusing is hard, and communicates his discouragement over his failure. She tells him that she's impressed that he can dance with the Gems at all, admitting that she doesn't like to dance in front of other people. This prompts him to ask her to dance, stating that it's only the two of them. They begin to dance together, eventually getting more comfortable with each other. Steven suddenly trips over Connie and she catches him. They laugh and touch foreheads while Steven's gem begins to glow.
Once the glow fades, their fusion wakes up, and wonders why their (Steven's) sandals don't fit. As they get up, Steven and Connie, inside of them, begin panicking and rejoicing at the same time. Eventually, they find resolve in rejoicing their fusion, and they begin running around the beach with vim and vigor. They then decide to tell the Gems. When they do, Pearl immediately starts to worry, saying that fusing with humans was a feat that was impossible and, at the very least, inappropriate. Amethyst points to a delighted Garnet, and runs up to the fusion. She asks them how they feel, naming them "Stevonnie". Pearl then tells Garnet to talk to them. When Garnet goes up to Stevonnie, she tells them, "Stevonnie, you are not two people. And you are not one person. You are an experience. Make sure you're a good experience. Now, go. Have. Fun!".
When Stevonnie runs toward Beach City, the first thing they do is jump off of a cliff in to the ocean. When they wash up on shore, they feel their stomach grumbling and decide to get donuts. Inside, Sadie and Lars are playfully arguing. When they see Stevonnie, they are both left breathless by their beauty. Stevonnie asks for two donuts, which Lars brings up to the counter. When they try to pay, Sadie tells them "It's on the house". Stevonnie gratefully accepts the donuts, but reminds the two of the gesture not being a sound business practice on her way out.
Stevonnie goes to a bench and pulls out the donuts. Connie's and Steven's personalities begin to bubble up and Steven asks Connie if she wants to stop being fused with him. Connie is about to answer when Sour Cream gives Stevonnie an invitation to a party he's DJ-ing. Stevonnie accepts the invitation and goes to the party.
In the warehouse where the party is held, they see several people dancing, except Kevin, who just says, "Whatever". They walk amidst the party goers and begin to dance, drawing everyone's attention to them. Sour Cream says " I'm amazing", and plays the music louder. When they're done, they realize no one is dancing with them. Connie's anxiety takes over and Stevonnie panics. The people seem to grow taller and they're 'encased' in a large disco ball. After a second, Kevin joins them and starts dancing. They reject him and walk over to a wall. There, Connie's part of the fusion thinks about how she'd be enjoying this if her friend was there, but being fused into one being with Steven isn't the same thing as having Steven with her. Over there, Kevin coerces Stevonnie to dance with him until they get angry and begrudgingly accept. When they pull him out onto the dance floor, they begin dancing wildly and ferociously. Their gem begins to glow, and they split into Steven and Connie once again.
This freaks out Kevin, who runs out of the building. Steven and Connie, after a moment, start laughing hysterically and cry tears of relief. Sour Cream, unperturbed, starts throwing everyone glow sticks, which Steven and Connie run through, still laughing.
Features
Characters
Objects
Locations
Music
Trivia
This was the first time we see Garnet dancing with Pearl.

Their dancing, however, was not the same as their fusion dance, which was revealed in "Cry for Help".
This dance may have also been based off the bizarre dance in Rebecca Sugar's short "Green Grassface".

This is the third episode in a row not ending in a full star-shaped iris, and the eighth overall.
This was the first time Garnet is shown grinning.
Steven dances with Connie Maheswaran, Pearl, and Amethyst for the first time.
Steven fuses for the first time, forming Stevonnie.
This is the first time Connie was in a full-length episode without wearing her glasses.
The episode title "Alone Together" implies that even though Stevonnie is a fusion of both Steven and Connie and is technically both of them together, they feel alone.
Steven can fuse with humans, but it is unsure if he can fuse with Gems with him being "organic".
Stevonnie tries to pay for their doughnuts with several $3 bills, most likely referencing the running joke of 3 dollar bills showing up in the show.

This is also the third known time a 3 dollar bill shows up, the first being the "Pilot" episode and the second in "Watermelon Steven".

Lars being so flustered around Stevonnie may be a call-back to the "Pilot", where Lars told Steven he was "not exactly a hot girl".
Stevonnie is the first fusion to show an interest in eating food, though this is most likely due to the fact that Stevonnie's physical makeup is predominantly human.
This is the third time the title card is different from the others.
Garnet mentions she doesn't have trouble fusing, subtly referencing the future reveal of how easily she is fused from Ruby and Sapphire. She also seems to accept Stevonnie very well because of their relationship to Ruby and Sapphire's.
Party goers from the club were modeled after the Crewniverse, as evident by the model sheets naming them "Crewniverse".
"Kevin" is another way to combine the names of Connie and Steven.
Pearl probably thought a Gem couldn't fuse with a human after seeing Greg's failed attempt to fuse with Rose, revealed in "We Need to Talk".
Cultural References
When Sour Cream was DJ-ing at the rave, you can see that he is using multiple devices that look like a Game Boy, Game Boy Color, Game Boy Advance, and a Game & Watch.
Sour Cream's DJ-ing was a reference to Surasshu and his fan creations of chiptune music.
The second dance Amethyst and Steven did had the moves from the song "Macarena".
The dance Garnet was doing seems to be based on waacking.
This episode's title might be a reference to a popular Fall Out Boy song of the same name.
Continuity
Errors
When Pearl snaps her finger while saying "a 5,6,7,8!" , Garnet stands next to her, after the camera pans to Amethyst and Steven, she isn't there. A while later, she's seen standing next to Pearl again.
When Pearl is against the wall as part of her dance with Garnet, a layering error makes it appear one of Pearl's fingers is in front of Garnet's face despite being on the wall.
When Garnet is shown smiling, her left hand is completely covered in her glove as opposed to just one finger.
When Stevonnie unfuses, the strap that's a part of Connie's dress disappeared.
Transcript
View the episode's transcript here.
Gallery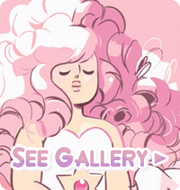 Videos
References