Doctor Strange in The Multiverse o Madness - The Loop
Play Sound
"

You're pointing that shield the wrong way. She's the one you should be afraid of.

"
—Jasper
"Alone at Sea" is the 15th episode of the third season of Steven Universe and the 93rd episode overall.
Official Synopsis
Steven and Greg take a boat trip out to sea and find themselves in dangerous water.[3]
Plot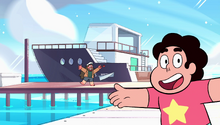 Steven takes Lapis, who is trying to cover her eyes with her water wings so she cannot see, to a boat as a surprise. Lapis is unsure of what she sees at first. Steven exclaims that they have a boat, but Greg corrects him by saying they rented a boat, so as to not go "overboard". Lapis asks who Greg is, and Greg introduces himself, though awkwardly mentioning that he is the guy whose leg she broke when trying to go back to Homeworld by using the Earth's oceans. Since Lapis is not familiar with handshaking, Greg just goes on to start the boat. Steven asks her what she thinks, but she does not know what to say. Steven pep talks about her bad experience with water trapped as Malachite under the ocean, and how she should not let it take away her enjoyment of water, stating that water is part of who she is after all. Lapis points out it has been more than one bad experience, but Steven persists with her coming on the boat with him. Lapis does not think she deserves it, to which Steven points out the small banner taped to the boat which reads "Lil' Lappy".
The banner peels off to reveal the name "S.S. Misery"; Greg quickly pulls it back up. Lapis laughs and says she will give it a try, just this once. She grabs Steven and flies on board. Greg asks if everybody is ready and takes off, but rips off a piece of the dock as it is still tied to the boat. Greg says he is starting to think twice about sailing and offers for Lapis to take over. Lapis does not want to despite Steven's encouragement. She thinks they should not trust her with the boat. Steven says it is okay and that they can all be first mates. Greg asks if she still wants to wear the hat but Lapis rejects again.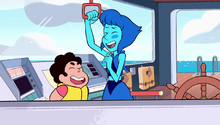 Steven, Greg, and Lapis do different activities, such as drinking orange juice and sunbathing on the deck, but Steven notices Lapis eyeing the ocean strangely and takes her up to the bridge so she can blow the horn. Later, Steven and Lapis see Greg fishing. Lapis offers to help and uses her powers to make a big water bubble filled with fish. Steven says she is "super strong!" but Greg looks a little nervous and asks if they could just do it the old-fashioned way. Lapis gets a little embarrassed and drops the bubble, causing a strong wave that rocks the boat. Steven starts to compliment her, but Lapis just pats his head, trailing him off. Lapis asks how to fish the old fashion way, and Greg explains it to her. Lapis asks why a fish would want to be on a hook and Greg explains that you have to bait it with something. Greg demonstrates how to fish. A lot of time seems to pass as Lapis and Steven start to get visibly bored. Lapis asks when the fish part happens, and Greg tells her that sometimes it is not about the fish you keep but the company you catch.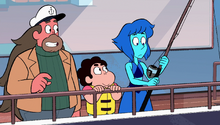 Greg suddenly feels a tug on the line and he offers the rod to Lapis so she can try to reel it in. As she is reeling the fish in, it starts to pull her towards the edge, so Steven grabs her while Greg grabs Steven. Lapis tries hard to reel it in, but then a dark mass starts to appear, bringing bubbles to the surface. Lapis is shocked and the rod breaks, letting the dark mass go and causing Lapis, Steven, and Greg to fall. Lapis goes to the edge and tries to see what got away while Greg mentions the rod will have to be paid for now. Greg compliments her on trying to get the "beast" and Steven reassures her about the lost fish. Lapis thanks them, and Greg goes back to the helm.
Lapis meanwhile goes back to the deck and sits, facing the ocean. Steven says she looked like a real pro and Lapis just responds with "Thanks". Steven excitedly suggests that they play shuffleboard when the boat starts to rock violently. Greg calls Steven back up to the bridge and asks if he hears something. Greg states that something is throwing off the rudder and that the manual is not helping, to which Greg makes a pun about "water crackers". They hear something again along with the oncoming storm, and the engine explodes within the boat leaving them stranded. Lapis is still on the deck, looking towards the ocean.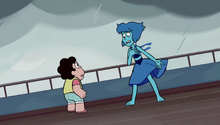 Steven tells her about the engine and begins apologizing about how the trip was starting to be a bust. Lapis says it is her fault, and that she is trying to have fun but cannot stop thinking of Malachite and always battling with Jasper. Steven says she does not have to be with Jasper; however, to his surprise, Lapis says she actually misses her. Steven tells her that Jasper is terrible, but Lapis calls herself terrible, naming all of her faults that happened while she was on Earth. Lapis yells at Steven to tell her she is wrong when the boat begins rocking violently again. An orange arm then pops out of the water and grabs onto the boat's anchor chain.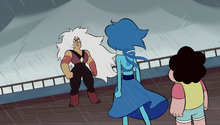 Suddenly, Jasper climbs onto the deck, exclaiming "Finally," looking a little less than sane. Jasper says that she thought she would never catch up to them. Lapis asks if she has been following them, but Jasper corrects her, telling Lapis she has been following her. Jasper starts to march towards them, but Steven puts up his shield and tries to protect Lapis. Jasper laughs at him, jokingly asking Lapis if the "dulled-down version of Rose Quartz" is working for her now. She then tells Steven that he is pointing the shield the wrong way, saying Lapis is the one he should be afraid of. Lapis says it is not true, but Jasper remarks that she has seen what Lapis can really do. Jasper states that she once thought herself to be a brute, but now sees Lapis as a monster. Steven tells Jasper that Lapis does not want anything to do with her, but Jasper shoves him out of the way, saying this is a personal matter. Lapis rushes to help him, but Jasper grabs her arm, clasps her hands with hers, and gets on her knees, asking to fuse into Malachite again.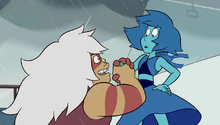 Jasper explains how Malachite was bigger and stronger than both of them and that they could fly. Steven warns Lapis not to listen to her, and Jasper tells him to stay out of this. Lapis says that she was terrible to Jasper, hating her, and taking out all of her anger on her. Jasper starts to beg, claiming that Lapis has changed her, that she is the only one that can handle her power, and that together they will be unstoppable. Lapis takes a look at Steven, who is hoping she makes the right decision and to Jasper's dismay, says no. Lapis says that she does not want to feel what she felt when they were together and tells her to leave. Steven stands up and also tells Jasper to leave Lapis alone.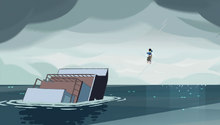 Jasper gets furious and blames Steven for Lapis' rejection. She runs at him, threatening to shatter him but Lapis uses her hydrokinesis to punch through the ship, hitting Jasper and sending her into the air, far away from them and back into the ocean. Steven embraces Lapis, glad that she was able to defeat Jasper. Greg comes out on the deck and is horrified to see the damage to the boat. As it begins to sink, Lapis flies them away. Greg says that it turned out that he "would be buying a boat after all." Steven apologizes but mentions how the ocean looks really beautiful from above. Lapis agrees, and the episode ends.
Features
Characters
Objects
Locations
Music
Instrumental Songs
Trivia
This episode's name was first revealed in the episode listing on the Cartoon Network website.[4]
The episode features a new ending theme.
Cultural References
Steven and Greg pointing at each other while saying "Ayyy!" is a reference to Arthur "The Fonz" Fonzirelli's famous catch-phrase from the sitcom, Happy Days.
After Greg realizes he does not know how to fix the boat's engine, he gravely tells Steven, "This trip might be a little longer than we thought, little buddy." This is a reference to the classic television series Gilligan's Island, as Greg is wearing a sailor's hat, similar to the Skipper, who frequently referred to the title character as "little buddy".
It is traditionally bad luck to rename a ship after it has already been named, which Greg does, possibly contributing to the misfortune Greg, Steven, and Lapis encounter, although this may just be a coincidence.
Continuity
Errors
Note: Time is displayed in [mm:ss]; [00:00] refers to the point after the title card is displayed and before the episode's start.
Design
[05:11] After the fishing scene, when Lapis looks in the water, her gemstone is missing.
[08:28] The bottom facet of Jasper's gemstone constantly changes colors.
Animation
[01:51] For one frame, Steven's eyelid is uncolored.
[02:07] When Steven was holding her hands, Lapis' mouth briefly disappears.
Transcript
View the episode's transcript here.
Gallery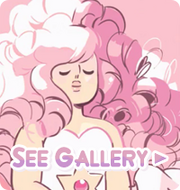 Videos
References