Jurassic World: Dominion Dominates Fandom Wikis - The Loop
Play Sound
"

Why, do you care about me or something?

"
—Amethyst
"An Indirect Kiss" is the 24th episode of the first season of Steven Universe, and the 24th episode overall.
Official Synopsis
When Amethyst cracks her gemstone, Steven and the Crystal Gems go on a mission to heal her. [2]
Plot
The episode begins with Steven being carried by Lion to go to the top of the temple to meet Connie Maheswaran for a picnic. Connie notices that there is a fence around the cliff, and she wants to know why. Steven tells her what happened. His story starts with Amethyst goofing around a cliff and Steven telling Amethyst not to fall off. She continues messing with Steven, who is becoming more worried for her safety as she continues. Unexpectedly, she falls off and lands on a rock with her gem suffering a severe crack. Steven runs down the cliff quickly, worried about her. Amethyst shows him her eye, hidden behind her bangs, which has enlarged itself to become googly. Garnet and Pearl run to them and try to get Amethyst to show her gem. Garnet reveals Amethyst's gem has been cracked, which results in the Crystal Gems building a fence around the cliff.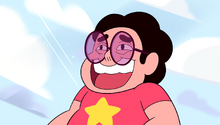 Steven ends the story, but Connie wants to know what happened to Amethyst. He does not want to tell her but agrees to continue on the condition that she let him try on her glasses. Connie agrees, but only with the further condition that Steven gives her his juice. Afterward, he continues the story. It cuts back to the Gems talking about Amethyst.
As they speak, Pearl and Garnet reveal that Rose Quartz had healing tears. Steven tries to heal Amethyst's gem with tears but is unable to cry. Garnet insisted that they go to Rose Quartz's healing spring to heal Amethyst. Amethyst made a weird shriveled face and began talking backward.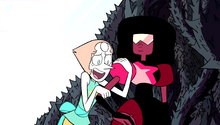 They make their way to the fountain, but almost everything is covered with brambles. Steven tries again but is still unable to cry. Amethyst attempts to communicate with Steven through pantomime as her speech is unintelligible.
After having realized that Amethyst was suggesting using pain to cause tears, Steven attempts to poke himself on nearby thorns. However, the thorns came to life and tried to attack him. Amethyst tackles him out of the way, but this further cracks her gem, which causes her head to be swapped with her right foot. Garnet and Pearl, oblivious to the plant's sentience, proceed to make a path through the wall of thorns. Once through to the spring, they see that it too has become overgrown, and was no longer flowing healing water. Garnet and Pearl leave to find out what stopped the spring, as Amethyst's condition worsens by her limbs had growing long and thin. The thorns once again attack Steven and Amethyst, so Steven drags Amethyst into the dry spring to protect her.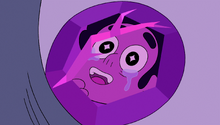 After, Steven is sad that he could not save Amethyst and starts to cry. A tear hit the broken gem; however, nothing happens. Steven grows extremely upset.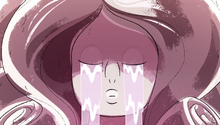 Suddenly, the spring (which is a statue of Rose Quartz) begins to work, which causes a massive overflow of healing water that causes the thorns to bloom into roses, and Amethyst to return to normal. Steven exclaims to Pearl how his tears caused the spring to be fixed. Pearl responds that she and Garnet were the real reason behind the renewed spring, that he will never have any real magic powers, and that they no longer want to do anything with him.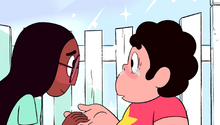 Cutting back to the present day, Connie is shocked. Steven admits that this was not said but is how he feels. Connie tells him that he can always come to her, magic or not, and leans in for a kiss only to stop short and exclaim that she has a headache. After taking her glasses off, she realizes she can see without them. Both are shocked, and they realize Steven's juice (which he foreshadows by stating that the juice box trade was his spit mostly) healed her. The episode ends with Steven rushing off to the Gems to tell them about his new healing saliva ability, while Connie pops the lenses out of her glasses.
Features
Characters
Objects
Warp Pad (flashback)
Connie's glasses (with pink lenses)
Locations
Music
Trivia
The title refers to the indirect kiss Steven gives to Connie by sharing his durian juice box with her that had his backwash.
In many countries, the episode's title was changed from "An Indirect Kiss" to "Steven's Power" to make it sound less suggestive of a kiss.
Connie and Steven nearly had their first kiss until they were interrupted by Steven's healing powers restoring Connie's vision.

Connie appears to be more affectionate towards Steven than in previous episodes.
This reveals that Connie has a romantic interest in Steven.
Storyboards reveal that Steven most likely also returns this romantic interest.

In many other language versions, Amethyst's backward speeches were normal.
The story was told from Steven's perspective so most of what happened could be how he saw it, such as Pearl being very clingy to Garnet could have been far-fetched.
This is the first episode involving a Pearl flashback.
This is the first episode where all the Crystal Gems (Excluding Steven) do not make a physical appearance.
Amethyst's Backwards Messages Decoded
"Hey guys, what are you doing on the beach?"
"Ugh, I'm going home".
"Hey, if your body can't cry on its own, you gotta make it cry".
"Hey, the vines are coming to life and are gonna kill Steven, just so you know".
"Don't worry or anything, I'm good".
"Uh, a little help?"
"Cheer up, will ya?"
Cultural References
Amethyst's googly eye is a possible reference to Wilt from Foster's Home for Imaginary Friends and his googly eye in the special "Good Wilt Hunting".
The large knot of brambles covering the fountain may be a reference to the manga/anime series Blue Seed.
The facial expressions Amethyst pulls appear to be a reference to internet memes of similarly strained expressions used as reactions to certain situations.
When Amethyst loses the shape of her body, it may be a reference to Jiggler, a character in "The Jiggler" from Adventure Time.
Steven saying "I'm really feeling it!" at Rose's Fountain may be a reference to Shulk from Xenoblade Chronicles X, as he said the same phrase in his reveal trailer for Super Smash Bros. for Nintendo 3DS/Wii U, which coincidentally was first shown only 20 days before the airing of this episode.
Continuity
When Connie leans her head forward to Steven, there was a little piece of "Connie" played in the background.
Connie removes the lenses in her glasses and continued to wear the frames all the way to "Nightmare Hospital" where she finally stops wearing the frames for good, beginning with "Steven's Birthday".
In Off Colors (episode), Steven finally manages to shed healing tears, which he sheds when mourning for Lars, whom he resurrects after he used his body as a human shield to protect the Off-Color gems.
Errors
In some scenes, Rose's statue has longer arms than in previous scenes.
When Amethyst loses control of her body, her gem becomes more broken, her head is replaced by her right foot. However, in the following scene, the head is now on the left instead.
When the statue starts flowing once more, you can see the star in Garnet's uniform is pale red, when it is supposed to be dark pink.
Near the end of the episode, Lion disappears in some scenes.
When Steven tells Amethyst to show her gem to him, Amethyst's star-shaped cutouts on her pants are missing.
When Steven says he does not want to talk about it, the star on his shirt disappeared.
When Amethyst was wasting time by the cliff, the Lighthouse disappears.
When Steven lies down near a statue of Rose, sometimes the statue has roses in its hair and sometimes it doesn't.
When Steven asks Pearl if his crying was related to Rose's Fountain becoming unclogged, Amethyst disappears from the scene entirely.
Transcript
View the episode's transcript here.
Gallery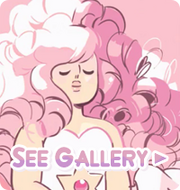 Videos
References