The Sandman Will Keep You Awake - The Loop
Play Sound
Angel Aura Quartz is a formerly-corrupted Gem who was, (along with the other bubbled Gems) uncorrupted by Steven and the Diamonds in "Change Your Mind". Much like many of her fellow uncorrupted gems, she now resides in Little Homeworld, being enrolled in Little Homeschool.
Appearance
Angel Aura Quartz is tall and broad-shouldered, like most other Quartzes. She has horns located on her forehead and shoulders in light pink and peach on top and dark periwinkle and cyan on her shoulders. She has a light cyan complexion and long, straight, warm yellow colored hair, representing that of an actual angel. She wears a grayish purple cropped bra with a lavender sleeves crop top, a pair of leaf green shorts and a pair of grayish purple boots with dark purple toe caps.
Personality
Not much is known about her personality. However, as seen with her interactions with the other uncorrupted Quartzes, she is shown to be fun-loving and somewhat rowdy.
Abilities
Angel Aura Quartz possesses standard Gem abilities, bubbling, shapeshifting, fusion, regeneration, agelessness, and superhuman strength/durability.
History
Angel Aura Quartz is one of the many Corrupted Gems that are healed at Rose's Fountain. She is seen speaking with Steven, Biggs Jasper, Ocean Jasper. and Watermelon Tourmaline.
Angel Aura Quartz appears as a background character in Little Homeworld. She attends the Sadie Killer and the Suspects concert at the Abandoned Warehouse and later helps comfort evacuees from Beach City. Angel Aura Quartz also participated in repairing Beach City.
She is among the Gems present at Little Homeschool during Steven's tour, attending Pearl's lecture on human technology.
Angel Aura Quartz is one of the five Quartzes that go to see Steven to be healed. They are later seen playing volleyball, coached by Pearl.
Angel Aura Quartz is an actor in Steven's commercial for Little Homeschool.
Angel Aura Quartz is seen attending Sapphire's class pertaining to predicting the future, where she is writing notes.
At Little Homeworld, Angel Aura Quartz is shocked to see a giant monster scaling the Crystal Temple.
Relationships
Once Cherry Quartz came to Little Homeschool, it appears that they became friends, as they are seen walking together many times.
She has been seen walking with Little Larimar multiple times, usually going through Little Homeworld.
Angel Aura Quartz has a close friendship with Biggs Jasper, playing a great game of volleyball with her.
Trivia
Angel Aura Quartz is a separate term for rainbow quartz, meaning that she may be the singular gem for said fusions.
Much like her fellow Quartzes, she enjoys and is skilled at playing volleyball.
Episode Appearances
Galleries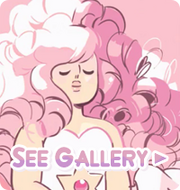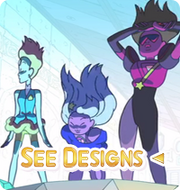 References