Aquamarine's Ship is a ship used by Aquamarine and Topaz that made its debut in "I Am My Mom".
Appearance
The ship has the shape of a wide, curve-topped cone, which allows it to blend in as the top of a merry-go-round at Beach City Funland. The ship seems to be black (or dark brown) in color, with two cyan triangles on the top, with one pointing upwards and the other downwards.
Inside, the ship has a big, cyan blue screen, along with a captain's chair on a floating platform for Aquamarine to sit on. The entire ceiling has a sky view, which oddly does not appear on the outside of the ship.
There is a lower level which features an escape pod and a rack of six bluish-aqua Gem Destabilizers.
History
Aquamarine's Ship was first shown in "I Am My Mom", where, thanks to its shape, it looked like the top of a merry-go-round, which caused the Crystal Gems not to notice it until it was activated. Later in the episode, it exits planet Earth by teleporting off, with Steven and Lars still inside.
The majority of this episode takes place inside the ship. The ship is shown to have a warp drive feature.
Trivia
The ship appears bigger on the inside than the outside would show.

Oddly, the window-like ceiling is not shown from the outside of the ship.
Gallery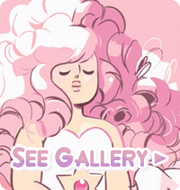 Community content is available under
CC-BY-SA
unless otherwise noted.