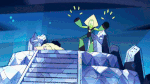 "You have to fix this!"
Aquamarine is a Homeworld Gem that made her debut in "Are You My Dad?".
Description
She is a small gem that works directly under Blue Diamond to retrieve human "variations" for Pink Diamond's Zoo. Her gemstone is located below her left eye.
Personality
Aquamarine is very bossy as she orders Topaz to do most of the mission-work. She is also shown to be aggressively playful as she literally swung Steven into a tree with her wand in Are You My Dad.
Gallery