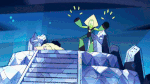 "You have to fix this!"
"

What an ordeal, but the Diamonds needed me. That's the burden of being the best.

"
—"I Am My Mom"
Aquamarine is a Homeworld Gem who made her debut in "Are You My Dad?". She was sent to Earth with two Topazes to retrieve human "variations" for Yellow Diamond.
Appearance
She is a small gem that works directly under Blue Diamond to retrieve human "variations" for Pink Diamond's Zoo. Her gemstone is located below her left eye. She wears a blue vest over a white undershirt with a blue diamond symbol on it resembling that of a tie. She also wears a dark blue skirt, white leggings, white gloves, dark blue flats, and a blue bow that she can turn into her wand.
Personality
Aquamarine is a bossy Gem, as she orders Topaz to do most of the mission-work. She is also shown to be aggressively playful as she literally swung Steven into a tree with her wand in "Are You My Dad".
Aquamarine acts like a child and is very narcissistic, believing that she is better than everyone else, and even calls herself the "best" because the Diamonds sent her to Earth. Aquamarine also has a short temper, and whines when things don't go her way.
History
Aquamarine and Topaz are sent to Earth personally by Blue and Yellow Diamond to retrieve the humans Steven mentioned in his first interaction with Peridot in "Marble Madness" for Pink Diamond's Zoo.
Aquamarine and Topaz chase down Onion at Funland during the middle of the night. When Doug Maheswaran calls out, Aquamarine drops a fence on him. Once Doug, Steven, and Connie leave the scene, Aquamarine and Topaz approach Onion and capture him.
Aquamarine and Topaz capture Lars while he is on his way to the Cool Kids' party. After the party, the duo capture Sadie while she is walking home.
Aquamarine and Topaz capture Jamie when he is out to deliver Steven's khakis. Later on at Funland Arcade, Aquamarine approaches Steven and asks him if he is "my dad". Upon realizing that he is not, Aquamarine flies away in disappointment. Aquamarine is later found by Steven and Connie in a forest, where Aquamarine asks Connie if she is "my dad". When Steven mentions Connie's name, Aquamarine becomes excited and calls out for Topaz, telling her that she "found one". Once Topaz captures Connie, Aquamarine tells her not to bother with Steven since he is not "my dad". Aquamarine then summons her wand, paralyzes Steven, and launches him to at tree. Aquamarine and Topaz leave the scene to hunt down their final human.
Aquamarine and Topaz hide in Funland, but are later found by Steven and the Crystal Gems. Aquamarine points out how Steven knows everyone on their list, and that the list did come from a Steven. Aquamarine tells the Crystal Gems that they'll leave the Crystal Gems alone if they tell them where they can find "my dad". Steven is confused by this, causing Aquamarine to explain that Yellow Diamond asked for "my dad, a Connie, a Lars, a Sadie, a mailman, and an Onion... I think", which was specified in a report by Peridot.
When the Crystal Gems go to attack the duo, Aquamarine effortlessly uses her wand to paralyze Pearl and launch her into the sky. At some point, Aquamarine gets annoyed by the fighting, and threatens to kill each of the humans if the Crystal Gems don't tell her where "my dad" is. When Steven tells her that he's "my dad", Aquamarine is suspicious, but believes it so she can leave the Earth and finish the mission. Aquamarine summons her ship and taunts the Crystal Gems with the captured Steven and humans.
On the ship, Aquamarine goes to set a course for Homeworld, and is furious when Steven manages to get everyone free from Topaz. She orders the Topazes not to let them escape, and to contain them again before they leave the atmosphere. When Steven finds a way out and everyone jumps in the water, Aquamarine uses her wand to paralyze everyone. Steven reveals himself to be Rose Quartz so Aquamarine and Topaz would let the other humans go, which she does. Aquamarine and Topaz then take Steven onto their ship alone and fly away towards Homeworld.
Abilities
Skillset
Wand: Aquamarine has a blue wand that rests in her hair to look like a bow. When activated, the wand stiffens and allows her to shoot a blue beam at others, paralyzing them. Her wand can even paralyze powerful fusions like Alexandrite. Once a target is paralyzed, Aquamarine can launch them in any direction.
Water Wings: Aquamarine can summon water wings on her back to fly around or evade enemies during combat.
Relationships
Topazes
TBA
Gallery