Doctor Strange in The Multiverse o Madness - The Loop
Play Sound
"

I'm not looking for your dad, I'm looking for my dad. I need to find my dad.

"
—Aquamarine
"Are You My Dad?" is the 24th episode of the fourth season of Steven Universe, the 127th episode overall, and the fourth episode in the sixth StevenBomb.
Official Synopsis
People are disappearing from Beach City, and Steven tries to solve the mystery.[4]
Plot
The episode begins with Steven walking to his mailbox, expecting to receive "Distinguished Boy" khakis from Jamie. Steven becomes upset at the empty mailbox, as Jamie as not yet arrived. Amethyst comes by and tries to cheer Steven up. Amethyst offers a can of beans, but Steven refuses. Singing "Hey, Mr. Postman", Steven finds that Jamie is nowhere to be found. Amethyst continues trying to cheer him up by offering her can of "magic beans" to trade for a donut. While Steven knows that beans are not accepted as payment, Steven goes over to buy himself and Amethyst some donuts. Before departing, he asks Amethyst to wait for Jamie while he is gone. Pearl informs Steven that she and Garnet are building a sandcastle for some blue crabs. Steven laughs a bit.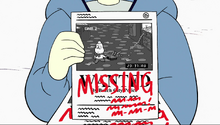 While walking to the Big Donut, Steven passes by Sour Cream, who is holding many flyers. Instead of being for a rave, the flyers are "missing" posters for Onion, who has been missing for days. Sour Cream, Vidalia, and Yellowtail are getting worried. Steven recalls if he has seen Onion in any of his favorite places, but is unable to help. Sour Cream jokes that Onion might just be "raving in his friend's backyard". Sour Cream continues hanging flyers, asking Steven to give some to Lars and Sadie, as the Big Donut is closed.
As Sour Cream leaves, Steven is confused at the Big Donut being closed. After examining the empty and dark building from the inside, Steven tries to enter through the back door. Barbara Miller opens the door from inside, owning a copy of all her daughter's keys. Barb and Steven go inside the Big Donut to find it completely empty. Barb informs Steven that Sadie did not come home last night. Barb, assuming Sadie went to work instead of going home, had tried to drop Sadie's lunch off at work. Steven is confused at Sadie's disappearance, as she told Steven the previous night that she was headed home. Barb tells Steven that Sadie has probably snuck off somewhere else with her "boyfriend". Steven explains she was at a party yesterday and was headed home. Steven mentions that Lars never showed up to the party, and that Onion has also gone missing. Steven tells Barb about Jamie's package that never arrived. Barb remembers that Jamie had this package when he was leaving to go to Steven's house. Steven is more intrigued and confused, realizing that these disappearances are a serious issue.
Steven and Barb split up, trying to find the missing citizens elsewhere on the Boardwalk. While checking the Funland Arcade, Steven mentions to himself that it is up to him to find his friends. Steven finds that no one is in the Arcade, or in the Vending Machine (after buying a bag of Chaaaaps). While continuing his search, Steven stumbles across a small blue Gem, asking the question of "Are you my dad?". After Steven exclaims his surprise at seeing her, the Gem repeats her question, asking if Steven is "My Dad". Steven informs her that he is not her dad. The Gem flies away quickly, and Steven cannot catch up. Steven heads back to the temple, having Garnet, Amethyst, Pearl, and Connie draw the Gem based on Steven's description. Steven mentions the gemstone under her left eye and says that Connie's drawing is the closest.
With a new Gem in Beach City, Pearl infers she must be here for the Crystal Gems, and that they should prepare for a fight. Steven explains that she is looking for her dad and that many of his friends have gone missing. Everyone is confused, as Gems don't have dads. Connie mentions that Steven has a dad, but Garnet clarifies that no other Gem is like Steven. Connie brings up the idea that the Gem could be like Steven. Garnet decides that they should split up to find this Gem. Steven is excited at the possibility of Garnet unfusing into Ruby and Sapphire, but Garnet meant splitting up into teams to search Beach City. Steven is teamed up with Connie, Pearl with Amethyst, and Garnet "with herself".
After splitting up, Steven and Connie discuss the new Gem. Connie theorizes that the Gem may have been adopted by a human father. The two travel to the Beach City Woods. Steven confesses how he feels about the missing people and the new Gem. Connie informs Steven that if there is a problem, they can get through it together. Steven continues searching in a log, as Connie stays near a tree. Steven sees the Gem on a branch behind Connie. Connie looks at the Gem and is pleased that the Gem looks very similar to her drawing. Connie attempts to help the Gem, telling her to jump down to be caught safely. The gem asks Connie "Are you my dad?". Connie is confused and offers to help the Gem find "your [the Gem's] dad". The Gem proceeds to explain that she isn't looking for "Your Dad" but instead for "My Dad". Steven, stuck in a log, tells Connie to wait and be careful. Hearing Connie's name, the Gem asks if she is "Connie". Connie says that she is. The blue Gem laughs and flies away, shouting to "Topaz" that she has "found another one". While Steven is confused, loud stomping noises shake the Forest. Connie grabs her weapon and gets prepared. The footsteps draw closer, revealing themselves to belong to "Topaz", a large yellow Fusion Gem. Topaz has absorbed the missing humans (Sadie, Jamie, Lars, and Onion) into her body, as the four captured humans panic, struggle, and scream. Connie is afraid, exclaiming that the other Gem has everyone. Wordlessly, Topaz unfuses into her component Gems, now holding the captured humans in their arms. After walking over to Connie, they refuse around her and trap and engulf her (and the other humans) within their fusion.
Steven is appalled and breaks out of the log. As he is running over to Topaz, the blue Gem lands on Topaz's head as she was making fun of the humans. As Steven summons his shield, the blue Gem takes out her hair bow, revealed to double as a wand. The Gem sends out a beam from her wand, freezing and paralyzing Steven in a bubble. The blue Gem, now childishly ecstatic, spins her wand and lets go of the beam, sending Steven flying straight into a tree. The blue Gem mentions to Topaz that all they need is "My Dad" before they can leave. Steven, still weak and injured enough to not easily move, overhears part of the Gems' conversation as they walk away. The blue Gem, revealing herself to be an "Aquamarine", chuckles that the Diamonds wasted her on an easy job like this. Even Topaz could do this job herself, Aquamarine snickers. As Topaz and Aquamarine walk away from Steven, he gradually loses consciousness and in desperation protests 'No, you can't take them'.
Features
Characters
Objects
Locations
Music
Instrumental Songs
Trivia
In the episode, it confirms that two gems can fuse, making a form around an object. This was previously shown in "We Need To Talk" when Rainbow Quartz had a microphone move inside her while taking form, and when Ruby and Sapphire fused in "Hit the Diamond" with their baseball gear on. This may also explain why Smoky Quartz doesn't have Steven's sandals.

However, in the case of Ruby and Sapphire in "Hit the Diamond", it's more likely that their "baseball gear" was shapeshifted on and thus part of their form rather than separate objects (hence why Garnet didn't have the alleged gear in her form after re-fusing).

This is the last episode storyboarded and written by Raven Molisee.
Cultural References
When Steven asks Sour Cream about checking for Onion in his favorite places, the scenes change and click in a slideshow, similarly to a classic View-Master camera.
Aquamarine constantly asking 'Are you my Dad?' could be referencing the Doctor Who story The Empty Child where the boy constantly asks 'Are you my Mummy?'.
The image on the Dream Ghost movie box resembles the iconic pottery scene from the 1990 film Ghost.
Continuity
Errors
While Garnet is squatting down to pick up the crabs, her upper arms move but her hands do not.
When Garnet places the crabs on the sandcastle, her gems are missing.
When Topaz unfuses Jamie's postal satchel falls and disappears in the next frames.
After Barb and Steven exit the Big Donut, the 'Tow Away Zone' poster is gone.
Transcript
View the episode's transcript here.
Gallery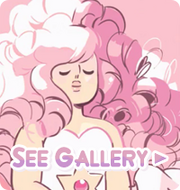 References