"

Best dang mailman, woman, or animal on the force. At least until they catch me taking from the lost mail bin. But that's between us, eh?

"
—"Sadie's Song"
Click
here
to see more of Barbara Miller's quotes.
Barbara Miller is Sadie's mother and an employee of the Beach City postal service. She is first mentioned in the episode "Cheeseburger Backpack" and made her debut as a cameo in "The Return", before having a speaking role in "Love Letters", and her first major role in "Sadie's Song".
Personality
Barbara is loud and overly enthusiastic about everything, especially if it is related to her daughter, Sadie. Energetic to a point where she is violent, strongly stepping around the house and pal-slapping Steven in "Sadie's Song". However, she understands once an issue is explained to her, despite her fault of not being a good listener. In the episode "Last One Out of Beach City", Greg claims that she threatened to hold his mail if he didn't come and play cards with Vidalia and her, and states that she "is not a woman of empty threats", implying that she can be aggressive at times.
Appearance
Work Appearance
She wears a pale mint-blue shirt/blouse with a turned-down collar and short sleeves with the logo of a letter emblazoned on it. She wears grayish-teal wide waist-banded shorts that end just above the knees. She has a tan support bandage around her left knee. She wears white high-leg socks and brown slip-on shoes. She also carries a mailbag similar to Jamie's.
History
Jamie tells Steven that Barbara yells at her if he doesn't get any signatures during mail deliveries.
Barbara packs many lunches for Sadie that are all kept in a freezer at the Big Donut, untouched. After Sadie views Rose Quartz's videotape, she calls Barbara and tells her that it is okay to bring her more lunches.
Barbara gets out of her car with Sadie to make sure that Steven is okay after flying out of Greg's van.
Barbara delivers the mail to Steven's house while Jame is emotionally distraught. She immediately recognizes Steven as Greg's son. She hands Steven a bag of coupons and leaves after telling him what Jamie had been up to.
Barbara can be seen sitting in the audience to watch Jamie's play. She cheers for Mayor Dewey at the end of the performance.
Barbara brings home another stuffed bear for Sadie like she has done many times in the past. Barbara admits to Steven that she takes from the lost mail bin occasionally. After realizing that Steven is trying to help Sadie sing at Beach-a-Palooza, she becomes excited and asks for Steven's assistance on getting Sadie ready. Sadie reveals that Barbara punched the umpire during one of Sadie's baseball games because they apparently cheated Sadie out of a double. Barbara and Steven come up with a dancing routine for Sadie. After Sadie reveals that she did not want to be pressured into anything, just like how Barbara had been doing to Sadie her whole life, Barbara admits that she wanted everyone to see how talented her daughter is. She apologizes to Sadie for never knowing.
Barbara and Vidalia invited Greg to play cards with them, and that Barbara threatened to hold his mail if he did not play.
Barbara stopped by at the Big Donut to drop off Sadie's lunch after she didn't come home after the party. Barbara is unconcerned with Sadie's whereabouts assuming she stayed the night at the party or is somewhere with Lars. Steven tells her that he left with Sadie to go home. Barbara realizes that Sadie never made it home after Steven tells her that other citizens of Beach City have begun to go missing, such as Jamie who she sent out to deliver Steven's package but never showed. Barbara parted with Steven after becoming very worried for Sadie and to go check if other citizens had gone missing from not collecting their delivered packages.
She is seen talking with the Rutile Twins during Steven's performance.
TBA
Relationships
Like her mother, she cares very deeply about her, even packing her lunch before she goes to work. She may sometimes go overboard and care a little too much about activities Sadie is interested in. When Sadie is interested in something, Barbara will take over her new interest to the point where it becomes something Sadie does not want to do. This is finally addressed in "Sadie's Song", and hopefully their relationship has improved from this.
Despite this, however, she is not above invading her privacy by making duplicates of all her daughter's keys, shown on "Are You My Dad?". She has also proved to have a degree of knowledge of Sadie's relationship with Lars, even knowing her "Island Adventure". She showed concern when Sadie went missing without any knowledge and immediately ran to find her, shouting at Sadie to hold on.
Barbara views Steven as a friend to Sadie. She invested in him helping her dress up Sadie for Beach-a-Palooza.
They are both work acquaintances. While she yells at him if he does not get signatures for deliveries, she does not speak ill of him and cares about him.
While little of their relationship is shown, they seem to be well-acquainted enough to be on a first-name basis as she remarked, "Hey, you're Greg's boy!" upon meeting Steven. In "Last One Out of Beach City", it was mentioned that she threatened to hold his mail if he did not make it to a game of cards he was invited to, mentioning that "she is not a woman of empty threats."
The extent of their relationship is unknown, but it is assumed they are friends. It was mentioned in "Last One Out of Beach City" that she, Barb, and Greg were to play a game of cards. It is unknown if this is a weekly hangout or not.
While Barbara knows about Sadie's relationship with Lars, it is currently unknown how Barbara feels about their relationship. It is implied in "Are You My Dad?" that while she appears to be okay with her daughter's relationship with Lars, Barbara has some apprehensions about him, shown by her displeased expression and tone when she assumes that Sadie went on another "Island Adventure" with Lars, whom Barbara describes as her daughter's "boyfriend".
Episode Appearances
Trivia
She seems to have a knee support band on her left leg for an unknown reason.
Her physical appearance (i.e. her face and hair) greatly resembles that of her daughter, Sadie.
She yells at Jamie if he does not get signatures, as revealed in the episode "Cheeseburger Backpack".

This suggests she is Jamie's superior at the post office.

In Brazil, she is dubbed by a man (Charles Emmanuel, the same voice actor of Peedee and Jamie).

This was fixed in the dubbed version of "Sadie's Song", and she is now voiced by Márcia Morelli (Lapis Lazuli's voice actress).

In the episode "Sadie's Song", it seems she treats Sadie like a child, giving her teddy bears.

She also has a copy of all of Sadie's keys.

It is unknown if "Miller" is her last name as well, as Sadie's father has yet to make an appearance in the series.
Gallery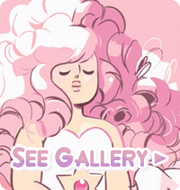 References
Community content is available under
CC-BY-SA
unless otherwise noted.