We're Getting Mutants in the MCU - The Loop
Play Sound
"

Look, I get it, you know. You're confused, you can never go back to Homeworld. This place doesn't exactly feel like home yet. You're alone, no one can possibly know what that feels like. Oh, wait, I do! We're the same, except, you don't have to be alone.

"
—Peridot
"Barn Mates" is the 4th episode of the third season of Steven Universe and the 82nd episode overall.
Official Synopsis
Steven helps two friends get along at the barn.[2]
Plot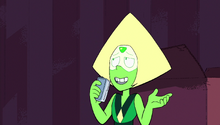 At the barn, Peridot is recording a log on her voice recorder detailing a scenario where she easily befriends Lapis and happily spends her time on Earth with her. After she ends the log to attempt said scenario, Lapis sternly declines Peridot's offering of friendship, surprising her. Lapis tells Steven that she did not expect to be living with Peridot in the barn, and he suggests that they divide the barn in half so that they both have their own space.
Peridot glorifies his thinking, but Lapis still refuses to live with her, stating that she would not be able to stand the sight of Peridot every day, seeing as how she forcefully dragged Lapis back to Earth. Peridot says that she simply needed an informant for the mission, but in the end, nothing worked out for either of them. Lapis exclaims that she used her as everyone else did, but Peridot tries to tell her that she is different now, with Steven's support. She tries to validate her point by stating that she betrayed Homeworld and insulted Yellow Diamond, but Lapis simply tells Steven that she will not be living with Peridot and flies off to the silo.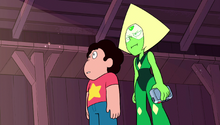 Steven is surprised at Lapis' resentment towards Peridot due to their past and apologizes for not getting them to cooperate. Peridot expresses her disappointment and says that things now are different from the past. She wants Lapis to understand that she is truly different now. Steven suggests that she should show Lapis the compassion that she gained during her time on Earth and offered to help her design a card. He explains that a card is perfect for communicating thoughts to someone who does not want to see the sender, and starts by drawing a picture of her and Lapis happily holding hands. After criticizing Steven's drawing style, Peridot writes a small letter of apology in the card upon Steven's instruction.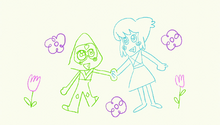 His idea is that if Peridot properly expresses her sincerity from the heart, Lapis would forgive her. Outside, they call out for Lapis and show her the card that they made together. Lapis is clearly annoyed after reading the card, which stated: "Sorry I interrogated you. You were just full of such useful information. That is a sincere compliment."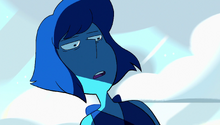 Peridot records her disappointment into the tape recorder as she enters the barn with Steven, stating that her writing elements were as sincere as they could be, blaming Steven's art for the rejection. Steven, still optimistic, suggests that she gives a gift to Lapis. They try brainstorming ideas as to what would be the perfect gift, and after bouncing around several ideas they decide to fill the hole left behind by the drill with water. Steven leads Lapis to the little pool, where Peridot floats and explains that this is perfect for Lapis, seeing as how she likes manipulating water. Lapis explains the gloomy reality of having been trapped underwater with Jasper trying to maintain Malachite for months and wants to take a break from water. Lapis flies off back to the silo, leaving Steven concerned and Peridot disappointed yet again.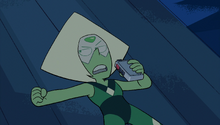 Back at the barn, Steven suggests that perhaps she should gift Lapis something she likes. She is dumbfounded as to what she could give and logs her frustration before realizing that she could gift her tape recorder. She presents her wrapped gift to Lapis and explains that when she came to Earth, Steven gave her a tape recorder so she could feel better, having the ability to talk about her strange new experiences on Earth.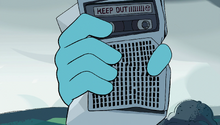 Lapis begins recording, sternly stating that she does not want Peridot's garbage, and destroys it. Peridot snaps and tries to explain that she fully understands how Lapis feels, being stuck on a different planet and unable to go back home, and wants to know what Lapis wants to make her feel better. She yells for her to leave, making Peridot walk off into the distance. Steven asks her why Lapis is still rejecting Peridot despite all the effort she is exerting, and Lapis replies with skepticism over Peridot's trustworthiness. He explains that he knows Peridot, and says that Lapis should've at least given her a chance before she decided not to like her.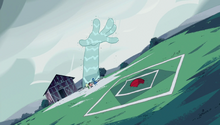 Suddenly, Peridot runs back to the barn in terror and exclaims, "They're here!" A mysterious, red, flying spherical object appears from the clouds and focuses on Steven and Lapis. They run back to the barn to hide from it, and Steven asks Peridot what it is. She explains that it is a Roaming Eye designed to track wanted Gems. It finds the hiding gems again, forcing them to run outside. The Roaming Eye pins them, and Steven tries to protect Peridot, but Lapis steps up and uses the small pool to knock out the Eye.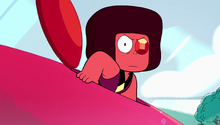 The Crystal Gems arrive after the sighting of the Eye and Lapis asks if Peridot is okay. This makes her smile in happiness, which in turn makes Lapis blush. A latch on the ship opens, revealing a Ruby with a gem on her eye.
Features
Characters
Objects
Locations
Music
Instrumental Songs
Trivia
This episode first premiered on Cartoon Network France.

The episode premiere also had the old intro.

This episode's name was first revealed in the episode listing on the Cartoon Network website.
This is Ian Jones-Quartey's last episode as supervising director.
It is unknown if Peridot still uses the terms "sense sponge" and "touch stumps", despite the fact that she referred to it as noses and fingers in the episode.
Cultural References
The episode's title is a play on the term "roommates" or people who share a room or house, conjoined with the word barn since they are sharing a barn instead.
Steven says he saw the technique of splitting the barn into two on TV, a reference to the common trope of dividing a room between two people who are not getting along.

Additionally, he claims he did not finish watching the episode he learned that from but assumes that it ended well, a joke on the fact that the majority of the plot involving splitting rooms end up showing that dividing it is not a good idea.

The drawings that Steven does in Peridot's card resemble the style of anime cartoons loosely, with big shiny eyes and minimal noses.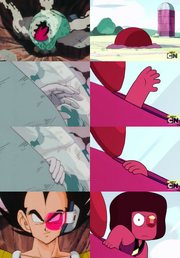 The scene where a Ruby leaves her pod is a reference to a similar Dragon Ball Z scene, where villainous character Vegeta also leaves a pod that has landed and has a device that covers his left eye with a red-tinted lens, resembling the Ruby's gem placement and color.
Continuity
The episode catches up after the conflict of the previous episode's, "Same Old World", ending, where Peridot and Lapis meet again, and Lapis is not pleased.
Various previous events in the series, of Peridot's and Lapis' lives, are mentioned in the episode, such as the invasion in "The Return", and Lapis' struggle as Malachite.
Lapis reveals that she is taking a break from water since she is in a "dark tomb" for months. This does not apply to her own powers.
Peridot's recorder from "Too Far" and "Log Date 7 15 2" makes a return, and is smashed.

The tape is still intact, however.

Peridot is still a Camp Pining Hearts enthusiast, as she mentions it again.

She has at least seen the first five seasons; as she and Steven share a negative opinion of the fifth.

The hole Peridot and Steven work with to make the pond is the hole caused by the drill they used in "Gem Drill".
After Steven and Peridot fail to win Lapis over with the card, Steven says, "Maybe she's not much of a reader?" In future episodes ("Kindergarten Kid ") and shorts ("Video Chat "), she is shown to enjoy reading
Errors
When Steven is drawing the picture for Peridot's card, he is shown to be drawing left-handed, when Steven is usually right-handed. Though this may have been intentional judging by the quality of the actual picture that he draws, it is not known why Steven would deliberately do this, so it was probably an animation error.
After Lapis smashes Peridot's tape recorder and drops it, Steven blinks, but his pupils overlay his eyelids.
The line that Steven draws on the floor of the barn repeatedly changes position and then disappears completely, although it could have been erased.
After the wrapping paper for the tape recorder is dropped, it is not seen again.
Transcript
View the episode's transcript here.
Gallery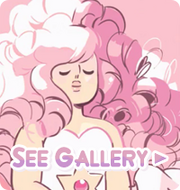 Videos
References