Jurassic World: Dominion Dominates Fandom Wikis - The Loop
Play Sound
The Barriga Residence is the home of Dante, Martha, and Lars Barriga. It first appeared in the episode "Joking Victim".
Appearance
It is a white house with a front porch and white brick steps. There is a backyard surrounded by a high wooden fence, with a trampoline in the middle of it. Inside there is a somewhat open floor plan, with the stairway being between the front room and the kitchen. Throughout the main rooms some furniture is brightly colored, contrasting against the wood, warm colored walls, carpet, and tiled flooring. Upstairs is Lars' room in the attic, which has multiple skylights on the pitched roof, some posters, racks with coats hanging on them, boxes and clutter in upper storage, a dresser with a few mirrors, a TV with some consoles, and the bed against a large window.
History
Steven and Sadie go to Lars' house with a box of donuts for him. Before they can knock on the door, they notice Jenny's car parked right outside. Hearing Lars' laughter, they move closer to the backyard to investigate. There they see Lars and the Cool Kids jumping on a trampoline together. It is revealed that Lars had faked his back injury to get out of work, leaving Sadie to mind the store by herself.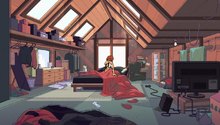 Lars is seen waking up with a NOICE Magazine over his head and takes it off. Lars looks around with stars in his irises and notices that he is not in the temple. Lars looks at his hand and says that his voice does not sound like his, and Lars stands up and reveals that he is Steven's mind inside of Lars' body. He notices that he is naked, and on the ground, Steven inside of Lars realizes that he must have jumped into Lars' mind, and says that he will do his best to respect Lars' body and privacy.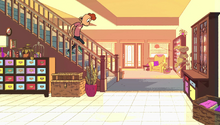 After getting dressed, "Lars" walks down the stairs, and his mom, Martha, is whispering to his dad, Dante, that they have to talk to him about something. "Lars" greets them, and Dante greets him back. After his dad asks him how he feels, he responds with "taller." His mom gives him breakfast at the table, and holds his chin as she says that it's good to see him, and reveals that his real name is Laramie. "Lars" asks who Laramie is, and his mom corrects herself by saying "I mean... Lars.", and smiles back at him.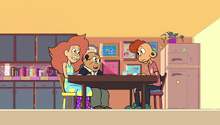 His dad tells him that school might be a touchy subject, but says that they need to talk about it, before handing him his report card. "Lars" literally reads the grade letters of the report card, saying "Ffffffbdf?", and that it does not spell anything. His mom reveals that her and his father let him live in the attic, but now that his grades are slipping, they are asking him for a little effort. Lars says that they both seem nice and that he does not want to let either of them down. Lars says that he promises to do his very best as being their son, which shocks his parents, and his mom mentions that he is wearing the plugs that she got him.
Lars, Steven and Sadie go to Lars' house to bake something for a potluck at Onion's House. They come up with ideas in the attic, and Lars decides to make an Ube roll, following a recipe from a cookbook Lars concealed under his bed. They make the cake in the kitchen, but Steven and Sadie eat all of it, so Lars makes another one with Steven while Sadie leaves for the potluck. Lars expresses his worries about going to the potluck with the cake, but Steven reassures him before leaving to make his own dish for the potluck.
Lars said he was excited to show the Off Colors his house in Beach City.
Steven and Bill Dewey go to the Barriga House to give them the "Pink Lars", which are donuts named after Lars. Dante and Martha then invited the two inside.
Trivia
Gallery