Jurassic World: Dominion Dominates Fandom Wikis - The Loop
Play Sound
Beach City is the primary location in the Steven Universe franchise. It is situated in Beach County[1] in the fictional state of Delmarva, in the 443 area code, on the East Coast of the United States.
History
The Crystal Gems have resided in Beach City before Bill Dewey's great-great-great-great-grandfather, Captain William Dewey, founded Beach City nearly 200 years ago. After many months out at sea, the Crystal Gems, as messengers of Rose Quartz, came across William Dewey's ship and warned the captain and crew to turn back, as the land that would soon be known as Beach City was dangerous and not safe for humans. William Dewey, after an incident with the mast of his ship, drifted across the sea until he and his crew encountered a massive storm and a giant Gem Monster. The ship was saved from being sunk after a Crystal Gem fusion (Obsidian)[2] saved William Dewey and the ship. She brought Dewey and the ship to shore and told the captain not to reside on the land. William Dewey chose to stay on the land, and the Fusion accepted William's decision and informed him that she would most likely interfere again.[3] The Crystal Gems continue to reside in Beach City where they watch over and protect its inhabitants from danger and evil.
The entire city was evacuated during "The Return", due to the impending arrival of a Homeworld Gem Warship. A large chunk is missing from the hill on which the Lighthouse and Crystal Temple are situated, due to the explosion made when the ship crashed into the hill. Beach City's inhabitants returned during "Full Disclosure".
In Steven Universe: The Movie, Spinel's Injector's injection site was on the hill, which created a crater in the hill that was worsened when reinjected. The injector's second, accelerated release decimated Beach City, forcing its citizens to evacuate to Little Homeworld. It was rebuilt at the end of the movie during a series of time skips.
Locations
Aqua-Mexican - Former restaurant; closed 5 years prior to the start of the series.
Barriga Residence - Home to Lars, Dante, and Martha.
Beach City Bikes - Located between the Ocean Inn and the Original Crab Shack.[4]
Beach City Boardwalk - A boardwalk where the restaurants and stands connect in adjacency and can be accessed by the public.
Beach City Funland - Amusement park operated by Mr. Smiley.
Beach City Music - A music store next to Danny's, seen in "Watermelon Steven" and "Joking Victim".
Beach City Pier - A harbor in Beach City.
Beach City Shop - A convenience store behind T-Shirt Shop, seen in "The New Lars".
Beach City Theater - A movie theater showing Dogcopter 3, seen in "Lion 2: The Movie".
Beach City Water Tower - A water tower up on the hill.
Beach City Visitor Center - A visitor center in the southwest corner of Beach City.[5]
Beach Citywalk Fries - The Fryman family business. Located between Fish Stew Pizza and Beach City Funland.
Big Donut - A donut shop; formerly Lars and Sadie's place of work and currently Bill Dewey's.
Buddwick Public Library - Founded by the renowned author, Buddy Buddwick.
Classic Thyme - A "Kitchen Shoppe" seen next to Suitcase Sam's.
Cone 'N' Son - Presumably an ice cream parlor, located between Beach City Visitor Center and the Funland Arcade.[5]
The Crab Shack - A fancy restaurant where the Maheswarans and the Universes meet in "Fusion Cuisine".
The Lighthouse or Beach City Lighthouse[5] - The HQ for Ronaldo's conspiracies which overlooks the town, located on top of the head of the Temple.
The Original Crab Shack - Another restaurant with a similar name to the Crab Shack, located across the street from Beach City Bikes.[4]
Danny's - Candy store seen while Steven sits atop the float during the Beach City annual parade.
Dewey Park - A park in the center of Beach City, presumably named after Beach City's founder, William Dewey, or Mayor Bill Dewey.[5]
Everything Buffet - Former restaurant, located where Suitcase Sam's is now; closed years ago when Kofi and Mr. Fryman ran it out of town.
Fish Stew Pizza - Pizzeria run by Kofi, Jenny, Kiki, and Nanefua Pizza.
It's a Wash - A car wash owned by Greg Universe.
The Mayor's House - Presumably the home of Beach City's mayor, formerly Bill Dewey, now presumably Nanefua Pizza.[5]
Miller Residence - Home to Sadie Miller and her mother, Barbara Miller.
Miroslaw's Jewelers - A store next door to the Beach City Theater.
Museum of Extraterrestrial Science and Technology - TBA
Ocean Inn - Located between the Original Crab Shack and Onion's House.[4]
Onion's House - Home to Onion, Sour Cream, Vidalia, and Yellowtail.
Seafood and Eat It! - A seafood restaurant that is seen in "Watermelon Steven".
Spacetries - A new pastry shop owned by Lars.
Sports R Cool - A store next door to the Beach City Theater.
Suitcase Sam's - A luggage store that Onion visits in "Onion Trade".
T-Shirt Shop - A novelty shirt shop seen in the opening, between the Big Donut and Fish Stew Pizza.
U-Stor - Storage facility. Unit 1B is rented by Greg Universe.
Wiener in Hand - A hot dog stand in Beach City Funland.
Smile - An unknown establishment in front of Beach City Funland, as seen in "Onion Trade".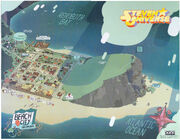 Trivia
In "Steven and the Stevens", Greg jokingly tells Steven that the population is "like 15 people", despite its status as a "city".

Plenty of equally small cities exist in the U.S. and Canada, such as Forest City, New Brunswick (pop. 12).
Of the three beachside resorts which inspired Beach City, Dewey Beach has a little over 300 permanent residents, and Rehoboth Beach and Bethany Beach only have a little over 1000 permanent residents each.
This is most likely an in-joke about how while Beach City has many people living in it, the show only introduces the audience to a select cast of relatively few characters.
In "Dewey Wins", Mayor Dewey exclaims "12 people? That's half the town!", making the population of Beach City approximately 24.

Ronaldo stated on his blog that Beach City is in Delmarva, which is a peninsula of Delaware, parts of Maryland, and parts of Virginia. He also states that "DelmarvaCon" is held over in "Charm City" every summer. Charm City is also a nickname of real-life city Baltimore in Maryland.

According to Matt Burnett, Beach City is located in the state of Delmarva, which is the show's version of Maryland, Delaware, and Virginia. He also confirms that it is a playoff of Ocean City, Maryland.

During "Jail Break", the view from the ship's window during the crash landing would support a location in the eastern states.

However, due to Steven Universe being set in alternate earth influenced by Gems, Rebecca Sugar stated that Delmarva is its own state within the show's universe.[6]

Steven Sugar had stated that Beach City was inspired by the beaches he and his sister, Rebecca, visited when they were young. He says that there are "not-so-subtle" references in Beach City to Rehoboth Beach, Bethany Beach, and Dewey Beach;[7] all of which are located in Delaware.

In the real Rehoboth Beach, there is a candy store called Dolle's Candyland[8] which is parodied as Danny's in Steven Universe, a restaurant called Bricker's Famous French Fries which has a french fry mascot,[9] and Funland is an actual amusement park for children.[10]
Rehoboth Beach, Bethany Beach, and Dewey Beach are all in Sussex County, Delaware in real life.
The area code 443 is actually an overlay area code for Eastern Maryland which went into service July 1, 1997, on top of the 410 area code which split off from Maryland's original area code, 301, on October 6, 1991. A new overlay area code for the same area as the 443 area code, 667, was implemented on March 24, 2012. 301 and 302 (Delaware's area code) are two of the original 86 area codes that were created in 1947 by AT&T.

According to Matt Burnett, Lars, Sadie, Ronaldo, and the Cool Kids are a mix of various ages, ranging from early teens to young adults.[11]
According to the official map, the peninsula Beach City is on is facing eastwards, and is adjacent to the Atlantic Ocean from the east and south, with Rehoboth Bay north of it.

The road that leads out of Beach City (Beach City Highway) becomes Delaware Route 1A (RT A1) and leads to U.S. Route 13 and Interstate 95.
For some reason, South Park Street and North Park Street, around Dewey Park, are west and east of each other, respectively.

As said in "Sadie's Song", Beach City has a swim team called the "Beach City Seals".
According to Keep Beach City Weird: You Can't Hide the Truth!!!, residents of Beach City are known as "Boardies".
Gallery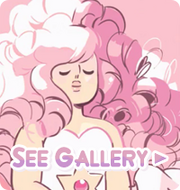 References