Jurassic World: Dominion Dominates Fandom Wikis - The Loop
Play Sound
This article is about the episode. You may be looking for the Kindergarten.
"

Amethyst, that doesn't matter. Who you are isn't about where you came from! It's who you wanna be! It's what you worked hard for. It's what you care about! That's what really matters.

"
—Steven
"Beta" is the 22nd episode of the third season of Steven Universe and the 100th episode overall.
Official Synopsis
Steven and Amethyst visit some friends in the country but Amethyst isn't being herself.[3]
Plot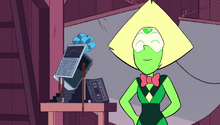 Steven and Amethyst visit Peridot and Lapis at the Barn. When they arrive, they find Peridot and Lapis watching and commenting on Camp Pining Hearts. There, they discover that Lapis and Peridot have "customized" the barn and installed an aquarium in the hole in the wall. They have also created a museum of the objects that remind them of the past, called "meep morps", which Steven realizes is their form of art. They show Steven and Amethyst their various exhibits which include Peridot's tape recorder, baseball equipment, the leaf Steven gave Lapis, toilets, and a Camp Pining Hearts DVD playing on a loop with Percy saying, "I just feel trapped." Seeing that Amethyst is not impressed, Peridot decides to put on a show by levitating several instruments. She blows on her harmonica before dropping everything else. Lapis picks up an instrument, suggesting to Peridot they play together. As they perform, Steven talks with Amethyst, who feels that they do not have time to play with garbage while Jasper continues to roam free.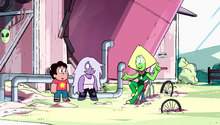 Peridot and Lapis abruptly stop playing and fall silent at the mention of Jasper. Amethyst, feeling apathetic about the museum and that she is wasting her time, angrily storms outside. Steven reveals to Peridot that Amethyst had been defeated by Jasper in a fight and is now obsessed with getting a rematch. Peridot goes outside and tries to cheer her up. She tells Amethyst that she is much better than Jasper, stating that she should not compare herself to Jasper because of their differences inherited from their different Kindergartens; Amethyst is from the Prime Kindergarten in Facet 5, and Jasper is from the Beta Kindergarten in Facet 9. Steven and Amethyst are intrigued, not aware of this before now. Peridot decides that they should go to the Beta Kindergarten so they can see how others like Jasper were made.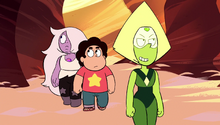 Steven, Amethyst, and Peridot arrive via a warp pad. As they walk through the Beta Kindergarten, Peridot explains that halfway through the Gem War, Homeworld needed more Gems, so they scrambled to make a second Kindergarten. She further explains that the Gems created here were rushed, shown by the unusual exit holes. They stumble across Jasper's exit hole, and after checking it, Peridot claims she has never seen an exit hole this perfect. Amethyst is at first discouraged by this. Steven is able to restore her confidence, however, by telling her that what she wants to be is more important than where she came from.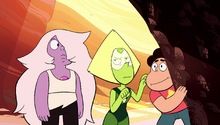 Amethyst states that she will defeat Jasper on behalf of all the Gems who have imperfect exit holes, and points out multiple other botched exit holes as examples. Peridot claims one of them is new, and leads Steven and Amethyst to another area filled with more new holes with bars over them forming cages. Peridot realizes that these aren't exit holes anymore. When they get close to one of the cages, a Corrupted Gem similar to the Great North Monsters swipes at them. They find that many Corrupted Gems are trapped inside the cages. After wondering who would do such a thing, Amethyst says "That's who" the trio looks over and sees Jasper in the distance, Amethyst summons her whip and the episode ends.
Features
Characters
Objects
Locations
Music
Instrumental Songs
Trivia
This episode's name was first revealed in the episode listing on the Cartoon Network website. This episode was originally named "Beta Part 1".[4]
This episode was first aired in Canada on Friday, August 5, 2016. It then aired in the US on Monday, August 8, 2016.
When Peridot asks Lapis which season of Camp Pining Hearts she's watching, Lapis replies "three", which could be a reference of the season this episode was released in, Season 3.
Controversy
The episode was met with controversy upon its release. Fans of the show became confrontational with former show writer Jesse Zuke on Twitter due to the perceived subtext hinting at romantic developments between the characters Lapis and Peridot within the episode.
The perceived subtext supposedly conflicted with the many fans' own non-canonical character relationships amongst the fandom (commonly referred to as "shipping"). Many advocates of "Amedot" (the Amethyst and Peridot relationship headcanon) became hostile towards Zuke for allegedly negating the "Amedot" headcanon. Some fans also observed the "Lapidot" (the Lapis and Peridot relationship headcanon) focused moments in this episode as "queer-baiting", a term used to describe the inclusion of homoerotic tension between two characters to attract more liberal and queer viewers, without the relationship explicitly addressing the question of either character's sexuality (this accusation made despite the fact that the series already had an established history of canon queer relationships).
On August 12, 2016, Zuke deleted their Twitter account, likely as a result of the preceding controversy. In an io9 article published on August 13, 2016, Zuke stated:
"I decided I don't want to be accessible to thousands of people who think because I work on a TV show that I owe them myself all the time."[5]
Cultural References
Beta is the second letter in the Greek alphabet, often used to denote a second in command or subsequent testing period.
The Beta Kindergarten seems to be located in the Grand Canyon.
Peridot wearing a bow tie, and her eccentric personality contrasting with Lapis' more laid back attitude references roommate shows and buddy comedies such as "The Odd Couple" and "Abbott and Costello".
Continuity
The Beta Kindergarten mentioned by Peridot in "It Could've Been Great" appears for the first time.
The title card features the barnyard rather than the Temple's hand; the first to do so since "Hit the Diamond".
Amethyst's whip upgrades from "Bismuth" appear again.
Peridot says "home away from Homeworld," a direct quote from "Same Old World".
Lapis' meep morps reference events from "Same Old World" and "Hit the Diamond".
Peridot's toilets reference events from "Catch and Release".
Peridot appears to have better control of her ferrokinesis, which was discovered in "Too Short to Ride".
Peridot's plush from "Too Short to Ride" returns.

Peridot now wears the bow tie from the plush herself.

It's mentioned that Amethyst has been training since "Steven vs. Amethyst".
Peridot and Amethyst mention a Carnelian who came out of her rock formation sideways and a Quartz whose malformed hole is described as "skinny". Presumably, this is in reference to Carnelian and "Skinny" Jasper, who would later debut in "That Will Be All".
Errors
Note: Time is displayed in [mm:ss]; [00:00] refers to the point after the title card is displayed and before the episode's start.
Design
[03:45] When Lapis walks up to Peridot after seeing her failed attempt at impressing Steven and Amethyst with her "one-Gem metal band", Lapis' gemstone is missing.
[06:25] When Lapis replies "no" to one of Peridot's questions, part of her dress is missing.
Transcript
View the episode's transcript here.
Gallery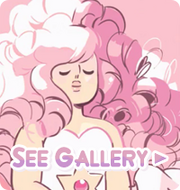 Videos
References