Jurassic World: Dominion Dominates Fandom Wikis - The Loop
Play Sound
This article is about the formerly corrupted Crystal Gem. You may be looking for another Jasper.
Biggs Jasper, also known as the Orange Great North Monster in her corrupted state, is a formerly-corrupted Gem and a member of the Crystal Gems that first appeared in the episode "Gem Hunt". She was held captive by Jasper until "Crack the Whip", where she was poofed by Amethyst and bubbled by Steven. She was mentioned twice by Bismuth in the episode of the same name. She was released by Bismuth, who was unaware of her corruption status, in "Made of Honor". She was poofed by Bismuth and bubbled again by Steven in the same episode. She (along with the other bubbled Gems) was uncorrupted by Steven and the Diamonds in "Change Your Mind".
Appearance
Corrupted
Biggs Jasper, while corrupted, was a giant wolf-like creature with three horns and light beige hair. She had a mixture of brown-orange colors, with designs similar to that of a real Biggs Jasper gemstone. In "Earthlings", Jasper believed the Snow Monster to be a Quartz Gem like herself, implying that the Orange Great North Monster was too. Her gemstone type was confirmed in "Made of Honor" by Bismuth.
Uncorrupted
In her uncorrupted form, Biggs appears to be wearing a tank top, similar to the one from Amethyst's previous form. Biggs also still has three small spikes on her forehead. Much like most of the uncorrupted quartzes. Her clothing is a dark maroon tank top and very dark maroon underwear like shorts, dark maroon tights with beige ovals on them, and reddish brown shoes.
Personality
Uncorrupted
In "Made of Honor", Bismuth says she was beloved by everyone.
Corrupted
Like all Corrupted Gems, Biggs has no memory of her former self, as shown when she attacks Bismuth in "Made of Honor" without hesitation.
Abilities
Biggs Jasper possesses standard Gem abilities, bubbling, shapeshifting, fusion, regeneration, agelessness, and superhuman strength/durability.
Corrupted
Superhuman Strength: While corrupted, Biggs was strong enough to shatter Steven's bubble shield.
History
Thousands of Years Ago
During the Rebellion, Biggs defected from Homeworld and became a member of the Crystal Gems. She fought in the war until its very end, when the Diamonds unleashed the Corrupting Light. Biggs was unable to escape the blast and became corrupted when exposed to the light.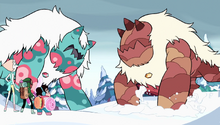 Biggs and the Snow Monster are shown roaming the Great North and trying to evade Jasper. She is eventually found, poofed, and taken prisoner by Jasper alongside the other monster.
Biggs and the Snow Monster are used by Jasper in an attempt to attack the Crystal Gems. She initially attempts to attack Steven and Connie, but Amethyst restrains her before she can reach them and poofs her. Steven bubbles her gemstone and warps it to the Burning Room.
Steven recalls how Jasper returned with Biggs and Ocean Jasper.
Bismuth mentions Biggs as one of her friends, and believed that she was shattered during the Rebellion.
Upon seeing the Burning Room, Bismuth takes note of several Crystal Gems bubbled, including Biggs. She pops the bubble containing Biggs Jasper's gemstone, causing her to reform and attack Steven and Bismuth. Steven puts up his bubble shield to protect them, but she then breaks it. Before Biggs Jasper can harm the two of them, Bismuth blocks her attack and then poofs her once more, allowing Steven the opportunity to re-bubble the Gem.
Biggs is one of the many Corrupted Gems that are healed, and Bismuth screams out her name in joy before eagerly leaping into the Fountain to tackle hug her now restored friend. She is later seen alongside Steven, Nephrite, Watermelon Tourmaline and Ocean Jasper talking together when Jasper emerges and prepared to attack Steven; still thinking that he was Rose Quartz. Amethyst then swims past Biggs and the others to go and greet her now uncorrupted "sister".
Biggs is depicted as a member of Amethyst's family as she sings "Happily Ever After". Biggs also appears at Sadie Killer and the Suspects's rock show as a spectator. She is later seen at Little Homeworld, where she helps the evacuees settle in.
Biggs attends Amethyst's class, "How to Decide Stuff for Yourself 101".
Biggs is seen operating the ferris wheel at Beach City Funland.
Biggs is shown alongside other Quartzes playing volleyball. But they accidentaly crack their gemstones and go to Steven to heal their gems. Then they return to playing volleyball.
She attends a party at the Beach House, welcoming Bluebird Azurite to Earth.
Relationships
"

Biggs was beloved by everyone!

"
—"Made of Honor"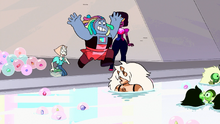 Biggs Jasper, as a member of the Crystal Gems before being corrupted, was friends with Bismuth. Once Bismuth is first freed from her bubble (5,000 years after being poofed and having missed the rest of the War), Bismuth asks about the whereabouts of some of her closest Crystal Gem friends, including "Biggs". Later, in "Made of Honor", Bismuth mentions that "Biggs was beloved by everyone." Bismuth frees Biggs from her bubble, only to find out that Biggs has become corrupted. Biggs Jasper, now monstrous and hostile, attacks Steven and Bismuth, who then attacks and poofs her former friend. In "Change Your Mind", after she's uncorrupted, Bismuth screams out her name in joy as she immediately tackles Biggs into the Fountain to hug her, symbolizing their close relationship.
While not much is known, they are shown to be close, often hanging out and walking together. This may be part because of the time they spent corrupted.
Episode Appearances
Trivia
Rebecca Sugar confirmed at New York Comic Con 2016 that Ocean Jasper and similar corrupted Gems, such as Biggs, are types of Jasper.[1]
Biggs is the second corrupted Gem to have their name/Gem type revealed within the series (unlike Watermelon Tourmaline, whose name was only revealed by Ian Jones-Quartey on Tumblr, and unlike Lace Amethyst, Blue Lace Agate, Orange Spodumene, and Larimar, as their names were confirmed in the documentary that came with the Steven Universe: The Movie DVD).[2] The first was Desert Glass.
Although she is a biggs jasper, the circular styles on this Gem's gemstone somewhat resemble the appearance of real-life Bruneau jasper.

However, her skin has the "layered" appearance of real biggs jasper.

Biggs' gemstones changed radically from her appearances, both in shape and color. This is for unknown reasons.
| Image | Description |
| --- | --- |
| | Biggs Jasper's gemstone is located on her chest. The hexagonal-faceted gemstone is brown with tawny and cream ovals. It is a tetra-decahedron, specifically a truncated hexagonal dipyramid. As seen in "Gem Hunt", it has a peach ring around it, which is hidden inside her body. |
| | The simplified render of Biggs Jasper's gemstone, used at the end of "Change Your Mind", throughout Steven Universe: The Movie, and all of her appearances in Steven Universe Future. |
Galleries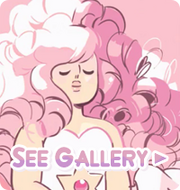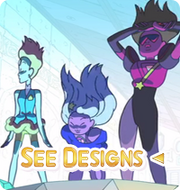 References