This article is about the episode. You may be looking for the character.
"

You didn't even tell em'. You bubbled me away and didn't ever tell your friends — my friends.

"
—Bismuth
"Bismuth" is the 20th & 21st episode of the third season of Steven Universe and the 98th & 99th episode overall. It is a 22-minute special episode.
Official Synopsis
Steven discovers something the Gems thought was lost to the past inside of Lion's mane.[2]
Plot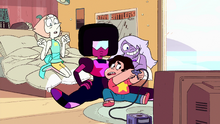 Steven is playing a video game while the Gems watch and encourage him. They are interrupted by Lion chewing on one of Steven's shirts. Steven retrieves the shirt from Lion's mouth, and puts it on his drawers, stating about his memories in Funland's Thunder Bird Coaster. Lion starts becoming persistent and continues stealing and chewing the shirt. Steven reaches a decision to put the shirt in Lion's mane so that he can no longer chew it. He puts the shirt on one of the branches of the tree in Lion's dimension, believing it will be safe hanging on the stable tree. Suddenly the branch breaks and Steven accidentally pops a bubble containing a gemstone and falls out of Lion's mane.
In an attempt to fix the situation, Steven re-enters Lion's mane to try and bubble the gem, but before he gets the chance to, the Gem reforms, recedes in fear like she is in a battle, and sees that there's no one there except Steven. They stare at each other for some time before Steven gets out of Lion's mane. Steven reports to Garnet, Amethyst, and Pearl that there is another Gem inside of Lion's mane. Steven explains her appearance until Garnet requests he bring her out. When Steven enters Lion's mane one last time, the giant Gem appears and tells Steven that they are both alone in some place and that he must help her find a way out. Steven holds out his hand and brings the Gem out.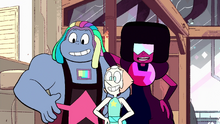 The Gems look at her and Amethyst says "Wow, a total stranger!" Pearl suddenly cries and runs towards the Gem yelling "Bismuth!", the strange Gem hugs Pearl and says that the Pearl she knew would never come for a hug. She asks whether someone lost one and asks her to whom she belongs to in a friendly yet sarcastic way, and Pearl responds "Nobody!" in a way that suggests it's a friendly dialog they used to share. Garnet reveals to Steven and Amethyst that her name is Bismuth and that she was one of the original Crystal Gems. Bismuth acts very friendly with Garnet and Pearl because she knew them during the war. She greets Amethyst and is surprised to learn that Rose has become Steven. Bismuth points out several things about their new base, such as it being made with wood. Bismuth asks where the other Crystal Gems are and her question is answered shortly in the Strawberry Battlefield.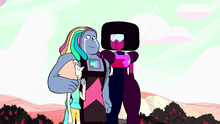 Garnet and Pearl explain the outcome of the Rebellion to her, prompting her to cry when she realizes many of the Gems she fought beside are gone. She releases her anger and throws an axe towards the ground, believing that she could have stopped the Homeworld Gems if she was around. The others reveal to her that Homeworld Gems still want to take Earth, and Bismuth relishes the opportunity to fight them again. Bismuth decides to take them to the Forge
The Crystal Gems warp near an active volcano and Bismuth leads them to the entrance of the forge. They go inside where Bismuth begins forging a sword. As Steven watches, Bismuth explains to him that she made all of the material weapons for the Crystal Gems here. She then gives enhancements to Garnet's and Pearl's weapons. As Bismuth talks with them, Amethyst expresses her suspicions to Steven, wondering why the other Gems had never mentioned Bismuth to her before. Bismuth approaches them, asking what weapon Amethyst uses. She gives Bismuth her whip, who upgrades it with an enhancement before handing it back to a surprised and delighted Amethyst.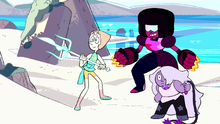 Later, Bismuth, Garnet, Amethyst, and Pearl are seen sparring on the beach while Steven watches. Bismuth asks Steven to join in, explaining to him that it is a ritual of the Crystal Gems to spar before battle. Steven replies by saying that it is too intense for him, and he then shows Bismuth some of his rituals. The Crystal Gems play badminton, cards, make and eat pizza, and watch a Lonely Blade movie. At night, Steven tells Bismuth she can sleep in the Beach House if she wants to. Bismuth tells him she is glad to have another chance and asks him if he will show her his combat skills tomorrow. Steven admits that most of his weapons are for defense except for Rose's sword, which he pulls out of Lion's mane. He hands the sword to Bismuth who reveals to him that she had made it. She explains to him how Rose had changed her life, and Steven responds by expressing his concern that he will never be able to measure up to his mom. Bismuth comforts him by telling him that he is different, which makes her consider giving him a weapon of his own.
Later, Bismuth takes Steven back to the Forge to show him the Breaking Point, a weapon that shatters Gems on impact. Steven finds out that Bismuth was bubbled inside Lion because she was going to try to shatter Homeworld Gems with the Breaking Point. It is revealed that Rose did not think it was right, and she had ended up bubbling Bismuth and lying to the other Crystal Gems that she had went missing in battle. Steven shows the same point of view, and this angers Bismuth, who thinks that he lied about being a different person from Rose. A showdown ensues between Steven and Bismuth. She accuses Rose of valuing her enemies' gems more than her own army. Bismuth claims that she could have ended Homeworld's tyranny, shattered the Diamonds with the Breaking Point, and liberated everyone.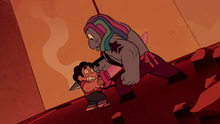 Steven manages to subdue her for a moment by throwing a statue at her and tells her that this has to stop. Bismuth yells at him to just shatter her, but Steven refuses. He states that even if they do not agree, no one deserves to be shattered. Bismuth takes the Breaking Point from him and raises it, but Steven is quick to grab his sword and jab it through Bismuth. Bismuth tells Steven (Rose) that she should have shattered her before so that she did not have to know how little she mattered to her. Steven promises to tell the others about what happened to her, and Bismuth bitterly laughs, stating that he "really is better than her" and finally poofs. After Steven tells them everything, the Crystal Gems put Bismuth's bubble in The Burning Room. They meet Steven outside on the deck, and the episode ends.
Features
Characters
Objects
Locations
Music
Instrumental Songs
Trivia
This is the first official half-hour special of the series; previous "half-hour special events" were two-part episodes combined and aired together (i.e. "Mirror Gem"/"Ocean Gem", "The Return"/"Jail Break", "Super Watermelon Island"/"Gem Drill"). Because of this, the episode has a unique title card. The episode begins immediately after the opening theme, and the title and credits are not displayed on a separate card, but instead are superimposed over the action.
This episode reveals several facts about Bismuth.

Bismuths belong to the worker caste of Gem society. They are made to be construction workers, responsible for erecting such structures as spires, arenas, and temples.
Bismuth was the one who forged Rose's Sword, along with every other material Gem weapon and piece of armor used by the Crystal Gems. Additionally, she makes physical enhancements that can modify summoned Gem weapons.
Bismuth was poofed roughly 5,300 years before the show, which is around the start of the Bronze Age.

This is the first time Steven has poofed a non-corrupted Gem.
This episode confirms that Gems can speak in airless (or at least oxygen-less) environments such as Lion's Mane Dimension, where Bismuth was capable of speaking to Steven while he could only hold his breath as usual.
Steven is able to hear Bismuth inside Lion's mane. This along with the events of Bubbled implies that Gems are able to somehow transmit sound through airless environments or vacuums.
Bismuth reveals that Rose was made on Earth. However, this is contradictory to Rose's statement (voiced by Pearl) that refers to Homeworld as her home in "Rose's Scabbard".
The Cartoon Network Studios logo appears in a mug.
Cultural References
Steven's drink during the Gems' sparring sequence looks very similar to an old fashioned glass bottle of Coca-Cola.
Following each commercial break is an eye catcher signaling the return to the show. They feature chibi versions of the Crystal Gems using a Warp Pad, and are similar to the style of eye catchers used in anime, such as Sailor Moon R and Yu Yu Hakusho.
Based on the size and the characters on the blade, the large sword blade seen on the wall of the forge may be a reference to Omegamon's Grey Sword from Digimon.
The Breaking Point has a similar appearance and function to the Big O's piston punch from the anime The Big O.
Steven throwing Bismuth's weapon into the lava is very similar to the scene in which John Connor throws the Terminator endoskeleton arm into molten steel in Terminator 2: Judgment Day.
Continuity
Errors
When Bismuth blocks Pearl's attack, her pants are missing.

This also happens when Pearl says "Or worse, shattered."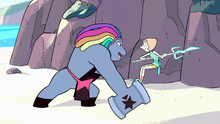 When Steven first pops the bubble Bismuth is trapped in, the gem is facing towards him with the notch on the top left. In the next frame with Bismuth's gem, the notch is on the bottom left. Then when Steven goes back into Lion's mane Bismuth's gem is facing away from him with the notch on the bottom right.
When the Gems stare at Bismuth's bubbled gem, the bottom half of Garnet's bodysuit is reversed.
When Garnet is standing by Steven outside in the night, the heels of her shoes are white.
When Bismuth tears a part of the floorboards of the beach house, two of her dreadlocks switch colors, returning to normal on the next scene.
Before being poofed, in a few shots, Bismuth's headband turns into a dreadlock.
When Steven was describing Bismuth to the gems, Garnet's middle finger was as the same color as her skin color.
Cartoon Network marks this episode as the 100th episode, which is the 98th and 99th episode overall. According to Matt Burnett, it marks as the 99th and 100th episode overall. The real 100th episode was "Beta".
When the entrance to the Forge is completely created, Bismuth's left thumb appears square-shaped.
Transcript
View the episode's transcript here.
Gallery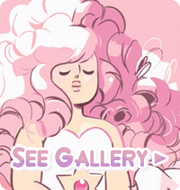 Videos
References
Community content is available under
CC-BY-SA
unless otherwise noted.