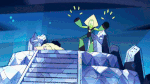 "You have to fix this!"
Bismuths were builders on Homeworld, mainly working to buildings structures and ships for other Gems. Bismuths are voiced by Uzo Aduba in the main series and Miriam Hyman in Unleash the Light.
Role
Main article: Caste System 
Bismuths were builders for aristocratic members of society. As such they possessed a broad stature for intense physical labor, above-average resistance to heat and damage and hands capable of fluidly changing form without the need for typical Gem shapeshifting to fit a wide variety of purposes.
Physical Characteristics
Bismuths have large, top-heavy builds, specifically made for heavy construction. Their hair is multi-colored and styled as dreadlocks. While their colors vary, all Bismuths have cool colors, for example, blue, purple, and green.
They all have hollow gems, the insides lined with multiple colors, similar to their hair.
Main Bismuths
Bismuth - One of the original members of the Crystal Gems, she decided to work as a blacksmith against her initial orders, and later helped with the construction of Little Homeworld.
Other Bismuths
Demantoid's Bismuths - Multiple Bismuths are seen working at Demantoid's colony, despite Steven sending a message across the universe urging for the dismantling of all colonies.
Trivia
For an unknown reason, the Bismuths in Unleash the Light are played by Miriam Hyman instead of Uzo Aduba.
Community content is available under
CC-BY-SA
unless otherwise noted.