Bixbite
, also known as the
Crab Gem Monster
when corrupted, is a former 
Corrupted Gem
that first appeared in "
Rising Tides, Crashing Skies
".
Appearance
Corrupted
She resembles a large crab. She has two large claws and six legs. On the top of her head, she has four small horns and in the center is one large spike. She has only one eyeball, with a small visible iris. She is only seen through Ronaldo's night vision camera, therefore the actual color of her shell is unknown. In the palette seen, she appears to be a dark teal color, although she could be orange and white, like her minions. She has two mandibles on her front acting as a mouth.
Uncorrupted
In her uncorrupted form, she has red, tan, and white coloring. She appears to wear a helmet with three spikes on top and a short bobbed hairstyle. She has one large eye and one pointed tooth. She has broad shoulders and still possesses a large claw on her right arm, with her left arm being normal. Most of her body appears to be covered in a reddish exoskeleton not unlike that of her corrupted form (an apparent corruption scar much like her claw), with discernable segments on her elbows and knees.
History
She is seen fighting the Crystal Gems in Ronaldo's video.
She was healed at Rose's Fountain alongside many other corrupted gems.
She is among the gems present in Cherry Quartz's tour of Little Homeworld, attending Vidalia's art class.
She was given a job at Fish Stew Pizza as a chef by Amethyst. She is shown to be very skilled at cutting, having perfectly sliced up the pizza and its ingredients.
Personality
TBA
Abilities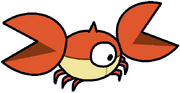 Precise Cutting: When uncorrupted, Bixbite has been shown to have a knack for making the perfect cut, as shown in "Guidance", where she perfectly sliced up a pizza.
Creature Creation: At least while corrupted, Bixbite can generate smaller Crab Monsters. 
Episode Appearances
Trivia
Bixbite in her corrupted form resembles Gohma from the Zelda series, particularly in how she seems to use her claws to help protect her eye, which is her weak spot as well as her ability to spawn smaller versions of herself.
Bixbite is similar to Nephrite in her corrupted state, and the Gem Cave Creature, in the sense that she is able to summon smaller versions of herself.
A sticker sheet released by Quidd after "Change Your Mind" aired incorrectly listed her gemstone as "Aventurine"; her actual name was confirmed as Bixbite in "Guidance", which aired months later. As aventurine is a blue-green gemstone, this error may come from the fact that the gemstone was previously only seen in a green palette from the nightvison of Ronaldo's camcorder.
Bixbite's red-and-yellow design is based on a unheated bixbite, which usually come in pinkish red.
Out of all of the uncorrupted gems that were redesigned, Bixbite's design changes were among the most minor, the only changes being the arrangement of the spines on her "helmet" and the brighter shade of red on her outfit.
Her design appears to be a reference to Darrell, a robotic character from Ian Jones-Quartey's OK K.O.! Let's Be Heroes. This makes her the second gem character to have a design that pays homage to Ian's own series, the first being Ruby, who was loosely based on the depiction of K.O. from the show's pilot, Lakewood Plaza Turbo.
| Image | Description |
| --- | --- |
| | Her gemstone is shaped like an upside-down teardrop. It is greenish-blue in color. Due to the actual palette of the Gemstone being unknown, it appears greenish-blue during the camera recording from "Rising Tides, Crashing Skies". |
Gallery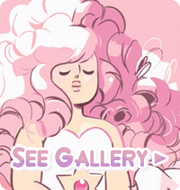 Community content is available under
CC-BY-SA
unless otherwise noted.