"

You cannot fathom how much I've mourned. What thousands of years of grief has done to me!

"
—"Reunited"
Click
here
to see more of Blue Diamond's quotes.
Blue Diamond is a Homeworld Gem and a member of the Great Diamond Authority that rules over the Gem race. She first appears in a flashback in "The Answer" and debuts in person in "Steven's Dream".
Appearance
Blue Diamond, as one of the rulers of Homeworld, is of a massive size, with her towering height making her own Pearl appear tiny in comparison. However, her somewhat hunched posture, combined with her long, sweeping cloak, gives her a relatively smaller and more despondent silhouette than if she were standing straight.
Her complexion is sky blue, and she has long, straight alice blue hair which curls inward at the ends. Two noticeable and symmetrical locks of her hair curl and point inwards towards her face just below her cheekbones. She has a long ovoid face, a full upper lip, and a straight nose. She also possesses large, sad, downward-slanting eyes – similar to a stereotypical flapper from the 1920s, when slanted, soulful-looking eye makeup was very popular - with dark circles under them, most likely due to her depression over the supposed shattering of Pink Diamond. Her irises are light blue with black diamond-shaped pupils, thin arching eyebrows, and three triangular black "eyelashes" under each eye.
Her gemstone is located on her chest above her sternum, and she wears a long navy blue cloak that touches the ground. Underneath the upper part of her cloak, she wears a navy blue cowl (or hood) which she seems to always have pulled up over her head, concealing parts of her face. She also is the same size as Yellow Diamond; however, she sometimes seems to look shorter than Yellow Diamond, who herself wears heeled boots and maintains a straight and rigid posture, while Blue Diamond has a noticeably bent posture, evocative of a sad and lonely person hiding inside of their cloak.
Personality
Blue Diamond's debut portrays her as a very mellow Diamond who treats high-ranking members of her court with respect. According to Holly Blue Agate, Blue Diamond has a reputation for mercy and forgiveness. "Saving" Greg from the threat of the Cluster after taking a liking to him, unaware that the Cluster is no longer active, demonstrates this. Another example of Blue being merciful is when she restrained herself from attacking Rose Quartz (Steven) and gives him a chance to speak. However, as with Yellow Diamond, her true nature may be at odds with her reputation, as she sentences Ruby to shattering for accidentally fusing with Sapphire while trying to do her job and saving her. However, it is unknown if her personality has changed over the millennia after Pink Diamond's alleged shattering.
Blue Diamond's temperament appears to have changed significantly in the 5,000 years following the shattering of Pink Diamond. She is currently in a state of great depression, still mourning over the shattering of her fellow diamond. She is unable to let go of the past, becoming fixated on preserving Pink Diamond's legacy. Her efforts to maintain the late diamond's zoo, save Earth specimens from the Cluster's emergence, and her refusal to shatter the rose quartzes that once served under Pink Diamond shows this behavior. She continues to regard the Earth as Pink Diamond's colony, and, due to being unaware that the Cluster is bubbled, is visibly saddened by the fact that the planet will eventually be destroyed.
Additionally, Blue Diamond seems not to understand humans, given by how she was surprised that Greg was able to comprehend and sympathize with her pain of losing a loved one, though this is understandable since she is not native to earth and has had very little reason to get to know humans.
Blue Diamond, as shown in the episode "The Trial", is extremely diplomatic. Against Yellow Diamond's wishes, she allowed Steven to continue making his case during his trial, though she did lose her temper when his recounting of events differed. She nonetheless seemed to want to hear Blue Zircon's theory on how and why Pink Diamond was shattered. When Yellow Diamond snaps and poofs both Zircons present at the trial, Blue Diamond confronts her and scolds her for not having enough restraint to hear the case out. This shows that Blue Diamond may be as merciful and forgiving as her gems claim – at the very least, she certainly has a greater respect for due process and an interest in the truth.
In "Reunited", despite her unreasoning aggression towards the Crystal Gems, Steven later heard Blue's thoughts, that despite seeking to do them harm it only made the pain she felt worsen and her longing to see Pink grow.
After learning of Rose Quartz and Pink Diamond being the same person, she has shown concern over Steven along with Yellow Diamond.
History
Not much is known about Blue Diamond's past. However, what is known is that she had a very close relationship with Pink Diamond, likely because she helped supervise Pink's colony. By the time the Earth was being colonized, Blue Diamond had fewer colonies than the other Diamonds, with the exception of Pink Diamond.
After Rose Quartz and Pearl rebelled, Blue Diamond called Sapphire to Earth to share a vision of the future. Once Sapphire explains what the rebels will do on the Cloud Arena, Blue Diamond thanks Sapphire for her vision. Once Rose and Pearl show up, Blue Diamond's Palanquin grows spider legs to get her to safety and protect her. Blue Diamond is later disgusted by Ruby and Sapphire's fusion, threatening to shatter Ruby for fusing with a member of her court.
Blue Diamond returns to Earth one last time to pay her respects to Pink Diamond before, as she believes, the Cluster will emerge, unaware that Steven had contained the superweapon months earlier. Blue Diamond expresses regret over how she should have done more, and wonders what Pink Diamond would think of the Cluster destroying her colony. After Greg reveals himself, Blue Diamond asks her Pearl to bring Greg to her. She then states how she is impressed by humanity's ability to survive in the wild and remarks on the irony that a fragile human can survive on Earth while a being as powerful as a Diamond can perish. When Greg tells her that he also lost someone close to him, Blue Diamond is surprised that a human can sympathize with her, and is glad that she can save Greg from the Cluster. She forcefully takes Greg and boards her ship with the goal of bringing him to Pink Diamond's Zoo.
Holly Blue Agate reveals that after Pink Diamond was shattered, Blue Diamond took over her Zoo in an attempt to preserve her legacy. Blue Diamond and Holly Blue have been maintaining the Zoo since Era 2 began.
Blue Diamond returns to the Zoo to mourn alongside a room full of bubbled Rose Quartzes. She is shocked to find Yellow Diamond entering the room and tells her that she just wants to cry alone. Blue Diamond listens to Yellow Diamond's song, comforts Yellow when it ends, and is greeted afterward by Holly Blue Agate and the Crystal Gems. Blue Diamond does not understand what Holly Blue means by Sapphire's "special delivery". Once Sapphire lies and tells her that she foresaw Blue Diamond requesting more humans for the zoo, Blue Diamond believes her and is sad to announce that there is limited time to retrieve more humans due to the Cluster.
Blue Diamond and Yellow Diamond both act as judges for Steven's trial. Blue Diamond first appears beside Yellow Diamond after her Pearl introduces her. She wonders where Rose Quartz is, and when Yellow suggests shattering Rose just for "looking like that", Blue Diamond says she wants to hear her make her case. She also states that she wants to punish Rose for what she did to Pink Diamond. After listening to the prosecuting Zircon's case, Steven tells the Diamonds that he shattered Pink Diamond, prompting Blue Diamond to ask Steven how he did it. Steven doesn't know how so he makes up a story, but when he brings up the Breaking Point, Blue Diamond loses her composure and causes the whole room to cry. She states that Rose shattered Pink Diamond with a sword. After the court takes a short recess, the defending Zircon presents evidence that shows Rose couldn't have shattered Pink Diamond, which surprises Blue Diamond. Eventually, the defending Zircon unintentionally accuses the Diamonds of being capable of such a thing, shocking Blue Diamond. When Yellow Diamond poofs both the prosecuting and defending Zircon, Blue Diamond yells at her to stop, asking her to restrain herself. Immediately after, she is surprised when Steven and Lars hijack her palanquin and escape through the ceiling.
Steven tells Lapis and Peridot about his Homeworld adventure, describing his trial in front of the Diamonds and subsequent escape in a commandeered palanquin, much to Peridot and Lapis' shock. Afraid that the Diamonds will eventually find them on Earth, Lapis leaves the planet.
Blue Diamond appears in Garnet's story of Rose Quartz. Alongside Yellow and White Diamond, she helps corrupt most of the remaining Gems on Earth at the end of the Rebellion.
Blue Diamond appears in Steven's dream about the Diamonds. She advises Pink Diamond to deal with the growing Rebellion on Earth shortly before the latter's assasination. After Steven informs Lapis Lazuli about his dream, she misunderstands its meaning, causing her to abandon Earth and the moon forever.
Blue Diamond does not appear in this episode; however, she is mentioned twice. The first time indirectly by Gem War Pearl who says "There was a bright light and everyone was – why did I do it?" The bright light is referring to the light the remaining Diamonds used to corrupt the remaining Rebellion. The second time she is mentioned is by Rose Quartz when talking with Pearl. She says "Blue and Yellow don't care! They never have!" just before turning back to Pink Diamond to feign her shattering.
Blue and Yellow Diamond appear in Pearl's flashback about Pink Diamond. Pink pleads with them to spare the Earth, but they both refuse to listen, forcing her to begin the Rebellion as Rose Quartz.
Blue Diamond appears alongside Yellow, entering Earth during Garnet's wedding, and awaken The Cluster. While Yellow Diamond is busy fighting the Cluster, Blue Diamond lands on the beach and engages in combat with Steven, Connie, Pearl, Amethyst, Garnet, Bismuth, and Peridot. After a brief fight, Blue easily overpowers all of them. Garnet stands up to Blue Diamond, and clings onto her leg. This is then revealed to be a distraction while Lapis Lazuli, who now joins the fray, drops the barn on Blue Diamond. Blue quickly recovers, however, and retaliates until the Cluster seemingly crushes her with her and Yellow's ships. With help from Yellow Diamond, Blue recovers and continues to fight until Steven convinces her to stand down by revealing that he is Pink Diamond, which Blue Diamond is overjoyed by.
Abilities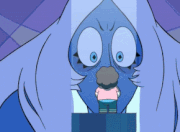 Being a Diamond, Blue Diamond is one of the most powerful Gems in the entire Gem Empire, who demonstrated the ability to take on the Crystal Gems by herself. It can be assumed that she possesses standard Gem abilities, but since she is a Diamond, the abilities are expected to be much greater than usual. Due to her large size, she is able to lift up a human, such as Greg, with relative ease. She also has extreme durability, as after the Crystal Gems literally threw themselves at her, and she was hit by Pearl, Amethyst, Garnet, Bismuth, Lion's sonic roar, and Steven's spiked bubble, she fell onto her knees, but quickly recovered, and seemingly suffered minimum damage from being crushed first under a barn and then her own warship. In "Reunited", she was noted to have astounding mental strength that allowed her to initially fend off Steven's telepathy. After making contact with him, she became able to see him (or at least sense his presence) and attack him in his psychic plane with an aura beam.
Unique Abilities
Aura Projection: The Diamonds can project an aura around them that they can control, they can either radiate it from their entire bodies or emit it from specific parts of their bodies, usually their hands. Blue's aura is blue and has water-like properties. Though intangible, Blue was able to break Lapis' water chains from her hands upon coating her hands with her aura. She can use this as an offensive ability in both the physical and mental plane, as seen when she was able to focus her aura and attack Steven as he was projecting.

Radiated Pathokinesis: In addition, Blue Diamond can engulf a large area with her aura which induces sorrow to anyone exposed to it. The induction is powerful enough to cause Gems exposed to the aura to break down and cry immediately unprovoked, even affecting Yellow Diamond to a small degree. When she unleashed her grief over Pink Diamond's death, she instantly rendered the Crystal Gems unable to fight. The aura is also potent enough to destabilize surrounding Gem fusions, as Alexandrite came undone as soon as she was affected by the aura, although Garnet remained stable. The level of resistance to the ability varies. Non-human animals are apparently not affected, as demonstrated by Lion during Yellow and Blue's attack on Earth. Humans can still be affected as long as the aura is strong enough, as Connie was immune to Blue's first attack but collapsed in tears on her next attempt. Gems who feel that they have endured emotional trauma worse than the feelings induced by the aura can resist it almost completely, as Lapis Lazuli barely shed a tear upon being hit by the aura. It's unknown if this ability is limited to Blue Diamond's sadness or if she can project other emotions.
Concussive Blast: Blue Diamond is able to concentrate her aura at a single point outside her body to launch long range energy blasts at her opponents.
Corruption Induction: Though the attack was meant to obliterate the Crystal Gems on Earth after Pink's supposed shattering, Blue, Yellow, and White Diamond's collective powers instead corrupted the remaining Gems on Earth.

Energy Projection: She is shown to have some form of energy projection power that she uses for battle. The energy can be molded into different projectiles, from spheres to a hail of lasers, or combinations thereof.
Enhanced Strength: She is able to break Rose's sword with just the snap of her fingers and throw the barn off of her in a fit of rage. However, this might just be a simple matter of physics due to how large she is.
Relationships
"

Oh, Pink. I'm sorry... I'm so sorry... I should've done more. Yellow says it'll all be over soon. I wonder what you would think. This is your planet, after all. I still think it is.

"
—Blue Diamond, "Steven's Dream"
Blue Diamond describes her past relationship with Pink Diamond as very close and still grieves for her thousands of years after she believes Rose Quartz to have shattered her. In his dreams, Steven saw Pink Diamond's abandoned Palanquin where Blue Diamond knelt down and wept over her passing, which led him and Greg to seek out the location and find Blue Diamond there. Blue Diamond cares deeply about protecting Pink Diamond's legacy, causing her to take Greg to Pink Diamond's Zoo so that one more human can be saved before the Cluster destroys the Earth. Following Pink Diamond's shattering, Blue Diamond took over operations of the Zoo in an additional attempt to keep her memory alive, where she preserved all the remaining Rose Quartz gemstones in bubbles, contrary to Yellow Diamond's wishes, due to Pink Diamond's role in inventing the Gem type.
During the events of "The Trial", Blue Diamond reveals that she's been wondering how Rose Quartz was able to get past all of Pink Diamond's attendants and shatter her in the first place. Because of this, she asks Steven (who she believes is Rose) how he committed the act, and becomes distraught when he doesn't know; nothing adds up. Blue Diamond appears very interested by the idea of an authority figure shattering Pink Diamond and is completely shocked when the defending Zircon states that it could have been one of the other Diamonds.
Despite seeing Pink Diamond as a loved one, Blue Diamond tended to disregard her opinions rather than acknowledge her as an equal in the Great Diamond Authority. When Pink Diamond made a plea to call off the colonization of Earth in order to preserve the lives of its natives, Blue Diamond had the Zoo built for her to preserve select specimens instead. Blue and Yellow Diamonds' stubborn refusal to halt colonization efforts eventually led to Pink Diamond herself responding with rebellion under the alias of Rose Quartz. During Steven's dream in "Can't Go Back" it is shown that Blue treated Pink like a child in some circumstances, telling her to stop coming up with excuses and forbidding her from arguing back. But she tried to reassure and tell her it will all be fine because she was a Diamond and she only needs to smile and wave and people will follow her.
In "Reunited", when trying to explain he has Pink Diamond's gemstone to Yellow and Blue Diamond, Steven claims that Yellow, Blue, and Pink saw/see each other as family.
Due to their roles as the Gem Matriarchs, Blue and Yellow Diamond treat each other with respect, considering themselves equals. However, Pink Diamond's shattering is a source of friction between them, as Yellow and Blue Diamond have been arguing for thousands of years over their different ways of coping with the loss of Pink Diamond. Despite their differing beliefs, they still care about each other, as when Yellow nearly broke down after singing "What's the use of feeling, Blue?", Blue comforted her by placing a hand on her back. Similarly, Yellow and Blue are holding each other when they enter the trial room, and Yellow places her hands on Blue's shoulders when she breaks down at the trial.
Their attitude toward legal matters suits their roles as overruling authority figures. Yellow Diamond is a militant, considering trials as pointless and would prefer unhesitating action while Blue Diamond prefers to hear every opinion possible to determine the best possible decision even through slow, lengthy processes. When Yellow Diamond is outraged by the fact that the defending Zircon accused one of the Diamonds for Pink Diamond's shattering, she poofs both of the Zircons, which makes Blue Diamond angry, yelling at her fellow Diamond "Can't you restrain yourself!?".
In "Reunited", when trying to explain he has Pink Diamond's gem to Yellow and Blue Diamond, Steven claims that Yellow, Blue, and Pink see/saw each other as family.
Blue Diamond has her own Pearl, assumed to be her servant. Not much is known about her, in part due to her quiet nature, but in "Steven's Dream", she exhibits great loyalty and respect towards her Diamond and follows her every command, only speaking herself when addressed.
"

It's you! Pink!

"
—Blue Diamond, "Reunited"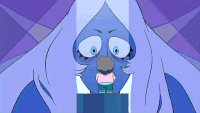 Even before she knew of his existence, Steven made an empathetic connection with Blue Diamond that allowed him to feel her grief as she mourned at the palanquin of Pink Diamond. This behavior may be the result of feedback between Steven's empathy and Blue Diamond's own pathokinesis. He also overhears her conversation with Yellow Diamond on how to cope with Pink Diamond's shattering, which made him feel even more sympathy for her.
Upon meeting Steven in "The Trial" when he is claiming to be Rose Quartz, she feels nothing but scorn and wants to inflict the worst punishment possible upon him. Despite this, however, she shows restraint and mercy, even going as far as to host a trial to gather the information on how "Rose" shattered Pink Diamond before his sentence. During the trial, Blue Diamond showed frustration and grief afterward when Steven incorrectly recounted Rose Quartz's crime and showed shock at the revelation of a Diamond possibly being responsible.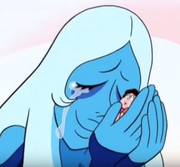 However, as of "Reunited", she is finally aware that Rose Quartz is actually Pink Diamond and was never shattered in the first place. During the aftermath, she shows a genuine display of affection towards him by nuzzling him and hugging him.
Sapphire was once an aristocratic member of Blue Diamond's court who was valued dearly for her ability to see into the future. She appeared to talk frequently with her, by Sapphire's words. When Blue Diamond sentenced Ruby to be shattered just for fusing with her, however, Sapphire immediately fled the scene with Ruby and terminated her relationship with Blue Diamond. After meeting again over 5,000 years later in "That Will Be All", Blue Diamond initially does not recognize Sapphire as the same one from the Cloud Arena. When Sapphire reminds her of who she is while fused with Ruby as Garnet in "Reunited", however, Blue fully remembers her and scorns her for her betrayal, showing that she holds her just as accountable as Ruby for disrupting her court on that day.
"

I can't believe all that stuff about Blue Diamond being merciful! She's a shatterer! She yelled at Sapphire! She hates fusion a-and love!

"
—Ruby, "Gem Heist"
To Blue Diamond, Ruby is nothing more than one of the common and insignificant soldiers under her command. When Ruby accidentally fuses with Sapphire, Blue Diamond immediately decides to shatter her gemstone as a punishment, even though the unexpected fusion saved Sapphire from the rebel attack. Like Sapphire, after meeting her again over 5,000 years later in "That Will Be All", Blue Diamond does not recognize Ruby as the one who fused with a member of her court. After Garnet reminds her of who she is in "Reunited", however, Blue fully recalls her and treats her with the utmost contempt over their last encounter.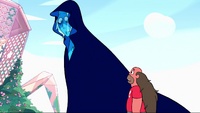 "

I'm surprised that a human being is capable of understanding how I feel.

"
—Blue Diamond, "Steven's Dream"
Upon encountering Blue Diamond mourning by Pink Diamond's Palanquin, Greg approached her, and the two started talking. In their conversation, they were able to form a connection through their shared understanding of the loss of a loved one, with Blue Diamond and Greg missing Pink Diamond and Rose Quartz respectively (which, in an ironic twist of events, turned out to be the same person). However, Blue Diamond later resolved to kidnap Greg as a last resort to honor Pink Diamond's memory and took him away in her spaceship. Blue Diamond found it surprising that a human could not only understand her pain but also relate to it.
"

This facility originally belonged to Pink Diamond and houses and staffs the otherwise useless Quartzes she produced on what was her colony. But Blue Diamond and her trusted Agate - that's me - have been maintaining this place since the dawn of Era 2.

"
—Holly Blue Agate, "Gem Heist"
While the full extent of their relationship is unknown, it can be assumed that she trusts Holly Blue, as she gave her supervision over the Zoo. Since Blue takes anything related to Pink Diamond extremely seriously, this shows the amount of trust she has in her.
"

Lapis Lazuli? Does every Gem that comes in contact with this planet turn traitor?!

"
—Blue Diamond, "Reunited"
She appears to recognize Lapis Lazuli when she arrives to help the Crystal Gems fight the Diamonds. She wonders if it something with Earth that causes Gems to betray them before projecting her aura at her. She is surprised by how her pathokinesis barely fazed Lapis.
Episode Appearances
Trivia
Blue Diamond is the first of the Diamonds to be seen on-screen in an episode of Steven Universe.

However, Blue Diamond was not the first of the Diamonds to be revealed in Steven Universe media as a whole. The extended theme song reveals Yellow Diamond.

Despite being a Diamond like Yellow Diamond, the cut of her gem does not exactly match her yellow counterpart, in contrast to most other Gems of the same type. However, since the two episodes they appear in were storyboarded by different members of the crew, their gemstones may only look different due to the differing art styles of the crew members, as they appear to be of the same design – a rhombus-shaped decahedron with a rhombus facet and four rectangular facets on the sides.

When she appears for the second time in "Steven's Dream", Blue Diamond's gemstone now bears a closer resemblance to Yellow Diamond's.

Blue Diamond's importance is further emphasized, as she has her own palanquin with a curtain in the front and spider legs to move it around on its own.
Rebecca Sugar has mentioned that blue-colored Gems are mainly diplomats.[1]
Rebecca stated that Blue Diamond's character design is meant to look "ghostly" to get the feeling of her mourning, and draws much influence from Martha Graham's Lamentation ballet dance. Her face and hair designs are also inspired by Leiji Matsumoto's art, to make her come across as a "strange presence".[2]
According to her mural, Blue Diamond ruled over nine planets when the Moon Base was built. It is unknown how many she currently rules.
Many Gems under Blue Diamond have similar gemstone designs (wider at the bottom, tapering to a point on top), reminiscent of a teardrop shape.
It seems that Blue Diamond wears a cloak while she is travelling and doesn't wear one when she is on Homeworld and her own places.
Cultural References
Blue Diamond's appearance and her throne appear to be heavily influenced by Indian and Muslim culture. Her clothing resembles that of traditional Arab wedding dress, specifically a Henna dress.
The frame of her throne has carved geometrical designs for windows, which are a common design in many Indian temples and houses.
Gemology
Gemstone Information
Blue diamonds are caused by trace impurities of boron, with the levels of other impurities such as nitrogen being lower than that of boron. Pure diamond is transparent and colourless.

Nickel or high concentrations of hydrogen are the likely causes of blue color in some diamonds.

Diamond is the official modern birthstone for April, and it is also used as an official sixty-year anniversary gemstone.
Diamonds are the stone of truth and victory.

It is associated with lightning and fearlessness, and for its properties of protection.
The diamond, in its rarity and beauty, is a symbol of purity and innocence, love, and fidelity, and embraces the strength of character, ethics, and faithfulness to oneself and others.

Diamond is the transparent, gemstone-quality crystalline form of carbon and it is indeed one of the hardest known natural substances on Earth.

Diamonds' hardness is the result of adamant chemical bonds between the carbon atoms.
There is no other gemstone in the same family as diamond, although there are a variety of very similar gemstones.
Diamond is pure carbon and is chemically the same as graphite.

The diamond is a p-type semiconductor.
Diamond deposits are found worldwide, the most notable being Africa, Australia, and India.

Approximately half of the world's diamonds come from Central and Southern Africa.
Canada has recently become a primary commercial source for fine white diamonds.

One of the most famous diamonds, the Hope Diamond, is a blue diamond and is one of the largest diamonds ever to be cut and faceted. It is known notoriously for supposedly being cursed, depicted to bring forth misfortune to whoever attempts to wear it.
A notorious New Age scamming site, The Council of Love, utilizes the blue diamond as a symbol of the Virgin Mary,[3] which may have inspired Blue Diamond's aesthetic similarities to the figure.
Blue diamonds represent peace, spirituality, and good health.[4]

This is ironic, given that her lasting grief and mourning over Pink is far from an improvement to her well-being.
| Image | Description |
| --- | --- |
| | Blue Diamond's gemstone is located on her chest. It has a kite diamond-shaped facet. |
Galleries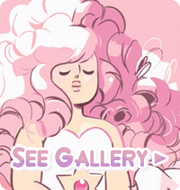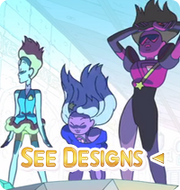 References
Community content is available under
CC-BY-SA
unless otherwise noted.