This article is about the uncorrupted Gem. You may be looking for another Agate.
Blue Lace Agate is a formerly-corrupted Gem. She (along with the other bubbled Gems) was uncorrupted by Steven and the Diamonds in "Change Your Mind". She works at Beach City Funland, as well as Lars' bakery, Spacetries, which she is temporarily running while Lars and his crew are in space.
Appearance
Blue Lace Agate is tall and broad-shouldered, like most other Quartzes. She has three horns located on her head. She has a teal complexion with peach blotches and long, curly, light blue colored hair. She wears a dark teal bra, a pair of dark teal leggings and a pair of light teal boots. Her gemstone is located on her navel, also teal with peach blotches. Much like most of the uncorrupted quartzes, she lacks a nose and seemingly lacks eyes.
Personality
Blue Lace Agate is fun-loving and enjoys spending time with her fellow Quartzes. She also likes making people happy, as shown when she was operating the ring toss.
History
Blue Lace Agate is one of the many Corrupted Gems that are healed.
Blue Lace Agate appears as a background character in Little Homeworld. She is also seen prominently in the background of Sadie's concert.
She is among the Gems present at Little Homeschool during Steven's tour.
She can be seen happily gardening in a greenhouse with Peridot.
She is seen manning the ring toss Funland booth, using her horns as ring toss targets.
She operates the camera for Steven's Little Homeschool commercial.
Blue Lace Agate has taken up a job at Lars' bakery, Spacetries. He plans to put her in charge when he leaves for space again with the Off Colors.
Blue Lace Agate is in charge of Spacetries, and Steven buys a cake from her.
Relationships
TBA
Episode Appearances
Trivia
| | |
| --- | --- |
| Image | Description |
| | Blue Lace Agate's gemstone is round and unfaceted. It is located on her navel. |
Galleries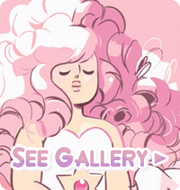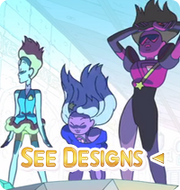 Community content is available under
CC-BY-SA
unless otherwise noted.