"

Well well well. If it ain't the old gem savior himself, Steven Universe.

"
—"Bluebird"
Bluebird Azurite, or Bluebird for short is the fusion of Aquamarine and "Eyeball". She made her debut in the episode of the same first name.
Appearance
Bluebird Azurite is short in stature with four legs. She has dodger blue skin with red and mint-green patches, a singular dark blue eye, and red hair styled in a bowl cut.
She wears a long-sleeved, teal and red shirt with a white collar and a blue tie. She also wears blue pants and four red boots.
Personality
At first, Bluebird seems to be a very kind and sweet Gem offering Steven food and hanging out with other Gems even though she was a bit of a prankster. Steven automatically assumes Bluebird is up to no good after recognizing the placement of her individual gemstones and his assumptions are later proven to be true. She seems to be a very cruel Gem as seen by her dangling Steven's father, Greg Universe, off the roof of the Beach House just so she could get his attention. She later attacks Steven without hesitation showing how powerful her grudge towards him is.
Abilities
Skillset
Cutlass Proficiency: Bluebird can summon an ice cutlass which she uses to fight.
Water Wings: An ability she inherited from Aquamarine, she can summon water wings on her back to fly. In some shots, they are noticeably sharper than Aquamarine's being shaped like bird wings.

Cryokinesis: She can shoot ice projectiles from her sword which can shift into copies of it.
She has only been seen forming when her Components bond over hatred towards Steven.
Episode Appearances
Relationships
Bluebird holds a mutual hatred for Steven since her components fused to make his life miserable due to rejecting Homeworld's reformation.
Bluebird is originally seen watching a horror movie and having fun with Greg. However, it is shown that she was only trying to lure everyone into trusting her later using Greg as bait for Steven to come out of his house and her components forced him to cut off his hair.
Bluebird fakes being nice to the Crystal Gems, which convinces the Crystal Gems to trust her. When Bluebird reveals her true colors, Garnet, Amethyst, and Pearl fuse into Alexandrite and crush her.
Trivia
They are currently the shortest fusion shown in the series, similar in height to her component Gems.
Gemstones
| Image | Description |
| --- | --- |
| | Aquamarine's gemstone on Bluebird; the shape resembles a teardrop, colored blue and red. It is located on her left cheek. |
| | Eyeball's gemstone on Bluebird; it has a square facet, colored blue and red. It is located on her left eyeball. |
Galleries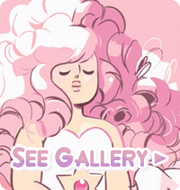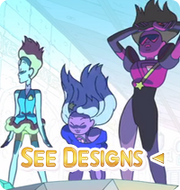 References
v • e
Fusion Gems
---
Hybrid Fusions
Crystal Gem/Homeworld Gem Fusions

Community content is available under
CC-BY-SA
unless otherwise noted.