I'm so excited for this Stevenbomb! And come to think of it, it's coming so soon! Two weeks (yep, July 2 is two weeks away)!! Also, Sapphire's reaction makes sense because wouldn't you be angry if your leader was really someone you're against in disguise? Yes, you would. I mean, Rose Quartz....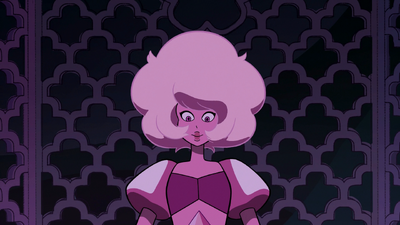 Is really Pink Diamond. The Crystal Gems were against the Diamonds and their plans and come to think of it, they were following a Diamond ALL THIS TIME! She was just pretending to be someone else, Rose Quartz. Anyway, this Stevenbomb looks like it will deep, heavy, full of emotion, and awesome! And Sapphire defused from Garnet and ran away and Ruby seems like she's going to be a lone wolf. But, I know that they will eventually find Sapphy and her and Ruby will become Garnet again (Steven Universe arcs almost always have happy endings. And I have a feeling that this one will have a happy ending guranteed).
I can't wait for this Stevenbomb!!!