Jurassic World: Dominion Dominates Fandom Wikis - The Loop
Play Sound
Brooding Hill is the second cliff found on the opposite side of Beach City and the Crystal Temple, which is located where the other cliff holding the Lighthouse is. From there, one can view all of Beach City, the surrounding ocean and beach, the Lighthouse, and the Crystal Temple located on the opposite end of the hill itself away from view, only showing a limb missing a hand.
History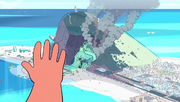 In "Lars and the Cool Kids", Steven is told that Rose Quartz planted Magic Moss on the hill, and had tended to it on the hill each spring before she gave up her physical form. Later, Lars and Steven bring the moss-covered Jenny Pizza, Buck Dewey, and Sour Cream to the top of the hill in Jenny's Car. After they reach the top, the sun comes out from the clouds, and the moss blooms into pink blossoms which float down to Beach City below. All five then marvel at the view of Beach City and the blossoms.
In "Full Disclosure", Steven receives advice from Ronaldo Fryman atop the hill. After Ronaldo leaves to "get some of" the remains of the Gem Warship, Steven sings "Full Disclosure" atop the hill. Ronaldo later calls this place "the ol' Brooding Hill" on his blog, "Keep Beach City Weird".[1]
Ronaldo Fryman goes to the Brooding Hill at the end of his webcast to talk about how he was relieved that the Crystal Gems were staying.
Steven goes to the Brooding Hill at the nightfall to meet his dad, who said this place is his new "Jamming Hill" after being expulsed from the previous place by another musician. Then, Steven and Greg talk about Nora's tape.
After deciding to run away, Ruby and Greg are seen on the top of the hill. Steven and Amethyst soon arrive at the top, and reconcile with Ruby.
On top of Brooding Hill, Ruby reveals that she's taken what Sapphire said in "Now We're Only Falling Apart" to heart, and wants to explore her identity without Sapphire.
Amethyst recovers her memories after performing her handshake with Steven on Brooding Hill.
Gallery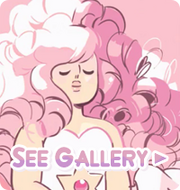 References