Doctor Strange in The Multiverse o Madness - The Loop
Play Sound
"

Connie: It's NOT okay! You keep saying that but YOU don't know what you're doing! Now we're going to suffocate or starve at the bottom of the ocean and only my parents will notice because no one else cares about me! I'm going to disappear without ever making a single friend.
Steven: We could be friends.

"
—Connie and Steven
"Bubble Buddies" is the 7th episode in the first season of Steven Universe, and the 7th episode overall.
Official Synopsis
Steven looks like a hero when he forms a magic crystal bubble around himself to protect a girl he likes from danger, but then panics when he can't figure out how to turn the bubble off.[2]
Plot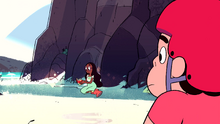 The episode begins with Steven walking out of the house with his bike. The view then pans the Gems discussing whether the seismic disturbances are earthquakes until they see Steven. The Gems are confused as to why he's riding a bike on the beach, but he walks off. He stops in front of a girl who's reading a book nearby. Steven then tries to impress the girl with his bike, but when he stumbles, he panics and retreats into the house to find the Gems were watching. Amethyst realizes that Steven likes the girl, and Pearl wants to set up a play date, but Garnet stops them by telling Steven to just talk to her. He agrees, but only if they do not watch next time, claiming that it will mess up his "funky flow". Steven grabs a glowing bracelet from the freezer and runs out. As Steven approaches the girl, practicing his greeting, a piece of the cliff crumbles and falls towards her. When Steven jumps to rescue her, his gem activates and encases both of them in a protective bubble that saves them at the last second.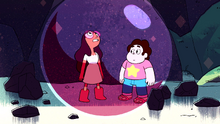 Steven introduces himself to the girl. She reveals herself as Connie, she thanks Steven, and asks if he can disable the bubble. He then realizes that he cannot disable the bubble. He says the Gems can help, but Steven and Connie are unable to roll up the hill. They go to the Big Donut to ask for help from Sadie and Lars. Sadie tries to break the bubble with a hammer while Lars makes fun of Steven for being trapped with Connie. Sadie tells Lars to quit being a jerk and they start arguing. Sadie then goes inside and attempts to smash the bubble with a chair, but that fails like the other attempts.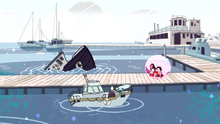 Connie and Steven later go to the pier and ask Onion to help them. Steven tries to ask Onion to use a Harpoon Gun to pop the bubble, but he can't hear him through the bubble or understand Steven's drawing. Connie writes backward and Onion understands. Unfortunately, the harpoon bounces off the bubble and sinks a nearby trawler (boat). Steven and Connie then go to Funland because Steven wants to use a roller coaster to pop the bubble. Connie objects, but a tremor rolls them on the coaster's tracks. Instead of popping the bubble, the coaster launches the two into the ocean.
As they try to roll back to shore, a giant worm (a corrupted Orange Spodumene, which was causing the tremors earlier) appears, frightening Connie. Steven tells her it only wants to eat some nearby glowing seaweed. Spodumene then creates a trench that the kids fall into. Steven discovers he accidentally put his foot in Connie's face. He tries to apologize to her, but she finally explodes, frustrated that Steven does not know what he's doing and that she might die without ever making a friend.
Connie cries and Steven shows her the glow bracelet, telling her that they can be friends. He reveals that he saw her during a parade the year before but could not find her to give back the bracelet, so he kept it in case he met her again. Connie reveals she saw him last year too. As the two reconcile, the bubble finally bursts, and they make it to shore, but Spodumene follows them.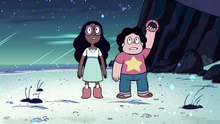 Steven realizes Spodumene is chasing Connie because of her glow bracelet, so he takes and uses it to lure Spodumene to a nearby pier where he uses the pillars to trap and defeat her. The Gems show up and Garnet disposes of Spodumene's gemstone. When Pearl and Amethyst try to introduce themselves, Garnet stops them by telling them not to mess with Steven's "funky flow". Connie asks what "funky flow" is, and Steven gets embarrassed.
Features
Characters
Objects
Locations
Music
Instrumental Songs
Trivia
Despite containing mostly air, Steven's bubble sinks in water. This may because the bubble itself has considerable density and mass as evidenced in this episode and later episodes whenever it makes a sound when taking hits.
This is the last episode to air in 2013.
Cultural References
Continuity
Connie's bracelet was first seen in the premiere episode "Gem Glow", inside Steven's freezer, behind the Cookie Cats. 
Errors
The rubble that was caused when a piece of the Temple's hair fell off disappeared when Steven and Connie tried to push the bubble for them to move around.
Connie's skirt changes from minty green to a light yellow in the scene Steven shows off his bike, and then her skirt changes back to the original color.
Connie's book vanishes in a cut to a wider shot when Steven starts to create the bubble, the book being neither inside nor outside the bubble after it forms.
Steven places the glow bracelet on Connie's left arm. When they surface the water, the bracelet is seen on her right arm.
When Garnet tells Steven that the Gems won't watch him interact with Connie, Sapphire's gem appears on Garnet's left hand instead of her right.
When Steven tells Connie that he saw her drop her bracelet at the boardwalk parade the previous year, he only had four fingers.
Transcript
View the episode's transcript here.
Gallery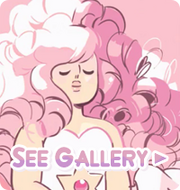 Video
References