Jurassic World: Dominion Dominates Fandom Wikis - The Loop
Play Sound
"

It's like I'm back inside the mirror, except I put myself here.

"
—Lapis Lazuli
"Can't Go Back" is the 17th episode of the fifth season of Steven Universe and the 145th episode overall.
Official Synopsis
Ronaldo spots something mysterious on the moon, and Steven goes to investigate.[2]
Plot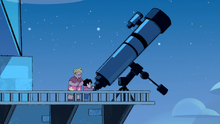 Steven is in the bathroom wishing Peridot goodnight as she blissfully lies in the bathtub with Pumpkin, then he heads on up to bed. Before he could get some shuteye, Ronaldo suddenly comes knocking at his door, reporting that he's spotted unnatural activity on the Moon. Steven is dismissive of this due to the fact that Ronaldo has been reporting strange sightings ever since he was assigned to keep watch of the sky in "Letters to Lars". Steven informs him that it is only the Diamonds' Moon Base that had been placed there thousands of years ago, and while ranting about its significance, Ronaldo asks Steven why it looks like a barn, which piques Steven's interest. To his surprise, he does find the barn Lapis Lazuli had taken with her into space when she left Earth in "Raising the Barn". Steven then decides to go investigate.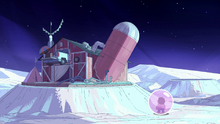 Steven then hops on Lion, and they transport to the Diamonds' Moon Base. Then, using his bubble, Steven moonwalks to the barn in search of Lapis. He grows curious as to why she would bring the barn to the Earth's moon when she wanted to get as far away from Earth as possible. He searches the barn but sees no sight of her.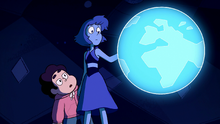 Steven then returns to the base where he hears a familiar voice humming from a distance. He follows the sound to the second tier and finds Lapis humming in front of a Diamond Observation Orb, which he and the Crystal Gems first came across in "It Could've Been Great". The Diamonds use these orbs to observe their colonies from afar, and Lapis uses one to project a cloudy Earth sky around her. Overjoyed to be reunited with her, Steven startles Lapis by revealing his presence. As he questions why she chose to take refuge on the Moon Base when she made it clear that she needs to leave the planet, she admits that she got distracted. For most of the time she was gone, she had used it to project what Peridot and the Crystal Gems have been up to.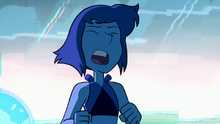 Lapis confesses that she is still terrified about the Diamonds coming to Earth, but also says that as she was leaving the Milky Way, she had felt so lonely. Steven asks why she does not just come back to Earth, and Lapis says that she wants to, but after the way she left, how could she? Lapis fears what Peridot would say for abandoning her and that the Diamonds will come to Earth and something terrible will happen. Steven mentions that maybe something good will happen, which gives Lapis mixed emotions. She then begins to sing about all the beauty and wonders she had experienced since she first met Steven and started living on Earth, and how despite all her past conflicts and internal struggles, that it helped her stop feeling lonely.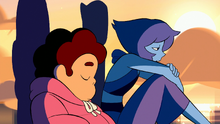 Lapis believes that she might've overreacted about the Diamonds, and regrets the rash decision she had made out of fear. She never wanted them to destroy her home and believes that she did it herself, almost as if she put herself back in the mirror. Having nothing on the Moon, Lapis realizes that she is tired of running away and believes that she would be happier being in danger with her friends instead of being safe and alone. Although she worries that even if she did return, things would never be the same, Steven explains to her that if things were different, that it would not be so bad, and that maybe she, Peridot, and Pumpkin could move the barn to the beach, so they could all be closer together. This possibility makes Lapis consider coming home to Earth.
Due to Steven's lack of sleep, he nods off and begins to have another vision of the Diamonds. He alarmingly spots the silhouettes of Blue, Yellow, and Pink Diamond, where Blue is advising Pink on the importance of running a colony, and how all Gems under her court will look up to her. He then spots a silhouette of Pearl, approaching Pink from behind and drawing a sword. Steven then wakes up in shock and explains to Lapis that he had a dream about the Diamonds. Lapis then wonders if his dream means something, like if the Diamonds are headed to Earth even as they speak. Unable to understand, Lapis then flees to exit the Moon Base. Steven tries to stop her but is prevented from doing so by Lion.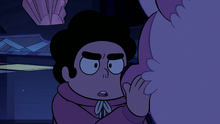 Lapis informs Steven that she is not like him and his friends and that she cannot go through what she suffered from for thousands of years again. She then leaves the base and flies off back into space, leaving Steven wholly devastated. The episode ends with Steven glancing at Pink Diamond's mural, turning to Lion, and asking him to take him to Pearl to "get some answers".
Features
Characters
Objects
Locations
Music
Songs
Instrumental Songs
Trivia
This episode debuts Lapis Lazuli's first song "That Distant Shore".
When Pearl holds Rose's Sword, a part of the melody of "Do It for Her" can be heard.
This is Ronaldo's final speaking appearance.
Continuity
This episode takes place long after the events of "Raising the Barn".
Lapis uses the projection orb that was first revealed in "It Could've Been Great".
Ronaldo is still using the telescope Greg gave him in "Letters to Lars".
Steven tells Lapis that she can drop The Barn on the beach. She does this in "Reunited".
Lapis tells Steven while she is running away that he should be used to her leaving. She might be referring to the events of the episodes "Mirror Gem", "Ocean Gem, "Same Old World, and "Raising the Barn".
Errors
The landmass outlines seen on the Moon Orb differ from the ones on the world map seen in "It Could've Been Great". South America, for example, is the same size as in reality, while in the earlier episode it was much larger.
Even though the Crystal Gems are also just projections by the Moon Orb, Lapis' shadow does not affect them.
While singing "That Distant Shore", Lapis' gem completely disappears for a single frame.
When Lapis escaped the Moon Base after hearing Steven's dream, one close-up frame shot shows her right foot but in the next shot, it's her left one.
Transcript
View the episode's transcript here.
Gallery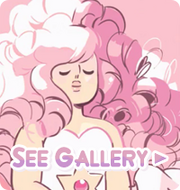 Videos
References