Jurassic World: Dominion Dominates Fandom Wikis - The Loop
Play Sound
Cat Steven is a calico cat of unknown breed adopted by Garnet in "Pool Hopping" after she has an epiphany about her future vision. She lives with the Crystal Gems at the Crystal Temple.
Appearance
Cat Steven is a typically-colored calico kitten, being predominantly white with orange and bluish-black patches. Her eyes are blue, with the right eye scarred closed by an unknown cause. By the time Steven Universe: The Movie takes place, she has grown into an adult.
Personality
Cat Steven was one of an abandoned litter of kittens. She seemed to be the courageous one of the group, as, despite their situation, she briefly left her litter, either to explore or to find someone who could help her and her siblings.
History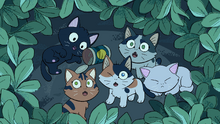 Cat Steven is seen by Steven and Garnet multiple times while they run through Beach City. After Steven and Garnet have a heart to heart moment, she decides to take in Cat Steven to live with them.
She is seen sitting on top of Lion's head during Garnet's wedding, later being rescued by Greg from the destroyed house.
Garnet puts Greg and Lion in charge of taking care of her while they go to Homeworld.
Cat Steven is seen with everyone as the episode ends.
Steven pets Cat Steven at the beginning of the movie, with her later being seen multiple times in the house.
As Steven is moving the photo of Rose Quartz, a photo of Cat Steven can be seen next to it.
During Bluebird Azurite's welcome party, the same photo of her is seen again in the background.
Once again Cat Steven is seen in the background as a photo.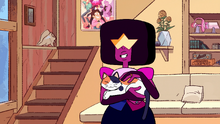 Garnet is shown petting her in the beginning. She also convinces Steven to transform into his younger self. The episode ends with her joining the rest of the gems for a car ride.
As the Crystal Gems fight Cactus Steven, that same photo is seen a few times in the background.
Cat Steven's photo is still being seen in the background.
Right before Garnet leaves the house her photos can be seen in the background.
Before Steven runs away to Jasper, Cat Steven's picture is seen again.
Her photo is seen as Steven walks up the stairs.
As Steven explains why he feels so out of touch her picture is seen one last time.
Cat Steven is seen napping outside as Steven tells Connie about his future plans.
Relationships
After finding and rescuing her and her siblings alongside Steven, Garnet decided to adopt her, noting that there was "something about her" and that Garnet had missed having someone "cute and vulnerable" to care for.
Garnet was originally going to call her Steven, but when Steven asks if that would get confusing, Garnet decided to call her Cat Steven.
As of Steven Universe Future, Garnet is holding Cat Steven in the family portrait where Rose Quartz's painting once hung. She is also seen holding Cat Steven many times and even trusts Cat Steven to go outside in "Snow Day". She is also seen taking Cat Steven to work in Steven's car.
Upon seeing Cat Steven outside Vidalia's garage, Steven instinctively decided that he and Garnet should follow her, causing them to find where her siblings were. After getting them out of the rain, Steven got Cat Steven's siblings into an animal shelter's foster program so they could eventually get loving owners and homes, and later adopted Cat Steven alongside Garnet.
She appears to be on good terms with Lion, as she is seen at the end of "Pool Hopping" sleeping on top of him, and attends Garnet's wedding on his head in "Reunited". In the KaBOOM! comics issue #23 Lion took a rather motherly role to Cat Steven bringing her lizards for food and grooming her.
She seems to trust Greg, as she allows him to hold and carry her without protest after the Beach House is partially destroyed in "Reunited".
Episode Appearances
Trivia
Her name may be a reference to the singer Cat Stevens.
Her single blue eye may be a reference to Sapphire. This is further supported by the fact that like the future, a cat is unpredictable.
Her being female is likely a reference to the fact that nearly all calico cats are females. 
Gallery