Anyoe have that shirt yes? Mr. CLP (talk) 13:50, April 21, 2015 (UTC) Mr. CLP
New Merchandise Please
I was searching on Amazon for good merchandise to buy for Steven Universe and there is really nothing good to buy except for those pricy Gem Figurines.(I want one :3) 
Like just somthing cool the Cheeseburger you guys have on there that was 10-10, But I guess I can't blame you guys because there's really that much cool stuff to make gear. (GIMME A BLUE AND YELLOW FIGURINE). 
But I'm really here to just tell you guys that I need new Steven Universe Gear(DESPERATELY). Anyway thanks for listening to me guys Im out GG  
OhGawdItsmeAGem
(
talk
) 04:00, June 8, 2017 (UTC)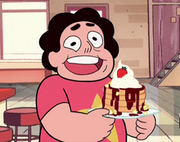 Community content is available under
CC-BY-SA
unless otherwise noted.