This article is about the episode. You may be looking for the song.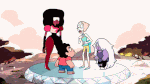 "I don't appreciate your tone."
Please don't add hypotheses in the articles. If you wish to express your opinions, please do so in a
blog
, or the
appropriate board
.
"

I am a child. What's your excuse?

"
—Steven
"Change Your Mind" is a 44-minute special episode.[2] It takes up the production slots of the 29th through 32nd episodes of the fifth season of Steven Universe, and the 157th through 160th episodes overall. It is the final episode of the fifth season, as well as a sub-event of the Diamond Days event, called Battle of Heart and Mind.
Synopsis
Steven faces his biggest challenge yet.[3][4]
Plot
Part 1
The episode begins with Steven waking up in the Prison Tower and frantically searching for Connie. Blue Diamond comes in and is upset that Steven won't behave better; Steven "flickers" between himself, Rose Quartz and finally turns into Pink Diamond.
Steven wakes up from his nightmare to see that Connie is present. Blue Diamond comes into the Prison Tower, upset that "Pink" won't, once again, act like a Diamond should. Noticing the pattern, Steven tries to convince Blue that how she is treating himself and the rest of the Crystal Gems isn't right. Blue Diamond has an epiphany and realizes her and Yellow Diamond's behavior towards Pink in the past had caused her to feel miserable and misunderstood. With her change of heart, Blue helps Steven and Connie find the other Crystal Gems. They confront Yellow Diamond and Blue tries to convince Yellow to just let Steven and the Crystal Gems go back to Earth. Yellow Diamond refuses to help and the two begin fighting. Steven gets them to stop (right before Blue Diamond is poofed) and gets them to make up before the united Diamonds head for Pink Diamond's Ship. Pink Pearl appears to their dismay, stating that no one is leaving Homeworld. She takes control of White Diamond's Ship and docks it with Pink Diamond's Ship.
Part 2
As the Diamond Mech attacks, Blue and Yellow's Ships fly in and knock the Mech over. They land to reveal Bismuth, and a reformed Peridot and Lapis in new Crystal Gems Uniforms. Together, they manage to connect Yellow and Blue's ships to White and Pink's ships. They then all get on the arms to try and talk to White Diamond. However, White instead shoots white light from the eyes of her mech, striking Blue and Yellow Diamond's gems. The two lose their own color and turn white and motionless - as they are now controlled by White Diamond. In the process, the mech's arms grow slack and Steven drops all the Crystal Gems.
Steven chases after them, he catches Amethyst and fuses with her gemstone, jump-starting her regeneration as they create Smoky Quartz. Realizing that he can use fusion to wake them up, Steven fuses with Pearl's gem to create Rainbow Quartz 2.0. Eventually, all of the Gems land safely on the road of Homeworld's city. Steven has already begun to fuse with Ruby and Sapphire, with the rest of the Crystal Gems looking onward in surprise. Suddenly, the Diamond mecha stomps on the Crystal Gems.
Part 3
It is revealed that no one was injured and the new fusion between Steven and Garnet, Sunstone, is holding the foot up. They're able to push it off before unfusing. With the Crystal Gems ready to fight, Steven states the only way to win is for all of them to fuse and form Obsidian. Pearl, Garnet, Amethyst, and Steven all dance and form Obsidian, before starting to climb up the Diamond Mech. They unfuse when they reach the head of the ship, they block White Diamond's point of view, causing her to slam into a wall. They make it safely inside, but White Diamond refuses to listen to Steven. White argues that "Pink" brings out the worst, the defects in everyone and surrounds herself with flawed Gems so she can be "the best of the worst" and uses her light to take over first Amethyst, then Garnet's and Pearl's minds, arguing that she is making things perfect. White further argues that "Pink" isn't gone, that "Steven" is a new form just like "Rose", and that Pink Diamond merely got so good at lying, she managed to lie to herself. White theorizes that Steven couldn't have any of Pink's memories if he weren't Pink; Steven questions his identity and motivations just as Connie makes it into the mech and is forced to fight Pearl. Ultimately, Connie is restrained by the controlled gems, White Diamond picks up Steven and proceeds to pull out Steven's Gem.
Part 4
Steven regains consciousness as he hears Connie call out for him, but he is extremely weak — his gemstone has been ripped out of his body, leaving him human. Above White Diamond's hand, Steven's gemstone floats into the air. The gemstone radiating pink light which shapes itself into Pink Diamond and Rose Quartz, pauses, then forms a Pink Steven. White Diamond asks the Pink Steven where Pink Diamond is, prompting it to shout "She's gone!" with such force it blasts a crater into the floor and nearly blows White Diamond off of her feet. Pink Steven, its face devoid of any emotion, begins walking towards the incapacitated Human Steven to rejoin his other half. White tries to interfere by blasting Pink Steven with her mind control ray, but Pink Steven uses a shield - which is faceted and without the rose and thorn design that Steven usually shows - to block it. White Diamond attempts multiple times to control Pink Steven but each attempt fails. Even when White uses all the gems under her control to also blast the Pink Steven with her Light, it merely shields itself, then 'pops' the shield, throwing everyone off balance and causing Human Steven to cry out to stop, that it's hurting the gems. Connie picks up Human Steven and gives him to his Pink half. The two begin to dance and laugh before recombining and fusing into normal Steven.
Furious, White Diamond yells in anger and accuses "Pink" of being a child. Steven claims he already is a child and asks White Diamond what her excuse is. This causes White to blush along with all of the other mind-controlled Gems, and the mind control on the Crystal Gems, Blue and Yellow Diamond, and White Pearl is lost as White realizes she's showing a flaw. Steven reunites with the rest of the Crystal Gems (with a sudden appearance from Lapis, Peridot, and Bismuth coming in as Backup), and comforts the now Pink Pearl, who is confused about where she is. White Diamond goes through an existential crisis, wondering why beings with flaws should even exist. She turns to Yellow and Blue Diamond, who recoil from her, calling White "off-color" (out of character, unlike what she is 'supposed' to be) due to her pink blush. Steven comforts White as well, telling her she can fix things and live a better, happier life - if she will "leave her own head".
Back on Earth, Sadie Killer and the Suspects sing a Ska version of Greg's "Let Me Drive My Van Into Your Heart" to everyone in Beach City. As they're applauded, the full Diamond Mech lands directly in front of the stage, suprising many of the guests. The Crystal Gems, along with the Diamonds, exit the ship as well as the Sun Incinerator landing shortly after. Lars and the Off Colors depart to meet the Diamonds and reunite with Steven, Lion, and a very worried Sadie. The Off Colors are exciting to meet Sadie and she thinks that Lars is a Space Pirate and Lars thinks that Sadie is a rock star and it suits for them. Sadie heard the crowd cheer "One more song" and began to banter with Lars, saying that she's got to go back onstage. On the side, the Off Colors meet Lion and they like him. Sadie announced everyone for the last song to Steven and he sang "We Are the Crystal Gems" song. During the song, the Off Colors met the rest of the citizens of Beach City. Lion meets with White Diamond.
Steven, Yellow and Blue Diamond took White to the old colony ship where the corrupted Nephrites are. Rose's Fountain started to flow and Steven, Yellow, Blue and White Diamond show excitement. While the water is flowing, Steven, the Crystal Gems, and the Diamonds bring all the bubbled Corrupted Gems from the Temple in the Burning Room to Rose's Fountain. As the bubbles are thrown into the water, Steven and the other Diamonds sit together and heal them with their combined powers. The newly healed Gems begin to converse and play, all showing some remnant of their corrupted forms, but otherwise unharmed. Biggs has been healed, Bismuth reunited with her. A healed Jasper attempts to attack Steven before being glared at by Yellow Diamond who manages to stare her out of attacking, Amethyst then swims over to greet Jasper by putting her hand on her shoulder and saying "Hey Sis" to her, causing Jasper to sink partially back into the water in embarrassment and realization.
The other Diamonds bid farewell to the Crystal Gems before the top half of the Diamond Mech separates and warps back to Homeworld. Steven sits on the beach playing a song on his ukulele when the other Crystal Gems ask if they can join him. They take a seat next to him (reminiscent of their poses in the show's second opening) and enjoy each other's company as a shooting star streaks overhead in the night sky.
Features
Characters
Part 1
Part 2
Part 3
Part 4
Objects
Locations
Music
Songs
Instrumental Songs
Trivia
Cultural References
Continuity
Errors
Transcript
View the episode's transcript here.
Gallery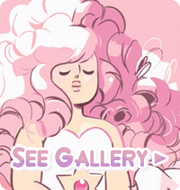 Videos
References