Doctor Strange in The Multiverse o Madness - The Loop
Play Sound
"

Cheeseburger Backpack!
Cheeseburger Backpack!

"
—Amethyst
"Cheeseburger Backpack" is the 3rd episode of the first season of Steven Universe, and the 3rd episode overall.
Official Synopsis
A mission to the Lunar Sea Spire takes a treacherous turn, but Steven has packed his totally amazing Cheeseburger Backpack with anything they could ever need![2]
Plot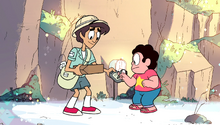 The episode begins with Steven sitting on top of his mailbox, singing Hey Mr. Postman. Jamie, the postman arrives and gives Steven a package, a cheeseburger backpack, exciting him as he had expected it. After he takes numerous objects out of his bag, Jamie finds Steven's package from a company called Wacky Sacks Supply Company.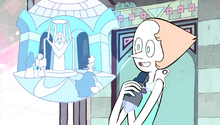 Steven eagerly runs into the house and sees Garnet covered in feathers. Amethyst is trying to get a large egg into the fridge while Pearl is discouraging her. Pearl begins to tell Steven about how they are only in for a minute because they need to put the Moon Goddess Statue at the top of the Lunar Sea Spire before midnight or the whole place will be destroyed. She goes on to talk about how beautiful of a place it was in its day. She explains how it was an oasis for Gems on Earth, but is currently abandoned. When Steven realizes they need to carry the statue there, he finds this a suiting time to debut his newest piece of gear, his Cheeseburger Backpack. Amethyst wants to bring him along under the pretext of education. The other Gems agree and decide it would be a good educational trip for him.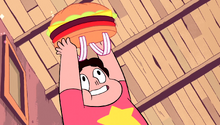 After packing as many things as he can fit in the backpack, Steven and the Gems take the warp pad in the living room to the Lunar Sea Spire. They witness the Spire falling apart at the seams, with Pearl stating that "it wasn't like this 100 years ago". Their first obstacle is getting into the Spire. They have to jump a gap that Garnet says is magically protected with a gravitational force pulling down towards the water. Steven goes into his backpack and pulls out the first of his odd items he brought along with him: sweaters. He ties them together and throws them towards the Spire, using them as a rope swing. After he succeeds, Amethyst pulls out her whip and brings her and the rest of the Gems over. Shocked, Pearl angrily tells Steven never to do it again but claims it was a pretty good idea.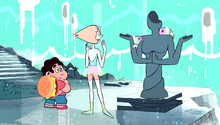 They head to the top where the statue needs to be placed, and Pearl is distressed at the sight of all the crumbling statues and walls. Pearl tells Steven the possibility that the place will all be repaired once the Moon Goddess Statue is placed, but they suddenly they come face to face with an infestation of Crystal Shrimp. Steven wonders if he can just squish them, but Pearl stops him, saying that their shards are deadly. Pearl comes up with a complex plan and starts to explain it, but Steven simply throws some bagels from his backpack into the room, making the shrimp clear a path. The Gems are so impressed with his ingenuity that when a ravine forms in front of them and fills with water, they immediately look to him for a plan. Steven reaches into the backpack and pulls out the first sensible item he packed: a raft. Unfortunately, as soon as he tosses it into the water, it is carried down a waterfall. Garnet kicks over a column to use as a bridge but says that Steven had a nice idea despite things.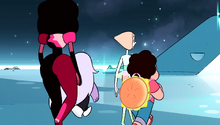 They pass over the bridge that Garnet had made for them and begin to trek up to the top of the spire. Once they are at the top, they see a beautiful view of the sky and realize that it is still before midnight and they still have time to place the statue and save the spire. Garnet asks Steven for the statue from his bag. He begins to rummage through it and looks more nervous with every second. Disappointed, he tells the Gems he does not have the statue but has an alternative. He proceeds to pull out Mr. Queasy, a plush doll he got in his room when packing for the adventure, from his cheeseburger backpack.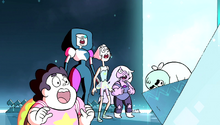 The Gems say it is worth a shot and Steven puts Mr. Queasy where the Moon Goddess Statue was supposed to go. A beam of light goes from Mr. Queasy directly to the moon, and for a moment, it seems as if it is going to work. The doll begins to levitate then explodes. The Lunar Sea Spire begins to crumble and eventually floods. Surviving the fall, the Gems one by one pop up from underwater.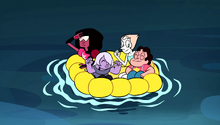 Steven apologies that the spire sunk, but Pearl and Amethyst cheer him up saying that 50% of his ideas worked. The raft that went over the edge of the waterfall earlier pops up, and they get on it to head back home. Amethyst and Pearl start chanting "cheeseburger backpack" over and over again. However Garnet mentions that it is going to be a three-hour paddle to get home. The episode ends with Steven asking the others "Anyone want a wet bagel?" which is his next idea to help get them back home.
Features
Characters
Objects
Locations
Music
Songs
Instrumental Songs
Trivia
Cultural References
Continuity
Errors
Note: Time is displayed in [mm:ss]; [00:00] refers to the point after the title card is displayed and before the episode's start.
Plot
[04:53] When Steven swung the T-shirts around the building, he was not wearing his backpack, but when he used it to swing across, he is wearing it again.
Design
[01:11] Garnet's star colors are inverted.
[04:37] Sapphire's gemstone is in both of Garnet's hands.
[04:38] Garnet's middle finger is the same color as the other ones, instead of black.
[04:39] Sapphire's gemstone is upside down in Garnet's palm.
[09:26] Garnet's star colors are inverted.
[09:30] After Mr. Queasy explodes, Garnet's lips disappear.
[09:59] When Steven surfaces after the Sea Spire sinks, and the camera cuts back to Steven after cutting to the Gems surfacing when Steven says "I broke it", the backpack is missing, and it only returns when the camera pans up to show the raft surface.
Transcript
View the episode's transcript here.
Gallery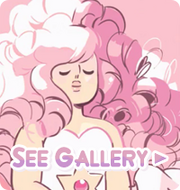 Videos
References