The "Cheeseburger Backpack" is Steven's backpack, styled after a cheeseburger. It's first appearance was in the episode "Cheeseburger Backpack" and other appearances include "Frybo," "Lion 2: The Movie," "Ocean Gem," and "The Return". It is based off of popular novelty backpacks.
Steven purchased it from Wacky Sacks Supply Company and was given to him by Jamie the mailman. It briefly reappears in "Frybo." It also appears in "Lion 2: The Movie," holding Steven and Connie's snacks for the movie, and in "Ocean Gem" when Steven was packing for the road-trip to bring the ocean back.
It has recently been shown in the episode "The Return", he is told by the Gems to join his dad and the rest of the people, being the voice for them and protect them like his mother did.
Appearance
The backpack is similar to the shape of a cheeseburger. The layers of the cheeseburger consist of bun, lettuce, cheese, meat, and tomato. There is also a white handle at the 'tomato' section. There are three pockets in the backpack, and each pocket has a zipper to open it. The burger bun also appears to have sesame seeds on it.
Pearl noticed how much the backpack can hold in "Cheeseburger Backpack" when Steven was packing for the trip to the Lunar Sea Spire, stating to Steven "Did you bring your whole room?".
Various uses
The backpack, despite its cartoonish appearance, is surprisingly a useful tool for Steven and has been used to carry many important items.
"Cheeseburger Backpack": Steven used the backpack for holding various items, such as Mr. Queasy, sweaters, a raft, bagels, sun screen, etc. 
"Frybo": Steven used it for carrying a Gem shard.
"Lion 2: The Movie": Steven and Connie used it for carrying their snacks to the movie theater.
"Ocean Gem": Steven used it for packing up for the road-trip to get the ocean back.
"On the Run": When Steven said that his bindle couldn't enough food for him and a raccoon, Amethyst asked him why he didn't just bring his backpack, suggesting that his backpack could easily fit two lunches into it. However, Steven decided not to bring his backpack because it could not fit into his bindle.
"The Return": While Steven and Mayor Dewey are organizing an evacuation of Beach City in the wake of the Gem Warship's arrival, Greg and the other Crystal Gems pack Steven's belonging into his backpack, intending on having him evacuate with the rest of the citizens.
In the RPG game: "Attack the Light", Steven's backpack is used to store the items he finds or buys on his journey with the gems.
Gallery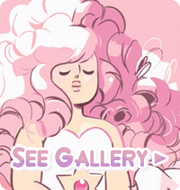 Community content is available under
CC-BY-SA
unless otherwise noted.