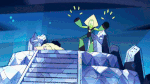 "You have to fix this!"
"

Yeah. So, uh... can you sign off on my class schedule?

"
—"Little Homeschool"
Cherry Quartz is a Quartz Gem living on Earth. A formerly Corrupted Homeworld Gem, she was healed with the help of Steven Universe. She debuted in Steven Universe Future.
Appearance
Cherry Quartz is tall and broad-shouldered, like most other Quartzes. Her complexion is pink with salmon red and peach blotches, and (after being uncorrupted) she has three horns on her head; two where her ears would be, and one at the very top of her scalp. Her fluffy hair is light pink and is in a ponytail, with her bangs covering one of her eyes.
Her clothing consists of a rose top with burgundy details and shoulder pads, as well as rose shorts and white ankle-boots.
Her gemstone is located at her navel.
Personality
Although she seemed aggressive at first, but after fully understanding what was going on, Cherry turned out to be very kind and eager to join Little Homeschool.
History
Around 4,500 Years Ago
Cherry Quartz was presumably a Homeworld Gem (inferred from her continuing to practice social norms established by Homeworld's Caste System). At the end of the Rebellion, Cherry Quartz was unable to escape the Corrupting Light and became corrupted.
Steven uses the Diamond aura potions and his healing spit in his bathroom to heal her. She is confused and immediately questions where she is and what happened to her. He explains that she was corrupted in a Diamond blast and proceeds to drive her to Little Homeworld and show her around. At the end of the episode, she asks Steven to sign off on her class schedule.
She can be seen in Beach City Funland managing the line for the Appalachian.
Abilities
Cherry Quartz possesses standard Gem abilities, including bubbling, regeneration, and superhuman durability.
Episode Appearances
Relationships
Steven Universe
Steven Universe was the first person Cherry Quartz met upon being healed. She was at first shocked on what was happening and where she was so Steven filled her in on things while driving her to "Little Homeschool." He showed her the sights and classes there was to offer before presumably stopping to "learn" about Amethyst's class while she went to go have lunch with Steven. At the end of "Little Homeschool" she seemed to warm up to Steven as when she smiled while asking for him to sign off on her class schedule, which he does.
Trivia
Before the premiere of Steven Universe Future, Cherry Quartz's name was first confirmed by Steven Universe Future storyboarder Drew Green on Twitter.[1]
| Image | Description |
| --- | --- |
| | Cherry Quartz's gemstone is located on her navel, featuring a hexagonal facet with blotches. |
Gallery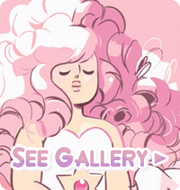 References
Community content is available under
CC-BY-SA
unless otherwise noted.