"

I'm not Lapis anymore. We're Malachite now

"
—Lapis Lazuli
"Chille Tid" (/ˈtʃɪlə ˈtiːd/) is the 13th episode of Season 2 in Steven Universe, and the 62nd episode overall.
Synopsis
Steven and the Gems hope a slumber party will allow them some time to relax.
Plot
The episode begins with Pearl and Amethyst on a raft in the middle of an ocean, with Amethyst holding Steven underwater by his legs. Pearl is frustrated that they have not found any leads to Malachite. Steven begins to lose his breath underwater, but Amethyst is confused whether or not to pull Steven up, so she releases him and Steven resurfaces. Garnet jumps out from the water, grabbing Steven, stating that she did not find anything underwater. Pearl becomes increasingly frustrated with the lack of progress, saying that it feels like "light years" and finding the life jackets pointless. Garnet explains that Malachite must be found, as their fusion is a ticking time bomb. Despite the fact that Lapis is powerful enough to sustain her fusion with Jasper, their fusion is highly unstable. Their fusion is bound by anger and mistrust, and if that bond snaps, they will unfuse. Steven begins to sleep on the raft, prompting Garnet and the gems to return home to let Steven rest.
Pearl becomes frustrated that they are home and not searching for Malachite. Garnet explains that Steven is not like the Gems and, like a human, needs rest. Steven asks whether or not the Gems are tired, and Garnet answers that they "look awesome," despite all the Crystal Gems appearing visibly exhausted. Steven suggests a slumber party to help the Gems forget that Malachite is still somewhere and have them take a rest for a little while. Garnet says the rest of the crystal gems should participate in the slumber party (against Pearl's will) and heads off to search for Malachite alone.
Steven begins the slumber party upstairs by offering Amethyst and Pearl a slumber pal each. After they both refuse, Amethyst immediately falls asleep, and Pearl, confused as to how to do so, attempts to fall asleep. After several unsuccessful attempts, Steven shows Pearl how to fall asleep and begins to sleep himself. He begins to dream. Steven and Pearl are in a sitcom, and Pearl is excitedly preparing Steven for his first school dance with Connie. Amethyst rolls down the stairs on a skateboard, and Pearl chases Amethyst off-screen. The doorbell rings, and Steven answers the door to see Garnet, who exclaims "Chille Tid!" Steven explains to Garnet that he will attend a dance party with Connie soon and, as soon as the doorbell rings again, assumes that Connie is behind the door. When he opens the door, he sees Lapis crying heavily, with the setting changing to the Malachite Realm. 
Steven wakes up from the sudden nightmare with Pearl asking if he's alright. He begins to explain his dream to Pearl, who interrupts him saying that none of what he is saying makes sense, as Lapis is under the ocean fused with Jasper, so she would not have been in his dreams. Steven deduces that Pearl never had a dream, and Pearl admits so. He tries to explain what a dream is, but it is difficult because they are boring to listen to. He starts telling Pearl of one of his convoluted dreams of Lion being able to drive Greg's van, which puts Pearl to sleep. Steven quickly falls asleep and begins to dream again. 
Steven is flying in the sky with a helicopter propeller on his back. Dogcopter appears and Steven asks for his autograph. Dogcopter meows and flies away quickly. Pearl's head appears, which eats Steven, but quickly launches Steven fast enough for him to catch up. Amethyst riding a whale appears from the ocean and immediately changes Steven's dream. In the darkness, Lapis appears behind Steven, yelling his name. She asks him what he is doing here, and Steven claims that he is simply dreaming. Lapis denies that, and tells him that she must concentrate. Steven wakes up to see Amethyst laughing. Steven is confused, but Amethyst points to the ceiling. Pearl is sleeping, with her dream being projected visually and with audio holographically onto the ceiling from her gemstone. She is ecstatic to spend time with Rose (while surfing on a slice of pizza). Rose then turns to face Pearl, and has the face of Greg, who expresses gratitude to Pearl for fixing his van. Pearl is terrified and wakes up, visibly tired from the dream. 
Steven tells Pearl that he had another dream about Lapis, and she exclaims that it's alright, implicitly denying her own dream. Steven claims that he was talking to Lapis, and Pearl says that he might be using his dreams to mentally connect with Lapis. Steven tries to go back to sleep to find Lapis' whereabouts, and falls asleep before Pearl begins explaining her dream to put him to sleep. Steven tries to have a lucid dream, but discovers he couldn't. He quickly finds Lapis in the Malachite Realm, who is chained to the water. Lapis tells Steven that he must not distract her, because she must use all of her concentration to use the ocean in order to keep the fusion alive. Lapis sinks and Jasper, also chained to the water, appears behind Steven. She angrily crawls towards Steven, but quickly sinks, with Lapis flying out of the water. Lapis can't stop concentrating even for a second, and tells Steven not to look for her. Steven repeatedly offers help, but Lapis denies his offer, refusing to tell him where Malachite is. Malachite appears from the water, visibly fusing, and screams at Steven to leave.
Steven wakes up, terrified from his encounter. He tells Amethyst and Pearl that he did see Lapis, who is fused and is still in control, but was unsure for how much longer. Garnet arrives home and says that this is a strange slumber party. Steven hastily tells Garnet some of his dreams, but does not reach the part about Lapis. Garnet reassures Steven to relax, and shows him and the gems how a slumber party is really done. She falls face-down on the floor and begins to snore.
Features
Characters
Objects
Locations
Production Notes
Music
Trivia
Cultural References
Continuity
Errors
Transcript
View the episode's transcript here.
Gallery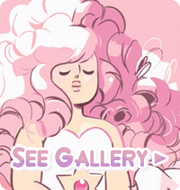 Videos
References