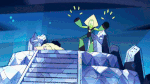 "You have to fix this!"
Template:VA
"Chris Jai Alex" is the voice actor for Dogcopter, Li'l Butler, and the arcade machines in Funland Arcade.
Personal life
Chris Jai Alex was born and raised in Lansing, Michigan. His mother was an artist, but couldn't find the proper recognition she was looking for. It wasn't long before her son Chris actually had a knack for the arts himself. Chris taught himself guitar, piano and midi music production. He went on performing in music groups one of which group called Mirage and had local success in many areas, but sadly before the group was formed Gloria Sanford passed away before she could hear her son's music. Chris moved to New York and sold thousands of mix tapes. He then relocated in Los Angeles where he is still making music, acting and doing voice overs to this day.
External links