Doctor Strange in The Multiverse o Madness - The Loop
Play Sound
Chrysocolla,[1] also known as The Slinker in her corrupted state, is a corrupted Gem that first appeared in "Reformed", serving as the episode's antagonist, and later in "Unboxing", serving as a minor antagonist.
Appearance
Corrupted
When corrupted, she resembles a dark, flowering plant. Her corrupted form consists of four dark-blue petals that are light-blue on the inside; these act as her mouth. Each petal also has five thorn-like projections nearing the tip. The petals are connected together by a darker-blue bulb that tapers to a point. The bulb is connected to multiple vines used as appendages, with two vines having a leaf-like structure at the end.
Uncorrupted
It can be assumed that her uncorrupted form has similar colors to her corrupted form. Chrysocolla's uncorrupted form was never seen on-screen, but concept art for it was seen in Steven Universe: End of an Era.
History
At some point in time, the corrupted Chrysocolla (not referred to by this name in the episode) entered the Crystal Temple. She is first spotted by Pearl, who later informs the other Crystal Gems of Chrysocolla's presence. After discovering the tunnels Chrysocolla had dug within the Temple, Garnet begins to pursue Chrysocolla inside Amethyst's Room. Amethyst and Steven later join Garnet in her search. Despite their combined effort, the three Crystal Gems struggle to capture Chrysocolla. The corrupted Chrysocolla is able to poof Amethyst four times, stalling her pursuers in each instance and using the opportunity to escape. After Amethyst poofs for the fourth time, the Crystal Gems defer their search to regroup at the Beach House.
Abilities
Physical Vigor: Chrysocolla is a very fast, limber, sturdy creature, able to withstand multiple hits from Amethyst and Garnet. She also has great physical strength, able to force Amethyst to retreat to her gem with a single bite from her "jaws" or a squeeze from her tentacles.
Stealth: As her corrupted name implies, Chrysocolla is proficient at moving quietly and hiding. She often employs this ability to evade and ambush her foes.
Burrowing: She is able to move through the ground with ease, forming circular tunnels that lead into different parts of Amethyst's Room.
Prehensile Appendages: Her vines are very prehensile, able to entangle enemies with a tight grip to the point of constriction.
Projectile Goop: She can secrete a dark, ink-like substance that she seems to be able to shoot across long distances.
Episode Appearances
Trivia
She forced Amethyst to retreat to her gemstone four times.

As such, she is the only known Corrupted Gem to have forced a Crystal Gem to regenerate.

She is one of the few Corrupted Gems whose gemstone has not been seen on the show.

However, her gemstone is shown in her model sheet.

Steven coined her corrupted form's name. Amethyst disliked the name Steven coined, but Garnet claimed that "the name stuck," and thus they referred to the corrupted Gem by this name.
She resembles the Hydnora africana, or African Truffle plant.
Chrysocolla is shown attacking the Gems in the Beach House during the short "Unboxing".

She appears to be able to squirt out a form of slime/ink.

Her name was revealed in Steven Universe: End of an Era.
| Image | Description |
| --- | --- |
| | Chrysocolla's gemstone is located inside the junction between the body and the head. It is shaped like a long oval and is unfaceted. |
Gallery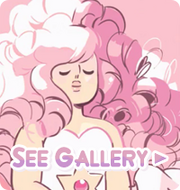 References