Wiki Targeted (Entertainment)
Play Sound
Level 2 Canon
This page contains content that is considered "level 2 canon" and may be contradicted by the TV series.
The Clock Tower is a location that appears in Issue 8 of the Steven Universe comic series. The Crystal Gems went to it to restart it.
Description
The Clock Tower appears to be located in a forest. The tower part of the Clock Tower is made up of stone bricks. There appear to be stairs as well as several floors on the inside of it, though there seems to be no way inside of the tower from the bottom as the Crystal Gems had to climb the tower from the outside. The outside of the tower is covered with vines where the top of the tower is the clock part. Inside of the clock is a large room with floating black spheres and a pedestal with a gem that powers the clock. When the Clock Tower is activated, the pedestal rises and a staircase appears for someone to go and check the gemstone.
History
Issue 8
The Crystal Gems go to the Clock Tower to restart it after it stopped for an unknown reason. While the Gems were scaling the tower, it starts collapsing and Garnet and Pearl get trapped under rubble, leaving Steven and Amethyst with the task to restart it. When Steven and Amethyst make it to the top, they get inside of the Clock Tower's power and control room. At that point, Steven reaches the pedestal and learns that a gem was powering the tower. Steven then tries encouraging it with his wrist watch and succeeds. The tower then restarts and suddenly starts falling apart due to all of the time it had not kept track of. Steven and Amethyst then go back to the Clock Tower and find out that even though it had fallen apart, it was still functioning and was still keeping track of time.
| Image | Description |
| --- | --- |
| | The Clock Tower's gemstone is attached to the center of the clock. It is warm toned with multiple facets. |
Gallery
v • e
Comic Gems

Steven Universe (2014-2015)
Steven Universe (2017-2018)
Steven Universe: Too Cool for School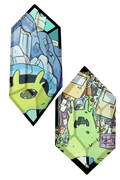 Community content is available under
CC-BY-SA
unless otherwise noted.