Jurassic World: Dominion Dominates Fandom Wikis - The Loop
Play Sound
"

Wha-where did you get these?! I thought they stopped making them!

"
—Steven, "Gem Glow".
Cookie Cat was an ice cream sandwich product that first appears in "Gem Glow". Following the beginning of the episode, it has been discontinued because of the success of its competitor, Lion Lickers, although it does make continuous appearances throughout the series. The Cookie Cat ice cream sandwiches are represented by Cookie Cat as their mascot.
Appearance
The pink wrapper has an image of Cookie Cat's head. The cookie itself is half vanilla ice cream on the left and half strawberry ice cream on the right. It is a flavored ice cream sandwich that is shaped like a cat's head.
Episode appearances
Cookie Cats are Steven's favorite ice cream sandwich, but Lion Lickers, a similar ice cream product, drove them off the shelves at the Big Donut. The Crystal Gems had visited multiple stores and "stole a bunch", according to Amethyst, but Pearl adds that she returned and paid for them all. Garnet claimed it was all her idea. They stashed many Cookie Cats in their freezer for Steven, but to save the Crystal Gems, Steven came to the conclusion that he could summon his shield if he ate them all.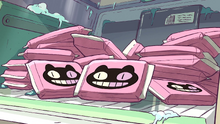 The Cookie Cat company plays a theme song in their commercials that Steven sings and hums several times throughout the episode. Steven originally believed that the ice cream sandwiches activated his gem since it began to glow and summon his shield when he ate one at the beginning of the episode, but this turns out to be a mere coincidence.
After warping back home, Steven looks at his reddish-pink Cookie Cat-shaped alarm clock after it alerts him that it is time for Beach-a-Palooza.
A new Cookie Cat song can be heard in the soundtrack "After These Messages" when Greg and Steven talk.
A black Cookie Cat alarm clock can be seen on Steven's nightstand.
In one of Steven's imaginary death scenes, he imagines the character Cookie Cat returning, now evil, in a spaceship and zapping him to death. Cookie Cats are seen on the background.
In a non-canon appearance, the treat makes its appearance while Uncle Grandpa explains to Steven how he was there during "Gem Glow" when he attempted to sing the "Cookie Cat Jingle" to activate his gem. He broke the fourth wall here, appearing on the small Cartoon Network promotional banner below. Uncle Grandpa was not actually present in the episode, although a banner featuring Uncle Grandpa in that exact scene did appear during the episode's premiere.
Steven's birthday cake resembles that of a Cookie Cat.
Steven used his Cookie Cat-shaped alarm clock, which has been seen on Steven's nightstand in previous episodes. He set an alarm for 6:55 AM in order to get the freshest donut from the Big Donut early.
Steven and Connie use Cookie Cat-themed walkie talkies to communicate with Pearl.
The cancellation of the ice cream in "Gem Glow" is referenced and a physical cookie cat remains in Steven's freezer. Steven is also shown eating a tub of Cookie Cat ice cream in his room, though it is unknown where it came from.
Steven makes homemade Cookie Cats and gives them to the Gems.
Video game appearances
Cookie Cats can be used to restore Steven's energy.
Cookie Cat is a collectable object.
Cookie Cats appear and are referenced throughout the Light video game series. In Attack the Light, Cookie Cats are used to restore harmony. Regular Cookie Cats restore 10 harmony, the rarer mint-flavored Cookie Cat variant restores 50 harmony, and Cookie Cat Bites restore harmony over a few turns. An achievement named 'Cookie Cat Recall' is obtainable by completing a stage in Chapter 4 without items. In Save the Light, Cookie Cats are collectable and function similarly. In Unleash the Light, 'Cookie Cat Recall' makes a reappearance, with the same requirements but instead requiring the player to beat a stage in Chapter 3.
Cookie Cat is an object that can be bought in the in-game shop.
Trivia
Despite the product's discontinuation in "Gem Glow", Cookie Cat has made multiple appearances since that episode.

In the episode "Space Race", the Cookie Cat theme plays on TV after Steven asks Greg to help him build a spaceship.

This could imply a spin-off or resurrection of the product, which would explain the continued appearances.
However, as of "The Future", Steven confirms that the ice cream is still discontinued. Though, as seen in "Growing Pains", they may now exist in the form of tubs of ice cream rather than ice cream sandwiches.

In the Cookie Cat song, Steven states that Cookie Cat is a "refugee from an interstellar war". Garnet, Pearl, and Rose Quartz are also refugees from an interstellar war (The Rebellion).

He also allegedly "left his family behind", similar to Pink Diamond's departure from the Diamond Authority.
The snack is also white and pink, the two skin tones his mother had taken on as Rose Quartz and Pink Diamond respectively.

When Steven ate the snack in "Gem Glow", his gemstone glowed for the first time in the series, resulting in Steven's belief that ice cream triggered the activation of his powers.

Although this later turned out to be false, Pearl believed this at the time, questioning the ingredients of Cookie Cat after Steven made the claim.

There is Cookie Cat merchandise and memorabilia seeing as Steven has a Cookie Cat alarm clock. It is unknown if they are still produced after the snack's discontinuation.
During Steven's episode of paranoia in "Future Vision", he imagines being visited by Cookie Cat piloting a UFO. In one of his imagined "visions", Cookie Cat turns out to be evil and kills him with a laser beam.
Given its appearance, it most likely has a similar flavor to Neapolitan ice cream.
In the episode "Gem Glow", when Steven sings the "Cookie Cat" rap, a Cookie Cat is shown behind him with a paler-looking cookie casing.

It is reasonable to assume the cookie part of the cookie cat is chocolate flavored.

The Cookie Cat story closely resembles the story of Bee and PuppyCat, another project created by the character designer Natasha Allegri.
Mint Cookie Cats and Cookie Cat Bites do not make appearances in the show.
The 5th comic of the Steven Universe comic series by Boom Studios features a cereal brand known as "Cookie Kittens" on its cover.
According to Ronaldo in Keep Beach City Weird: You Can't Hide the Truth!!!, Cookie Cats were manufactured by Funtime Foods Inc., itself a subsidiary of the Amalgamated Dairy Industries of North America, which is owned by the Blergsdale Group.
Cookie Cats were available at the "Fantasy Food Truck" at 2015's New York Comic Con.
Cookie Cat is a reference to Cookie Puss. Ian Jones-Quartey was intrigued by Cookie Puss' surprisingly deep lore.[1]
Cookie Cats make multiple appearances in Craig of the Creek.
In Miraculous: Tales of Ladybug & Cat Noir, a Cookie Cat plush can be seen in Marinette's room.
Gallery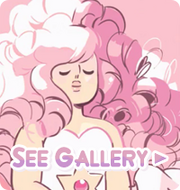 References