Doctor Strange in The Multiverse o Madness - The Loop
Play Sound
Crazy Lace Agate is a member of the Crystal Gems who first appeared in the episode "Change Your Mind". Like Biggs Jasper and Snowflake Obsidian, she was a close friend of Bismuth before becoming corrupted. She was mentioned twice by her in the episode of the same name. She (along with the other bubbled Gems) was uncorrupted by Steven and the Diamonds in "Change Your Mind". She is the fusion between two unknown Gems (presumably Quartzes).
Appearance
Crazy Lace has a muscular build similar to a typical Quartz, albeit with noticeably skinnier legs and forearms. Being a fusion, she is very tall. She has multicolored skin with shades of pink, red, purple, orange, yellow, white and blue. She has thick peach hair tied into ponytails with red and golden orange ribbons. She wears a sleeveless gray-blue v-neck body suit with a dull ice blue lace with black accents, and white shoes.
Personality
From what we have seen of Crazy Lace, she is friendly and fun-loving. Her mannerisms also portray her as gentle, feminine and carefree. She also seems to enjoy roller skating.
Abilities
Crazy Lace Agate is presumed to possess standard Gem abilities, bubbling, shapeshifting, fusion, regeneration, agelessness, and superhuman strength/durability.
Natural Abilities
History
Thousands of Years Ago
During The Rebellion, Crazy Lace Agate's components defected from Homeworld and became Crystal Gems as a Gem Fusion. She fought in the war until its very end, when the Diamonds unleashed the Corrupting Light. Crazy Lace Agate was unable to escape the blast and became corrupted when exposed to the light.
Bismuth mentions Crazy Lace Agate among the former Crystal Gems.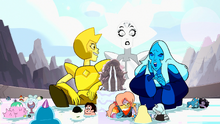 Crazy Lace Agate is among the many Corrupted Gems that are healed, having presumably remained fused during the corruption attack, or having fused back together offscreen once healed. She appears cheerfully conversing with Zebra Jasper and Angel Aura Quartz.
Crazy Lace Agate appears as a background character in Little Homeworld.
She is among the gems present in Cherry Quartz's tour of Little Homeworld, attending Vidalia's art class.
Crazy Lace Agate is seen handing out balloons at Beach City Funland, having received this job thanks to Amethyst.
Crazy Lace Agate plays volleyball with Rubies and other Quartzes at the start of this episode.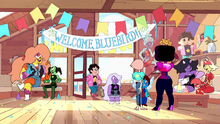 Crazy Lace Agate can be seen attending Bluebird Azurite's welcoming party.
Crazy Lace Agate is seen roller-skating at the roller rink.
Crazy Lace Agate sells Steven some flowers for his picnic date with Connie.
When Steven is leaving Beach City, she can be seen rollerskating on the sidewalk.
Episode Appearances
Relationships
Crazy Lace Agate was friends with Bismuth, another member of the Crystal Gems, before being corrupted. Once first freed from her bubble (5,000 years after being poofed and having missed the rest of the War) in the episode bearing her name, Bismuth asks about the whereabouts of some of her closest Crystal Gem friends, including "Old Crazy Lace".
Trivia
She is the second Quartz fusion shown after Zebra Jasper, as well as the first fully uncorrupted one.
She was revealed to be a fusion in her concept art.
She is the only uncorrupted Quartz who doesn't have any horns.

This may imply that corruption scars don't carry on to fusions.
Alternatively, she may possess different corruption scars somewhere on her body, as it is possible that not all corrupted Quartzes look the same. It is also possible that she possesses horns hidden under her bangs.

She seems to enjoy roller skating, as she is seen doing it in "Guidance", "Bismuth Casual" and "The Future".
It is unknown if her component Gems remained fused while they were corrupted, or if they fused back together once they were healed.
| Image | Description |
| --- | --- |
| | An unidentified component Quartz's gemstone on Crazy Lace Agate, located where her right eye would otherwise be. It is a patterned cabochon, and resembles that of several Jaspers. |
| | Another unidentified component Quartz's gemstone on Crazy Lace Agate, located where her nose would otherwise be. It is shaped like a rounded triangle and is patterned. |
Galleries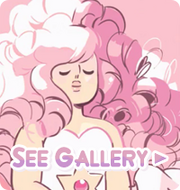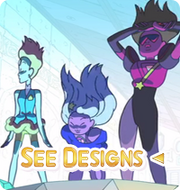 v • e
Fusion Gems
---
Hybrid Fusions
Crystal Gem/Homeworld Gem Fusions