Crazy Lace Agate is a member of the Crystal Gems who first appeared in the episode "Change Your Mind". Like Biggs Jasper and Snowflake Obsidian, she was a close friend of Bismuth before becoming corrupted. She was mentioned twice by her in the episode of the same name. She (along with the other bubbled Gems) was uncorrupted by Steven and the Diamonds in "Change Your Mind". She is a fusion of two unknown Quartzes.
Appearance
She is a multicolored Quartz fusion that is near double the size of a singular Quartz; she has thick peach hair tied into ponytails with red and yellow ribbons. She wears a sleeveless gray v-neck body suit with a dull green lace, and white shoes.
Personality
From what we have seen of Crazy Lace, she is friendly and fun-loving. She also seems to enjoy roller skating.
History
Thousands of Years Ago
During The Rebellion, Crazy Lace Agate's components defected from Homeworld and became Crystal Gems as a Gem Fusion. She fought in the war until its very end, when the Diamonds unleashed the Corrupting Light. Crazy Lace Agate was unable to escape the blast and became corrupted when exposed to the light.
Bismuth mentions Crazy Lace Agate among the former Crystal Gems.
Crazy Lace Agate is among the many Corrupted Gems that are healed, having presumably remained fused during the corruption attack, or having fused back together offscreen once healed. She appears cheerfully conversing with Zebra Jasper and Angel Aura Quartz.
Crazy Lace Agate appears as a background character in Little Homeworld.
She is among the gems present in Cherry Quartz's tour of Little Homeworld, attending Vidalia's art class.
Crazy Lace Agate is seen handing out balloons at Beach City Funland, having received this job thanks to Amethyst.
TBA
TBA
Episode Appearances
Relationships
Crazy Lace Agate was friends with Bismuth, another member of the Crystal Gems, before being corrupted. Once first freed from her bubble (5,000 years after being poofed and having missed the rest of the War) in the episode bearing her name, Bismuth asks about the whereabouts of some of her closest Crystal Gem friends, including "Old Crazy Lace".
Trivia
There are several possibilities for the identities of her components:

Her eye gemstone resembles many varieties of Jasper, namely orbicular jasper, making this a possible identity of this component. It could also be Tiger's Eye, a bubbled Crystal Gem mentioned by Bismuth in "Made of Honor".
Her nose gemstone somewhat resembles that of the Flower Monster, making it possible that this Gem is one of her components. It also resembles the gemstone of Jasper, but appears cabochonal such as that of most Jaspers.
Either component could be a Jasper, but due to her name being Crazy Lace Agate, both components being Jaspers is highly unlikely.

She is the second Quartz fusion shown after Zebra Jasper, as well as the first fully uncorrupted one.
She was revealed to be a fusion in her concept art.
| Image | Description |
| --- | --- |
| | An unidentified component Quartz's gemstone on Crazy Lace Agate, located where her right eye would otherwise be. It is a patterned cabochon, and resembles that of several Jaspers. |
| | Another unidentified component Quartz's gemstone on Crazy Lace Agate, located where her nose would otherwise be. It is shaped like a rounded triangle and is patterned. |
Gallery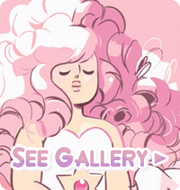 v • e
Fusion Gems
---
Hybrid Fusions
Crystal Gem/Homeworld Gem Fusions