Jurassic World: Dominion Dominates Fandom Wikis - The Loop
Play Sound
Crying Breakfast Friends! is a TV show briefly seen in "Gem Glow", first formally introduced in "Space Race" and featured heavily in "Cry for Help" and "Steven Reacts". It is a show that is very beloved by Steven, something that confuses the other Crystal Gems.
Plot
The show consists of various breakfast items who are constantly crying. At first their reason for crying is unknown, until in "Cry for Help" it is revealed that the characters may cry whenever mishaps occur (such as ice cream falling onto the floor) or when something good happens (such as when Sad Spoon forgave Crying Pear).
"Reformed" reveals that the show may be deeper than meets the eye, as Steven describes two of the characters as "neurotic and uptight" and "the sensitive one who wishes he was a better role model."
Theme Song
Tears of sorrow, tears of joy
There'll be tears to the very end
Food with feelings:
Crying Breakfast Friends!
Characters
Protagonists/Deuteragonist
Crying Breakfast Friends
Sad Apple
Sniffling Croissant (mentioned in "Reformed")
Crying Pear
Spilled Milk
Glum Glass
Sad Waffle
Crying Egg (mentioned in "Keep Beach City Weird")
Weeping Egg Cup
Pining Grapefruit (mentioned in "Reformed")
Sad Spoon
Bawling Bacon
Antagonists
Angry Lunch Enemies
Hamburger (official name unknown) (shown in "Steven Reacts")
Toast (official name unknown) (shown in "Steven Reacts")
Pizza (official name unknown) (shown in "Steven Reacts")
Reception
Both Greg and the Gems have been shown to dislike the show and express confusion at Steven's love of it. In "Reformed", Amethyst asks Steven, "who wants to watch a cartoon about people crying?", and in "Cry for Help", Garnet responds with "not really" when Steven describes what he's watching as a good episode. Despite this, they still make an effort to watch it with Steven, and he does try to explain it to them.
Steven appears to clearly enjoy the show, owning stickers of the various characters and a Sad Pear toy, as well as partaking in a "Which Character Are You?" quiz seen in "Reformed".
History
A brief clip of the show appears on TV in this episode. It depicts a mural display of Crying Breakfast Friends.
Steven identifies deactivated warp pads with Crystal Gems at the Galaxy Warp by placing Crying Breakfast stickers on them. Later on the show is played on Greg's TV by the car wash in which he says cartoons have changed and he's starting to feel old.
Peridot flees the Galaxy Warp fearing the Sad Waffle sticker is a sign the site was invaded. She proceeds to take the sticker with her using it as evidence and then uses her Plug EMP to disable all her Flask Robonoids.
Steven is shown with a Sad Pear toy in the episode.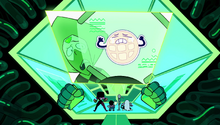 Peridot furiously shows the Crystal Gems the Sad Waffle sticker and questions if they were the ones who put it on the Homeworld warp, to which she gets no answer. It appears to have been used as evidence against them and she believes that this is their symbol of alliance.
Steven tries to get the Crystal Gems and Greg to take a personality test relating to the Crying Breakfast Friends. Sniffling Croissant, Weeping Egg Cup, Pining Grapefruit and Spilled Milk are mentioned by name with some details of their characters.
Steven tries to watch the show multiple times with Garnet and Amethyst, but to his dismay Peridot's distress signal keeps interrupting the show. One of the episodes Steven watches is about Crying Pear lying to Sad Spoon, upsetting her; however, Sad Spoon forgives Crying Pear in the end. This is a reference to how Pearl lied to Garnet so that they could fuse, foreshadowing that Garnet becomes upset, but forgives Pearl (Pear) in the end. There is also, perhaps, a coincidental similarity between the names Pearl and Pear. When Pearl and Garnet silently passed each other at the end of the episode, Amethyst contemplates that it would be great if issues in real life were easily solved as how they are in cartoons, referencing Crying Breakfast Friends!.
When Steven pulls out a box of crayons for Nephrite, Crying Pear is seen on the box.
Shorts
Steven reacts to an episode of the show titled "Party Crashers". In it, Crying Pear throws a birthday party and, due to his friends arriving late, believes that nobody wanted to attend. This conflict is resolved, but a new problem arrives- the "Angry Lunch Enemies": a cheese sandwich, a slice of pizza, and a burger. They try to make it lunchtime, which would end breakfast, but Sad Spoon suggests that they combine their meals. The sandwich reluctantly agrees, and they form brunch, giving the food a happy ending. The "Angry Lunch Enemies" are similar to Jasper, Lapis Lazuli, and Peridot in the way they arrive- a giant fridge, similar to the Gem Warship that the three Gems use to land on Earth. Several other fourth wall breaks are made throughout the short.
Trivia
Crying Breakfast Friends! is a reference to the show Steven Universe itself. Before the complex plot began to surface, it was commonly criticized because older audiences claimed to not understand the show and attacked it for being "overly emotional". 

Following this, the Crying Breakfast Friends! characters are references to the Crystal Gems and other characters in the show:

Steven's personality quiz resulted in "Sniffling Croissant".
Steven sees Pearl as "Weeping Egg Cup, who's neurotic and uptight".
Greg Universe is "Pining Grapefruit, the sensitive older one who wishes he was a better role model".
Garnet is "stern yet practical, just like Spilled Milk".

Rebecca Sugar's name was even referenced, with the creator of the Crying Breakfast Friends! show being named Samantha Pepper.

The Steven Universe crew released a model sheet which reveals that the Breakfast Friends were once planned to appear in "Gem Glow". These early friends included a spoon, a glass of milk, and an apple. However, only the apple is actually crying.
Steven used the stickers at the Galaxy Warp to mark which warp pads weren't working during "Space Race".
Peridot believed the Crystal Gems' symbol is Sad Waffle in "Marble Madness".
On Ronaldo's blog, he rants about a crossover between the Crying Breakfast Friends! and the Inter-Dimensional Family Friend.

This is a fictional reference to the real world Steven Universe/Uncle Grandpa crossover edpside, "Say Uncle", Ronaldo's reactions mirror those of many in the Steven Universe fanbase including the initial skepticism at its announcement and the events that occurred within the episode.
The character, Inter-Dimensional Family Friend, is a reference to Uncle Grandpa.

One of the characters, Crying Pear, is featured in the StevenBomb 3 promotional image, representing the episode "Cry for Help".
The Crying Breakfast Friends! episode in "Cry for Help" is about Crying Pear lying to Sad Spoon, which upsets her. This foreshadows Pearl's lies later in the episode, further showing the symbolic use of the cartoon.

Steven also points out how Sad Spoon forgives Crying Pear for lying to them. He then asks her if she would forgive Crying Pear after which she shrugs. This is symbolic of how Garnet is initially unwilling to forgive Pearl.

Pear is voiced by Deedee Magno-Hall, who also voices Pearl.
Spoon is voiced by Estelle, who also voices Garnet.
Rebecca Sugar stated how she would enjoy having a spin-off based on the show.[citation needed]
Gallery