Doctor Strange in The Multiverse o Madness - The Loop
Play Sound
In the Steven Universe franchise, Delmarva is a state on the East Coast of the United States where Beach City is located.
In Steven Universe
Ronaldo Fryman states on his blog "Keep Beach City Weird" that Old Bay is popular in Beach City, implying Beach City is in the general area of Maryland. In the same post, he states that they have to put Old Bay on everything as they live on Delmarva, providing further evidence for the claim. Additionally, Ronaldo also mentions that DelmarvaCon is held every year in Charm City (a nickname for the real-world Baltimore, Maryland) and that it "isn't too far of a drive" from Beach City.
Blue Crabs, a prominent animal of Maryland culture, are seen in many episodes, including the videotape that Steven finds in "Lion 3: Straight to Video".
In "Same Old World", Steven names a few cities that Lapis could live in, including Surf City, Sea City, Aqua Town, and Bayburg. He also says that those are just the ones off the top of his head, implying that there are more than just those cities
In "Political Power", according to Bill Dewey, as well as a comment by Mr. Fryman, there was once a city in Delmarva close to Beach City called "Ocean Town", and it is implied that due to an inadequate mayor, riots, and other unsolved issues within the town led to the town's complete downfall. The destruction of Ocean Town is apparently so great that Steven did not even know it existed. It appears in "Last One Out of Beach City", with its billboard saying "No Longer on Fire". It's apparently safe enough to where Mike Krol, a famous rock star, could safely perform.
In "Keeping It Together", there is a card on the fridge with the phone number for Fish Stew Pizza that shows a 443 area code. In "Last One Out of Beach City", Mystery Girl's area code is 301. These are two of the real-world area codes for Maryland. However, they are for eastern and western Maryland respectively, suggesting that Mystery Girl was a bit out of her usual way.
In "Reunited", Steven claims to have the power to officiate weddings in the state of Delmarva. He does so for Ruby and Sapphire, marking the return of their fusion as Garnet.
Known settlements
Behind the scenes
In the real world, the Delmarva Peninsula is a large peninsula on the east coast of the United States. Its name comes from Delaware, Maryland, and the abbreviation for Virginia combined into one word. The Delmarva Peninsula is a flat and sandy region mostly associated with coastal cities and seafood; it is the location for the fictional town of Beach City in Steven Universe.
Trivia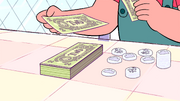 Due to Steven Universe being set in an alternate-timeline Earth that has been influenced by Gems, Rebecca Sugar stated that Delmarva is its own state within the show.[1]

This could explain why Beach City has a unique state flag, rather than one of the three states that encompass the real-life Delmarva.

The Delmarva flag is implied by Rebecca Sugar to be that of the snake found on both Beach City's money and also on educational messages seen in certain arcade games found in Funland Arcade.[citation needed]

The Snake itself resembles the "Join or Die" political cartoon created by Benjamin Franklin in 1754.

Since Delmarva is a state within the show, it can be assumed much of the Maryland, Delaware, and Virginia areas do not exist as unique states.
It is revealed in "Keystone Motel" that Keystone (a parallel to Pennsylvania) is Delmarva's neighboring state. This is supported by a tweet from Matt Burnett.[2]
It is confirmed in "Joking Victim" that the sales tax in Delmarva is 6%, as sung in Harold Smiley's song, "Do or Do Nut".

It shares this rate with Maryland.

Ronaldo receives a wet letter from an unknown location, though if you look closely enough, it says "Delmarva" in one of the sentences.
At the end of "Full Disclosure", there is a road leading out of Beach City labeled U.S. Route 13 and State Highway 1. U.S. 13 is a major highway of real-life Delmarva, and it runs alongside Delaware Route 1 through northern Delaware.
The postal code for Delmarva is DV, as seen in the window of the Big Donut.
In "Same Old World", Steven mentions he knows the "tri-state area". This could either mean Delaware, Maryland, and Virginia as being their own states (but still considered 'Delmarva'), or Delmarva, Jersey, and Keystone.
Recurring character Bill Dewey is thought to be named after Dewey Beach, a beach town in real life Delaware.
Promotional art for "Cheeseburger Backpack" indicates that the Wacky Sacks Supply Company has a mailbox in Wilmingmore, Delmarva. The city name is a portmanteau of Wilmington, Delaware, and Baltimore, Maryland.
Funland, similar to the Funland Arcade , is a real amusement park in Rehoboth Beach, DE.[3]
References