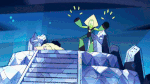 "You have to fix this!"
Demantoid is one of the main antagonists in Unleash the Light. She is one of the holders of the two remaining prisms.
Appearance
With Limb Enhancers
Demantoid's build is similar to that of Hessonite and Pyrope, only smaller. She also has lime skin and a dark green colored hairstyle resembling an afro. She has a unibrow and a yellow visor on her right eye. She's wearing a black and green uniform with shoulder pads. Due to her small size, she utilizes Limb Enhancers, that she programmed using her prism, which are much bigger than those of Peridot or other Homeworld Gems, functioning as a mech of sorts. Her rectangular faceted gem is located on her forehead, right above her hairline.
Without Limb Enhancers
Without her Limb Enhancers, she is short, similar to Peridot. Her uniform is also very similar to Peridot in her first form.
Personality
Demantoid acts in a robotic manner, rarely showing emotions and speaking in a calm, yet analytical, tone. But, once she's angry, her expression's drastically change and she can be very fierce. She firmly believes old Gems ruin everything and newer Gems like her have to fix it. She gets very angry by the end of the game when her limb enhancers gets taken from her, along with her prism. She gets even more angrier at Pyrope after the battle with the Crystal Gems. She ends up dissipating her from in the end, due to her anger.
History
Unleash the Light
Demantoid Used to work with Pyrope in the Palace of Light, running it swiftly, while she would be building most of the Gem Homeworld's structures. By the time Era 3 came thanks to Steven, she cut off all communications and more from Homeworld, and made her gems build in solitude. By the end of the game, when she gets defeated with Pyrope, she becomes very angry and starts to argue with Pyrope, saying on how she did most of the work for Pyrope. She had her prism taken by Bismuth, which takes away her limb enhancers, making her even more frustrated. Not too long after fighting with Pyrope, she lounges towards her, ready for combat, when she ends up dissipating her form.
Abilities
As an Era 2 gem, Demantoid possesses most standard Gem abilities including bubbling and durability. Due to her being an Era 2 gem, she lacked certain resources in her production, so she required limb enhancers.
Trivia
| Image | Description |
| --- | --- |
| | Demantoid's gemstone is located above her hairline, appearing to be embedded in her frontal lobe area. It is green and somewhat rectangular, and has facets around the edge, looking similar to Hessonite's gem. |
References
Community content is available under
CC-BY-SA
unless otherwise noted.