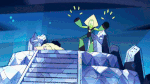 "You have to fix this!"
"

Old Gems ruin everything. That's why new Gems like us have to fix it.

"
—Unleash the Light

Demantoid was one of the main antagonists and a boss in Unleash the Light. She was an Era 2 Garnet who was a former holder of the remaining Light Prisms.
Appearance
With Limb Enhancers
Demantoid's build was similar to that of Hessonite and Pyrope but smaller. She had lime skin and a dark green hairstyle resembling an afro. She had a unibrow and a yellow eyepatch-like visor on her right eye. She wore a black and green uniform with shoulder pads. Due to her small size she utilized Limb Enhancers programmed with her Prism bigger than those of other Homeworld Gems functioning as a mech of sorts. Her rectangular-faceted gemstone was located on her forehead above her hairline.
Without Limb Enhancers
Without her Limb Enhancers she was short like Peridot 5XG. Her uniform was also similar to Peridot before her second regeneration.
Personality
Demantoid acted in a robotic manner rarely showing emotions and speaking in a calm yet analytical tone. When angry her expressions drastically changed and she could be very fierce. She firmly believed older Gems ruined everything and newer Gems like her had to fix it. She got angry when her Limb Enhancers were taken with her Prism and angrier at Pyrope.
History
Some time after the beginning of Era 2 Demantoid was given Limb Enhancers and a Prism after emerging while becoming closely acquainted with Hessonite and Pyrope.
Demantoid used to work with Pyrope in the Palace of Light running it while she built most Homeworld structures. By the time Era 3 came thanks to Steven they cut off communications with Homeworld, made their Gems build in solitude, banned them from speaking about Era 3 and eventually replaced them with constructs from her and Pyrope's Prisms.
She first appeared on a monitor when Steven and his friends approached the Palace before Pyrope sent them off. Pearl later hacked into her transmissions and overheard her planning on heading to Crystal System Colony 215. When the Crystal Gems confronted her on another unfinished colony she expressed her knowledge of Era 3 stating the Gem Empire and the Great Diamond Authority had become "obsolete"; she took notice of Hessonite's former Prism George in their possession and stated she upgraded her own. When the Gems tried to contain her Prism for a while with the Prism Containment Chest she had her Prism knock it away before the Bismuths originally working on her colonies confronted her as well. She soon fled with the Containment Chest and abandoned the colonies.
When the Crystal Gems were heading through the Palace she appeared on another monitor alongside Pyrope when Hessonite met the Crystal Gems again; she was cut off by Pyrope before being able to inform her of Hessonite's disguise to her irritation. After the Gems faced Pyrope she showed up, pointed out her fellow Homeworld Gem's arrogance and questioned Pyrope's ignorance of Hessonite's identity when she revealed herself. Demantoid then snatched George away with her Limb Enhancers to combine with the other two Prisms and silenced Steven when he tried reaching out to George before Hessonite did it herself. When the Prisms separated she became angry and refused to follow Pyrope's orders; she ultimately had her Prism taken by Bismuth which also took away her Limb Enhancers making her even more frustrated and causing her to argue with Pyrope saying she did all the work. Not too long afterwards she and Pyrope lunged at one another resulting in them poofing themselves.
Abilities
Demantoid presumably possessed standard Gem abilities; due to being made in Era 2 she lacked certain resources in production and required Limb Enhancers.
Trivia
| Image | Description |
| --- | --- |
| | Demantoid's gemstone is located above her hairline appearing embedded in her frontal lobe area. It is green and somewhat rectangular with facets around the edge similar to Hessonite and Pyrope's gemstones. |
References
Community content is available under
CC-BY-SA
unless otherwise noted.