Jurassic World: Dominion Dominates Fandom Wikis - The Loop
Play Sound
Diamond Palanquins are one of the different transportation methods that the Diamonds use. Palanquins are used by the Diamonds and their Pearls to travel on land with speed and protection.
Blue Diamond's Palanquin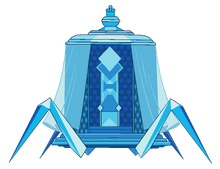 Blue Diamond's Palanquin was an enormous carriage where Blue Diamond sat, traveled, and heard counsel from other Gems.
The palanquin was a gazebo-like structure, with a decorated roof and translucent drapes. Blue Diamond was seated inside with decorative framing at her sides.
When danger approached, the framing encircles the entire vehicle and its base grew spider-like legs and runs off to protect Blue Diamond. When Blue Diamond activates her ship, the spider-like legs retreated inside of the structure and it levitated towards the ship. Blue Diamond can then enter the palanquin, where it would float up into the palm of her ship.
It made its debut in Garnet's flashback from "The Answer". In "Steven's Dream", Steven and Greg come across the palanquin while searching for Pink Diamond's palanquin. Steven tells Greg the one he saw in his dream was pink and broken down. Later in the episode, Blue Diamond goes into her palanquin with Blue Pearl, and it floats up, entering the palm of her ship. In "The Trial", the palanquin is used as evidence by the defending Zircon while making her case. The palanquin is used by Steven and Lars to escape the trial while the Diamonds are distracted. In "Off Colors", the palanquin had been crash landed.
Pink Diamond's Palanquin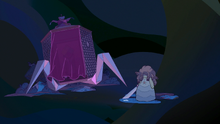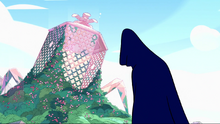 Pink Diamond's Palanquin is a palanquin that has become abandoned ever since Pink Diamond faked her shattering, later owned by her son Steven.
The structure is bright pink with four spider legs protruding from it, similar in proportions and shape to Blue Diamond's palanquin, but smaller in size. Each side has flower-like shaped holes and the front has a bigger flower design near the top. The top of the palanquin has a flower structure protruding out of it in the shape of Pink Diamond; a circle is drawn towards the bottom of the structure representing where Pink Diamond's gem, the structure is seen with pink transparent drapes, and is upright and not yet covered with one enormous vegetation. Her throne also has the all original Great Diamond Authority insignia at the top.
In "Buddy's Book", it is revealed that Buddy Buddwick had came across it, and sketched it into his journal, labeling it as "The Palanquin". In "Steven's Dream", Steven and Greg discover that its location is in Korea. In "A Single Pale Rose", the palanquin is seen inside Pearl's Dimension where it reveals how Pearl (shapeshifted into Rose Quartz) "shattered" Pink Diamond.
Trivia
The Diamonds' personal palanquins reflect Korea's historical past: people within the high-ranking social classes can only ride palanquins. During the Joseon Dynasty, palanquins (generically termed 가마 "gama" and consists of 6 types) were reserved mostly for females of the aristocracy/nobility, the kisaeng (기생), and the royal family. Coincidentally, Pink Diamond faked her shattering in Korea.
Although not stated in the show itself, the artbook, End of an Era, reveals that Morganites are the ones who come up with the designs for the Diamond's palanquins
Gallery