Doctor Strange in The Multiverse o Madness - The Loop
Play Sound
"

It's up to us to find out! Sounds like we better investigate.

"
—Doug Maheswaran
"Doug Out" is the 22nd episode of the fourth season of Steven Universe the 125th episode overall, and the second episode in the sixth StevenBomb.
Official Synopsis
Steven and Connie join Connie's father on a stakeout.[4]
Plot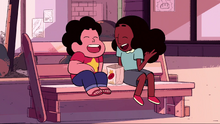 The episode begins with Steven and Connie ordering fry bits at Beach Citywalk Fries. They sit on a bench, as Steven comments that life can be intense. Connie agrees, especially since Steven has recently gone through a space kidnapping, visited a human zoo, and having to sneak past "two intergalactic tyrants". Steven comments that it's nice to have a relaxing day without any trouble.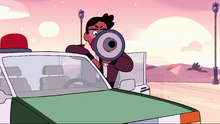 After their chat, Doug Maheswaran pops out from a car, covering his face with a megaphone and pretending that the two are in trouble with the law. Frightening Steven, he removes the megaphone and reveals himself to be Connie's dad. As Connie asks why he is in Beach City, Doug explains he got a job from Harold Smiley to be a security guard at Funland, as there have been recent reports of someone staying at Funland after-hours. Onion walks by, told by Doug not to loiter. Doug invites Steven and Connie to help out "on a stakeout". Later that night, Doug, Steven, and Connie chat inside Doug's car. Connie and Steven find a box of confiscated costumes from a costume shop, disguising themselves as "Veronica Cucamonga" and "Peter Pizzapoppolis".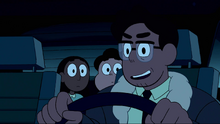 After hearing a loud crash, the three leave the car to investigate. A metal fence has been broken, which Doug mentions must be by someone strong, as it has been ripped wide open without leaving a clean cut. They go inside to have a deeper investigation, as Connie picks up a ripped piece of red fabric. After they go inside, a loud crash is heard. Doug aims his flashlight to see a large shadow behind a building. By the time the three arrive, the shadow behind the building has vanished. Connie tells Steven and Doug to keep their "eyes and ears open".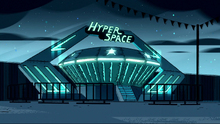 After hearing some melodic jingle, the three find the source of the sound to be HyperSpace, a spaceship-themed attraction. Connie tells Steven to get their weapons, but Doug informs them that there is nothing to worry about. After entering the attraction, the door quickly closes, locking the three in. The attraction begins to wildly spin, slamming the three to the wall. While not able to break away due to the speed, Doug tries to throw his flashlight at the machine's off switch, but the spinning sends the flashlight flying back at his head. Doug tries to aim the flashlight at an angle, but this causes the flashlight to slam into his head repeatedly.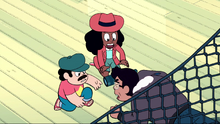 Steven manages to break away from the walls and reaches the controls in the center of the attraction. Steven turns off the machine, and the three leave, groaning. Doug is infuriated at this trickster for putting two children in harm. Connie theorizes that the culprit may be a Homeworld Gem, a Gem monster, or even a mutant Gem experiment. Doug searches frantically for this perpetrator when suddenly, all the lights and music in the amusement park turn on. The three are curious, as Doug looks inside various machines and attractions for where they might be. While Doug is searching, a small shadow appears on a building above him, as Connie warns him to watch out. A chain fence falls on Doug's body, trapping him briefly.
The figure darts away, as Steven and Connie chase it. The figure knocks over many items, leaving Steven to grab Connie and float over spilled gumballs and the like. Eventually, Steven and Connie have successfully cornered a shadowy figure. After catching up, Doug shines a flashlight to find Onion.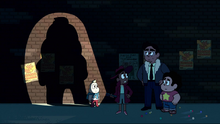 As everyone is shocked and confused, Steven pieces together that Onion must have been the person that was running away. Frightened, Onion tries to gesture the act of a large scary figure chasing him, but Steven assures him it was just Connie's dad. The three explain away Onion's concerns, by explaining the large shadow by demonstrating that any shadow is big at the right angles, and by assuming that Onion might have broken through the fence with a blowtorch (leaving a piece of his pants' red fabric behind).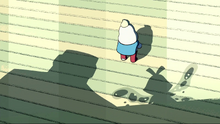 Doug is disappointed by the outcome and begins a short story on how he feels that he is not important. He says that his wife is at the hospital saving lives and that Connie fights and goes on adventures, but he only does small patrols. After being reassured, they all return to the car near the broken fence. Doug explains that since it was a huge misunderstanding and that Onion is still in trouble for breaking the fence. Onion points towards himself and shakes his head like he was trying to say that he was not the person who did it. Doug still accuses Onion but Steven and Connie say that he should let him slide. The three leave Funland, leaving Onion behind. Unbeknownst to them, two shadows appear behind Onion, a large blocky shadow and a small floating figure with translucent wings. Onion looks back in shock and horror.
Features
Characters
Objects
Locations
Music
Instrumental Songs
Trivia
Aquamarine and Topaz make a small cameo at the end of the episode.
Cultural References
Continuity
Errors
Transcript
View the episode's transcript here.
Gallery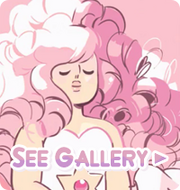 Video
References